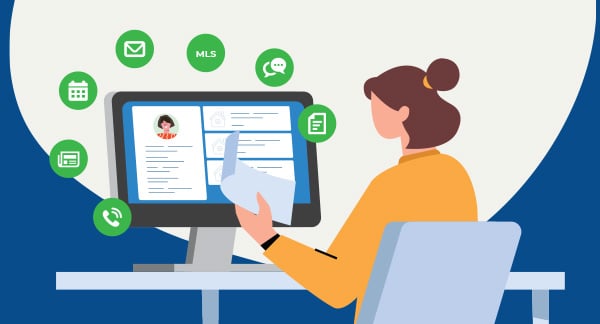 If you're thinking about buying a real estate CRM and are having a hard time choosing the one that's right for you, then you'll

this real estate CRM guide.
You'll learn how to:
Determine if you need a real estate CRM
Find the best real estate CRM for you
Learn about the automation tools & integrations you won't want to live without
And more.
So, let's dive in, shall we?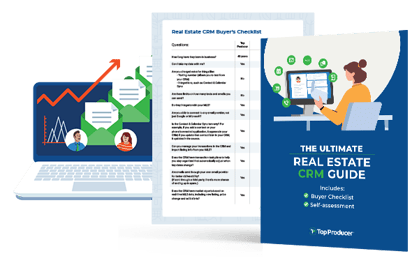 What is a real estate CRM 🤔
A real estate CRM is often the first and wisest investment many agents make. CRM stands for customer relationship management and is a system that not only helps you manage your client relationships and follow-up, but some CRMs also help with automated marketing, task and transaction management, and more.
Simply put, a good CRM will help:

Save you time

Organize your database & business

Simplify client follow-up to help you get more repeat & referral business
So, let's start with some signs you may want to get a CRM.
6 signs you need a real estate CRM ✔️
If you're concerned things may be slipping through the cracks and you're losing opportunities as a result, it may be time to look at getting a CRM.

Here are a few issues a CRM can help solve, and download the guide to get a free self-assessment 📝 to help you decide.
Can't convert leads into clients
You're generating leads, but there's no process in place to manage them, and you don't have any visibility into your best lead sources.


Lose repeat & referral business
You don't know who to follow up with and when, so over time, your past clients forget about you and use another agent.


Can't quickly locate client info
Some clients are in Google, others are on your phone, and spreadsheets are your best friend. Key info you learn on the road gets scribbled on post-it notes, or worse, forgotten.


Miss appointments & calls
You struggle to stay on top of everything that needs to get done. There is no master list of tasks related to your transactions and campaigns, so important tasks get forgotten.


Client info is outdated & disorganized
There's little visibility into your clients. Are your clients and prospects looking at the material you send them? Are they ready to transact? How many times have you reached out this year?


Don't have effective marketing material
Past clients, new leads, first-time buyers and downsizers all care about different things. You want to provide content that appeals to each audience but you don't have a way to tailor messaging to each group.
Benefits of a real estate CRM 🙌
At any given time, you're managing these 3 aspects of your business:



Building your business with leads



Servicing your current clients



Nurturing your past clients and sphere

There's a lot to keep track of—contact info, follow-up tasks, notes for all of your prospects and clients at every stage of the sales cycle. A top-tier CRM offers many benefits, including:



Streamline lead nurture and follow-up: A CRM can help you consistently follow up and provide value so your prospects and clients don't forget you. And when they're ready to buy or sell, or have a friend that is, you're top of mind.



Organize your business: A good CRM will help you manage important client details, your transactions, schedule, marketing and more.



Save time with automations: Top agents use real estate automation to improve their process and efficiency so they can focus on more important tasks.



Keep a record of your business: When a business evaluation specialist determines the value of your real estate business, they're going to look at your book of business. Whether you're a rookie or an established agent, you need to think about your exit strategy. Michael Price, successful agent and 27-year Top Producer user, has strong opinions on this topic:
"You have to think like a business owner—not a salesperson.

If you don't have a record of your business, you don't have one."
How to choose the best real estate CRM for you 💯
With so many options it can be tough to choose the CRM that's right for you. The Top Producer Team has been helping top agents across the country manage their business for 40 years, so we've learned a thing or two about what makes not just a CRM – but a real estate CRM.
Here are some things to keep in mind and download the guide to get a free CRM Buyer's Checklist 📋 that includes a complete list of questions to ask.
How long have they been in business?




When it comes to technology, solutions come and go. Don't bet your business on a company that may not be around later, or one that just popped up claiming to have the "next-best thing" in CRM.




Can I take my data with me?




In real estate, your book of business is everything. Keep your contacts in a system that belongs to you, and don't partner with a vendor that won't let you take your database should you choose to leave.




Are you charged extra for certain features?


A lot of CRMs appear cheap, until you start adding up the extras. Do they charge extra for a text number, integrations like contact & calendar sync, and do they limit the number of texts and emails you can send?


Do they integrate with your MLS?


Many real estate CRMs offer IDX feeds, but if your CRM can connect to your MLS, you'll get 15 times the listing data and some pretty cool capabilities. For example, the ability to import listing info with just a click and send market reports that include live SOLD data.


Is the contact and calendar sync only one-way or two-way?




Many real estate CRMs rely on a third party to "sync" contact and calendar data, but in reality the sync is only one-way (which means it's just a one-way contact import). But if you add a contact on your phone / connected application, it should appear in your CRM; if you update that contact later in your CRM, it should update in the source.
For a complete list of questions to ask when shopping for a CRM, download the guide to get a free CRM Buyer's Checklist. 📋
Must-have integrations ⚙️
Integrations can simplify your processes and save you valuable time so you can focus on building relationships and servicing your current clients.

Here are 5 integrations you'll want to look out for:



Social media insights: A key tool to use when following up with new leads, past clients and everyone in between. Your CRM should automatically pull info from your clients' social media accounts to help you make meaningful connections.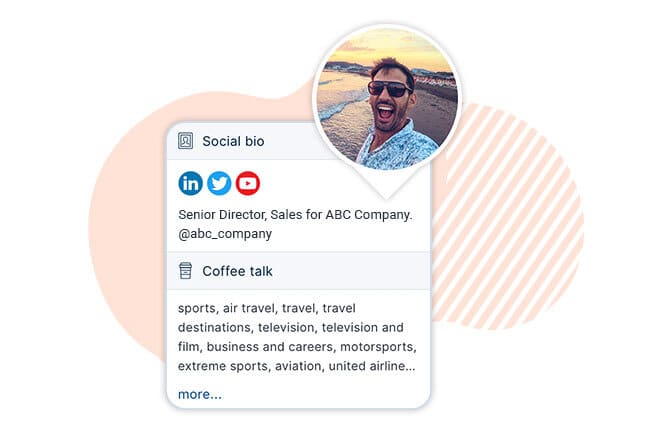 Example of the Social Insights in Top Producer CRM

Lead providers & automated follow-up: Your CRM should integrate with hundreds of different lead providers and provide you with automated follow-up tools to convert them into clients. Some CRMs automatically apply a plan to your incoming leads so you can sit back while prospects receive carefully crafted messages at specific times.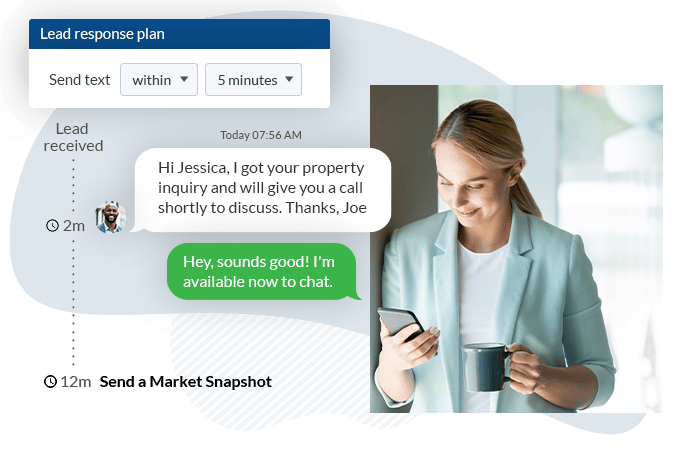 Automated Lead Response available in Top Producer CRM

Email: A CRM should offer email integration for any provider and provide insights into who's opening your email.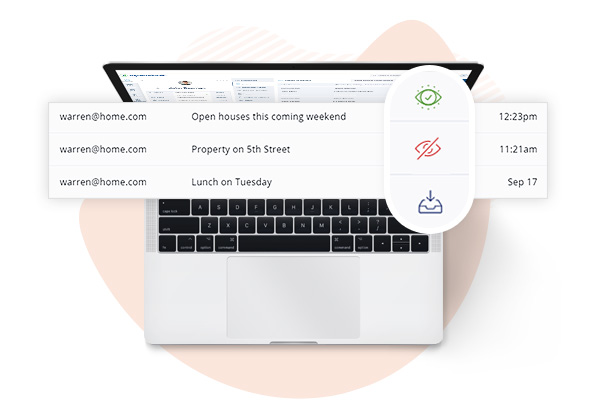 Email tracking in Top Producer CRM

Contact & Calendar Sync: Two-way sync should be available for the programs agents use every day—Gmail and Google apps, MS Exchange / Outlook.com / Office 365, and Apple's iCloud.

MLS integration: Unlike an IDX feed, direct MLS integration gives you more listing data and the ability to import listing info. Not only that, but you can send market reports that include live SOLD data and easily track client's properties of interest for listings shown, viewed, interested in, or inquired on.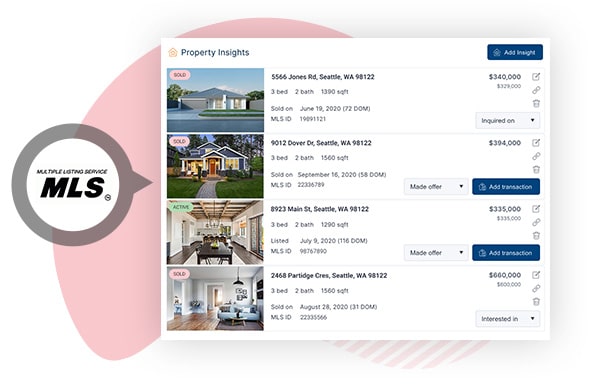 Tracking a buyer's properties of interest in Top Producer using MLS data
Automation tools you won't want to live without 🦾
Automation makes sure important tasks, clients and opportunities don't slip through the cracks. Here are a few automation tools used by top agents.
💬 Automated Lead Response: If your leads are set to automatically flow to your CRM, you can take that a step further and set up a task plan that takes care of a lot of the initial lead communication for you.
🌱 Automated Marketing for Your Farm: Real estate farming is an effective lead generation strategy, but it takes a lot of time, effort and consistency to become the go-to real estate expert in an area. Tools like Smart Targeting can do the heavy lifting for you by first using AI to tell you the 20% most likely to sell, and then launching a multi-channel marketing campaign to get you in front of your top prospects.
Example of Smart Targeting's marketing campaigns
📈 Market reports: Sending a quality market report is a great way to provide value, stay top of mind and show off your expertise. And it also works well for all stages of the client lifecycle. From the reports that tell your current clients what's going on in the market, to the alerts that tell your past clients what the neighbor's house sold for, you'll effortlessly stay in touch.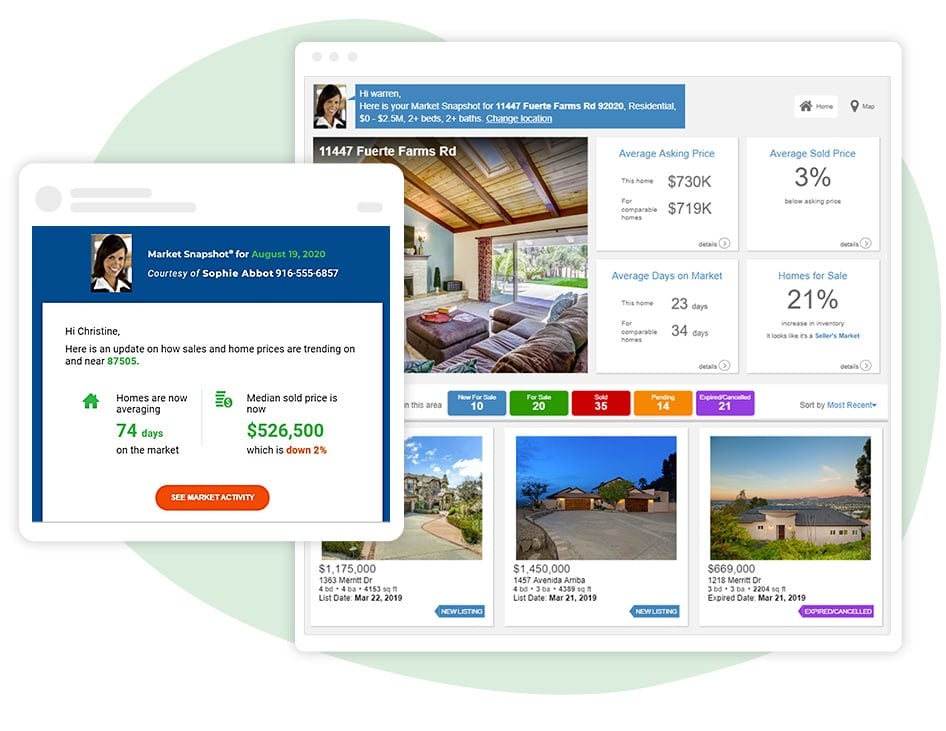 Branded Market Snapshot reports with live MLS data
📝 Contact Task Plans: You know that the average lead isn't ready to buy or sell right away. You also know that your past clients need to hear from you on a consistent basis in order to increase your repeat & referral business. A good real estate drip campaign will prevent clients from slipping through the cracks and keep you top-of-mind until they're ready to buy or sell. And the best part—once the plans are set up, you apply them as needed and let your CRM do the heavy lifting for you. 💪🏻
📅 Transaction management workflows: Having a process in place to manage the complex steps of a real estate transaction helps you provide exceptional service and makes sure important details don't get forgotten. Good transaction management tools offer dynamic workflows that you can build around key transaction dates. That way when dates change or life happens, you update one date and the whole workflow adjusts automatically.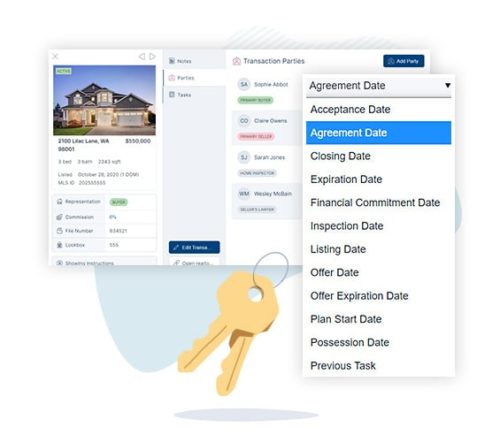 Key dates in Top Producer's dynamic workflows
🔀 Lead routing and automatic team assignment: If you're part of a team, tools like FiveStreet broadcast leads to your team, notify you when a lead is claimed, allow you to keep track of who is working a lead, and more.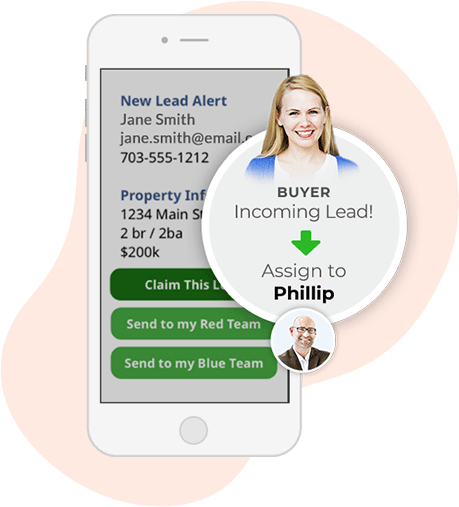 FiveStreet's team broadcast feature
And that's pretty much all you need to know when shopping for a real estate CRM.
Download the guide below to get a free buyer's checklist 📋 and a self-assessment 📝 to help you decide if you need a CRM.

With these resources and the details outlined in this real estate CRM guide, you'll be well on your way to finding the CRM that's right for you.