FiveStreet Pipeline Management
Get all your leads from all your sources into one streamlined space. FiveStreet lead management software works with your existing lead sources and turns your phone into a virtual command center. Automatically deliver personalized auto-responses to new leads in less than a minute, broadcast leads to your team, and easily keep track of who is working a lead.
This way, valuable leads don't get lost.
Manage your pipeline while you're out showing houses
FiveStreet real estate lead generation software helps agents boost revenue from online leads with speed, personalization, and organization. Capable of handling any online lead sent through email, FiveStreet works with leads from over 150 online vendors.
Deliver a customized, automatic email and/or text reply to the prospective buyer
Automatically broadcast leads to your team, or redirect the lead to a custom team with a single tap
Get an instant notification as soon as the lead is claimed
Review prospect details (including social networking information) and property details before calling a lead
Keep your team in the loop with shared access to contacts, communications, and a calendar of key dates and tasks
Make decisions for business growth with helpful dashboards
Connects with your existing Google Mail or Gmail with a single click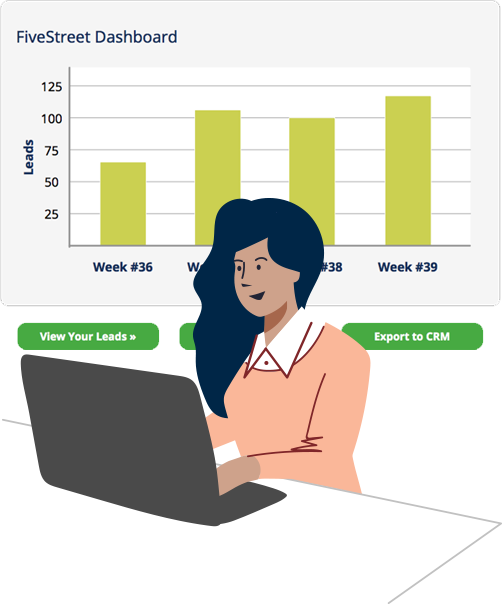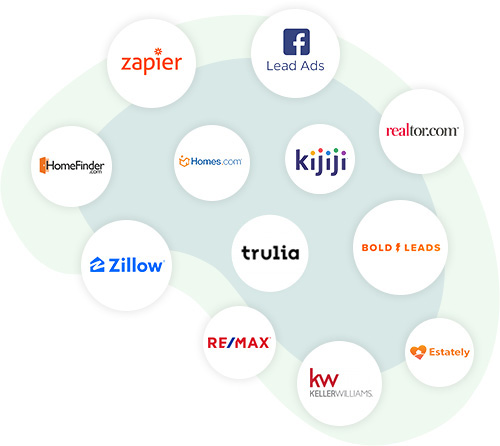 Consolidate your lead sources
Complement your real estate CRM with FiveStreet. With this real estate automation software, you get access to a bevy of benefits including:
Over 100 lead vendors
Manage all of your leads in one place. FiveStreet's proprietary lead management and consolidation technology allows us to gather leads from any email-based lead source. We currently connect to over 100 lead sources.
Personal @fivestreet.me address
Direct any email-based lead source to a personal @fivestreet.me email address that we provide. FiveStreet will extract the pertinent lead information from the email and jump into action.
See full list of lead providers
1800homehotline.com
1ParkPlace
Agent Pronto
AgentAchieve
AgentJet
AgentLocator – Seller
Agentology.com – Buyer
Agentology.com – Seller
AllClients
ApartmentList.com
AppFolio, Inc.
AppSurdity, Inc.
AppSurdity, Inc. – Seller
AWeber
AWeber
BoldLeads.com
BoldLeads.com – Seller
BombBomb
BoomTown
Buyer Acquire
CallRail
Century 21 Canada
CirclePix
ClickDesk
Coldwell Banker
Commissions Inc.
Commissions Inc. – Seller
corefact.com
Diverse Solutions
DotSignal
EasyAgentPro.com
eLookyLoo.com
ExpertHomeOffers.com
First2Contact
FlipKey
FLIPT
FLIPT
FreeHouseValues.com
Gravity Forms
Halstead.com
Halstead.com – Agent
HAR.com
HeroicLeads.com
HEROPM
HomeBidz.co
HomeFinder
HomeLight
Homes Database
Homes.com
Homesnap
HomeValueGuides.com
Hotline America
House Value Store
HouseHunt
HubSpot, Inc.
HUD Seeker
IDX Broker Platinum
iHomeFinder
InboxRealEstateLeads.com
Keller Williams
Kijiji
kunversion.com
kwkly.com
LandAndFarm.com
LandsOfAmerica.com
LandWatch.com
Leadpages
LeadRouter
ListGlobally
Listing Booster
ListingWare
livelovely.com
Lone Wolf
LoopNet
Luxury Real Estate
Metroland Media Group Ltd.
MLS Finder
MRIShomes
***** Apartments
NetAspects
NYTimes.com
Owners.com
PadLister
Point2
Postlets
Postlets – Rental
PrivateCommunities.com
ProLeads
PropertyMinder
PropertyPulse
PSL
PureAgent
ReadyChat – Rental
Real Estate Pipeline
RealBird.com
RealEstateLeads.ca
RealEstatePal
RealGeeks
RealLiving
realtor.com
Realty Store
RealtyJuggler
RealtyNow
Redman Tech
Reliance Network
Remax.com
REMAX.ca
Renegade Agent Marketing
Rentals.com
Rentbits
RentHop.com
RentRange.com
Reply.com
Royal LePage
RPS
ShowcaseIDX
SmarterAgent
Spatial Match
SpotOn Connect
StreetEasy
StreetText
SuccessWebsite
Superlative
TeamLeads
TeleTracker
TeleTracker
TigerLead
Unbounce
Used.ca
USHUD
USMilitaryFSFR.com
VisualFarming.com
Website
Yardi Systems, Inc.
YouMail.com
YourRent2Own.com
Zillow Group – Rental
ZipRealty.com
Zurple

Email Auto-Responder
Automatically send a customizable email to incoming leads. Share information about your team including social media information and industry awards.

Text Message Auto-Responder
Automatically send a customizable text message to incoming leads. Let the potential buyer know that you have received their inquiry and will get back to them shortly.
Collaborate with your team
Create Teams
Create a team using a simple point and click interface. Create different teams to span different markets, or create teams based on agent seniority.
Lead Broadcasting
Lead broadcasting is the heart of FiveStreet. Automatically broadcast new leads to your team. Redirect leads to a different team at the click of a button. Get notified as soon as somebody claims the lead.
Mobile Friendly
Mobile lead management that doesn't make you install any software; it uses your smartphone's built-in email and text messaging to send lead notifications.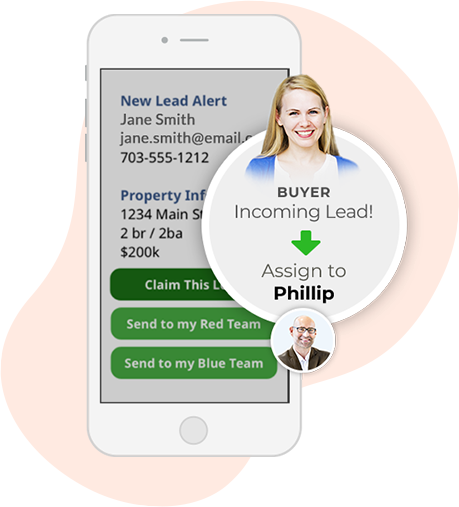 Lead stats
See how many you have received from each lead vendor. Slice and dice by date or geography. View the total value of leads that have been sent your way.

Team insights
Structure your weekly team meeting around FiveStreet's dashboard. View recent leads by date of last activity. For every lead, see the claiming agent and the lead's current status.

Export a .CSV file
In a single click, export a .CSV file of your lead data, suitable for importing into Excel or your CRM.
Integrate with other
popular tools
FiveStreet can automatically send your online leads to other leading real estate applications. Get your leads out of your inbox and put them to work.