About Top Producer® Systems
Top Producer® Systems has been a leading provider of innovative real estate software tools since 1982.
Tens of thousands of agents currently use Top Producer® solutions to stay organized, simplify follow-up, and grow their repeat-and-referral business. Experience the difference of adopting the Top Producer® approach for your real estate CRM and website:
Solutions you can count on
We've been serving the real estate industry for decades with solutions that are relied upon by top agents across the country. Experience peace of mind knowing your data is safe and secure.
Powerful data integrations
Top Producer® solutions are powered by data from hundreds of MLSs across the US and Canada. Gain exciting new ways to engage home buyers and sellers and reduce your time on data entry.
Human support and customer service
We make getting started or switching CRMs easy! Our team of friendly coaches and technical support staff provide one-on-one coaching that gets you up-and-running, plus live assistance when you need it.
Top Producer® Mission
A lot of things have changed since we got started in 1982, and Top Producer® has evolved with those changes. But one thing has not changed: real estate is still a relationship business. Top Producer® remains committed to helping agents build lifelong relationships with easy-to-use, time-saving real estate software solutions.
These include:
Top Producer CRM to help you build relationships, organize your business & automate your marketing with branded MLS reports

Smart Targeting

to help you farm smarter with

AI-driven analytics and an automated multi-channel marketing campaign

FiveStreet real estate lead generation software that consolidates so you never lose a valuable lead
Real estate websites that are beautifully designed and user-friendly
Top Producer® is owned by Top Producer Software Corp and Top Producer Software, Inc, a part of the Constellation Real Estate Group.
*Move data, 2019. Mailchimp Email Marketing Benchmark Statistics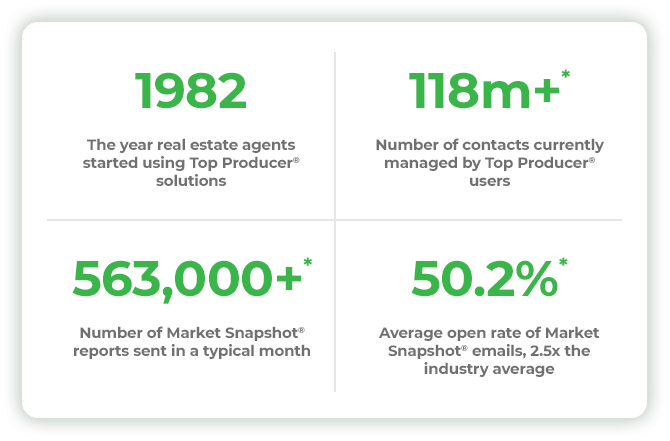 Frequently Asked Questions
Check below for answers to commonly asked questions about Top Producer® CRM
How much does Top Producer cost?
The pricing of Top Producer® products depends on the size of your team, the products you need, and the payment cycle you choose. Save with our popular packages, all-inclusive features, annual pricing and discounts for teams and brokers. See Pricing Here.
What is Top Producer?
Top Producer® is a web-based CRM system suited for agents or brokerages in the Real Estate industry. The system helps real estate agents personalize follow up and manage clients from initial contact, to long-term repeat and referrals.
Learn More.
Can I capture leads with Top Producer?
Yes! We can capture leads from over 100+ sources. If you receive an email for the lead, we can capture it.
Is there a limit with Top Producer on how many contacts I can store?
Yes, you can store up to 50,000 contacts.
Does Top Producer have Social Media Integration?
Top Producer® works with Zapier to automatically import your leads from social media platforms like Facebook. In addition, the Social Insights feature searches the web for public profiles matching your contacts so you can see updated photos, interests, links and dates.
Is there an option for text messaging with Top Producer?
Yes, and it will save your texts under the contact details so you can see and track exactly what you sent and received.
What customers say about Top Producer® support reps