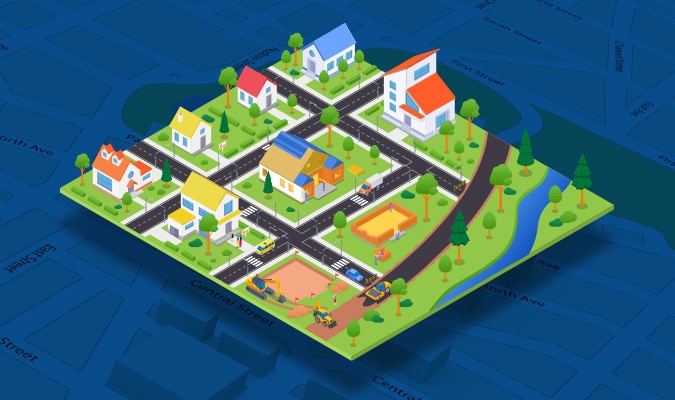 If you're looking for a strategy to help you dominate your farm, then you'll

this real estate farm guide.
You'll learn how to:
Build your brand
Get more listings
Increase your ROI with a long-term strategy
So, let's dive in, shall we?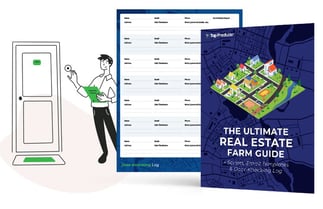 What is real estate farming
Real estate farming is a lead generation strategy where agents focus their efforts on a specific neighborhood or area. The end goal is that you'll be top of mind by providing consistent value and attention over time.
There are 2 main methods of farming—geographic and demographic. Geo-farming obviously involves focusing your efforts on a specific area, while demographic farming involves focusing on a specific niche (first-time homebuyers, downsizers, income levels, etc).
You can combine the methods if you want by first choosing a specific area, and then choosing to target a specific type of buyer or seller. Read more about this in Knowing your target audience.
Real estate farming takes time and consistency, especially when you're helping people buy or sell their largest asset. And while it takes time to build trust and relationships, if you're consistent with your efforts, they will pay off.
Finding the perfect place to plant your seeds
When choosing an area, take the time to do your research. Consider a neighborhood you know and where you've had previous success, if possible. Many agents choose an area close to home because they have first-hand knowledge.
Some things to consider when choosing an area:

Turnover rate: A turnover rate of at least 7-8%* is recommended. To find the percentage of homes that sell each year in a neighborhood, divide the # of sales in the last 12 months by the # of homes in the area, then multiply that by 100 to get the turnover rate.

Average sale price: Get a list of sold properties from the last few years and calculate the average price for each year.

Farm size: This will largely depend on your budget, though many recommend not exceeding 500 homes & starting even smaller if you're a new agent.

Competition: If there is a well-established agent in the area already, you may want to look at other areas or use different tactics.
Knowing your target audience
The more you know about your target audience, the more effective your marketing will be, and the more likely people are to respond.
Once you've decided on the geographical area for your farm, it's time to learn about the people that live there:

Research the demographic: What's the average age in the area, are there lots of young families, what is their education level, are they on social media?

Niche marketing: To take this a step further, you can focus on a specific demographic within the area. First-time homebuyers, downsizers, golfers and those looking to move up are all examples of groups you can target.

Use AI to tell you who's most likely to sell: Rather than spend 95% of your budget mass marketing to people that aren't going to sell soon in the hopes of finding a handful of potential sellers, let AI tell you the top 20% of households that are most likely to sell. Tools like Smart Targeting use predictive algorithms, data analytics and automated marketing to help put you in front of your next seller.
And remember, since you're targeting a specific area and perhaps a demographic too, take advantage by making your messaging super relevant. Talk about the local schools, the new trendy restaurant in town and how much prices are going up on 123 Main Street.
For example, real-time MLS alerts with your branding are a great way to showcase your expertise. And who doesn't want to know what the neighbor's house sold for?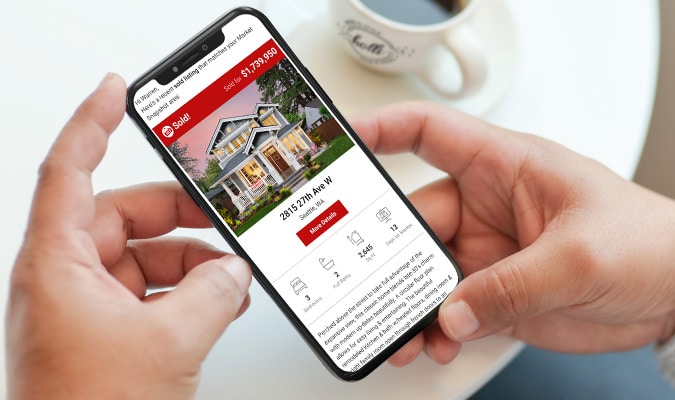 Example of a real-time MLS sold alert by Market Snapshot
A multi-channel marketing plan—a mix of offline & online
It's possible you've been at the real estate farming game for a while and have been getting results with the traditional offline strategies. Great!
But with 95% of all buyers using online tools during the search process**, it's important to make sure you have a digital presence in your farm too. Striking a balance between online & offline marketing will get you the best results.
Here are some tried-and-tested methods:

Print marketing—postcards, flyers, door hangers.

Digital ads

Email campaigns

Door knock but kick it up a notch. Offer value with a branded market report:



Hand-written notes: Save for those you've had a face-to-face with, or people you know have interacted with your marketing. For example, if you're sending market reports and you have analytics on open rates, choose the top most-engaged contacts and write a hand-written note.
Pro tip: Some tools, like Smart Targeting, handle all of the marketing for you, from Facebook ads to print marketing and email campaigns, so you can focus on building relationships.
Farming ideas to stand out
In addition to the traditional farming ideas, it's a good idea to mix it up and include some unique ones to make sure you stand out.

Craft a survey: Capture prospects' email addresses with a well-crafted survey you can post on your social media channels, send in email and more. For example, covering topics like "Should I move right now?" will get a ton of engagement online and help to position yourself as an expert.

Get involved in the community: Attend community events and city meetings, host neighborhood garage sales, etc.

Use neighborhood hashtags: Reach your target audience by using specific hashtags to make sure your content shows in up the right social media feeds.

Create content for your farm: Blog about the local hotspots, the schools, upcoming events.

Join the local Facebook groups: Start to earn trust by offering real estate tips to those in the area.

Ice cream or food truck promo: A little costly, but who doesn't love an ice cream in the summer? 🍦 Hire an ice cream truck or food truck for a short time in your local farm and the prospects will line up.
Automate to nurture your new leads
When leads inevitably start to respond to your marketing, you'll want to make sure they're automatically sent to your real estate CRM so they don't slip through the cracks.

Consolidate your leads in one place. A good CRM accepts leads from hundreds of different lead sources.

Use the tagging system in your CRM to keep track of where prospects are in the client lifecycle—ready to buy/sell soon vs a long-term opportunity—so you'll always have an accurate view of your Sales Pipeline.

Apply a follow-up plan based on where they are in the client lifecycle:
Long-term opportunities: Set them up to receive monthly market reports and apply a drip email campaign to ensure you're regularly offering value.
Short-term opportunities: Set them up to receive weekly market reports and alerts for new listings, price changes and sold alerts. You can also apply a high-touch Task Plan to ensure you're reaching out regularly.

With tools like Smart Targeting, leads that respond to your marketing will be directed to landing pages designed to convert seller leads. Once they submit their contact info, they'll receive a comparative market analysis (CMA) and monthly local trends to move them through your pipeline.
And that's all there is to it. With the solid plan outlined in this real estate farm guide, the latest technology and some consistency and patience, you'll be well on your way to dominating your farm!
* inman.com
** NAR 2021 Profile of Home Buyers and Sellers