Times are unsettling for many. Interest rates are on the rise ⬆, gas prices are through the roof, inflation is at multi-decade highs, and it seems at every turn people are talking about the economy and the likelihood of a recession.
But you know it's not 2008—there are big differences between the market now and the market leading up to the Great Recession. Even if we do enter a recession, that doesn't automatically mean the housing market is going to crash. History tells a different story: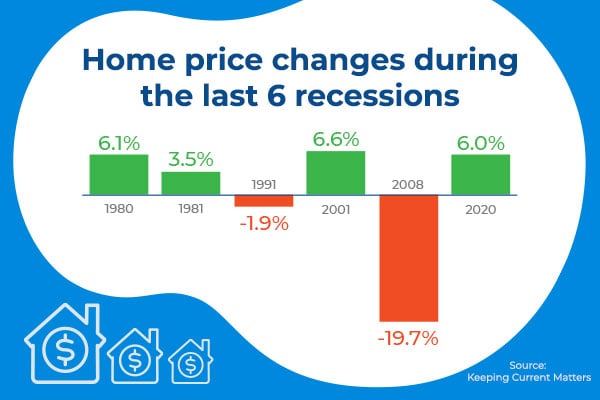 A graph showing home price changes during the past 6 recessions
That said, we are in an economic downturn and smart agents are doing what they can now to prepare and adjust to the changing market. Here are some things you can do to make sure you are in a better position down the road.
3 tips to prepare for the changing market
#1 – Reach out to your past clients and sphere & educate them 👩‍🏫
Now more than ever, you want to focus on your past clients and SOI. During these uncertain times, your clients have questions, and you have the opportunity to be their voice of expertise. Reassure your clients and answer their questions, like: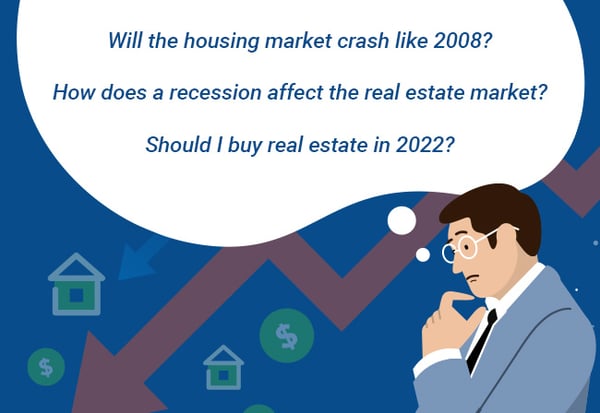 No one is better equipped to answer these questions than you. So, reach out and send a text or email just to check in and see how they're doing. You'll stay top-of-mind and show you care. ❤️
And if you've got all of your contacts in a real estate CRM, you're already one step ahead. Set aside 15 minutes a day to send a message or call your clients and be sure to record any details.
Tools like the smart contact lists in Top Producer make it easy for you to bucket your contacts and set follow-up reminders for them. For example, create a bucket for your past clients & set a reminder to follow up within 60 days. Visual reminders make it easy to see who needs attention first.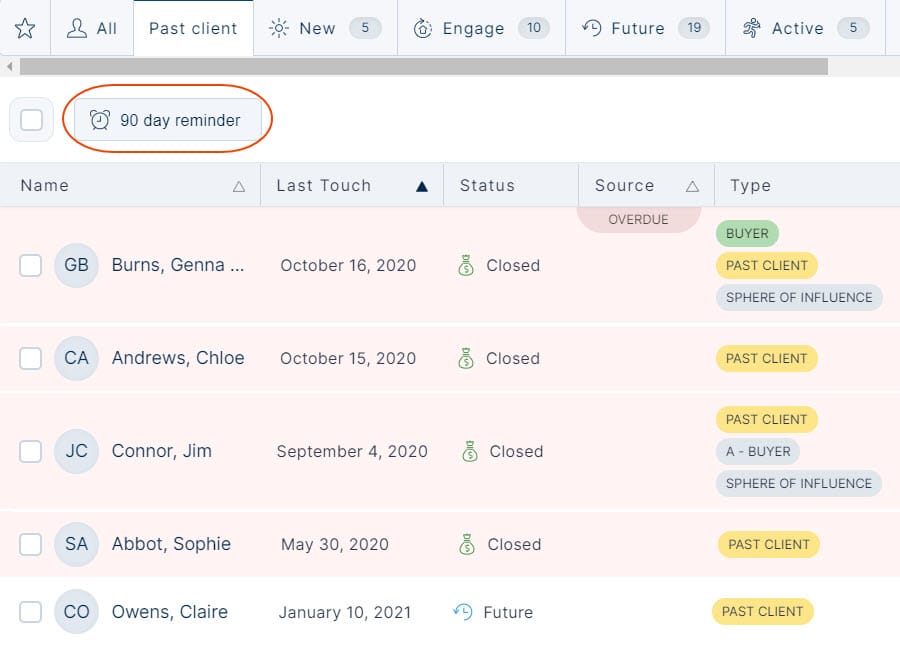 Smart contact lists in Top Producer CRM
make it easy to bucket contacts & set reminders

Pro tip: Set up this quick email template in your CRM and then send a group email to touch many clients at once.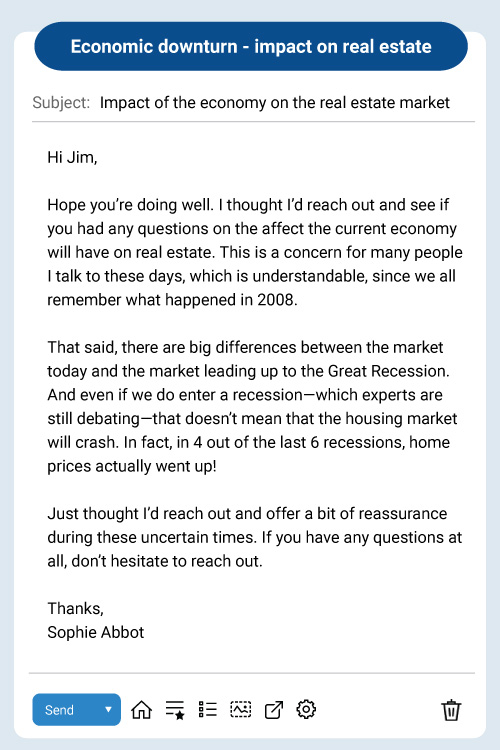 Email template you can send to update your clients on the market
#2 – Broaden your territory and farm smarter 🏘️
Establishing yourself as the local expert and a trusted brand is more important than ever. If your farm area is cooling off, consider expanding your reach. And once you've selected an area, be sure to learn about the people that live there. The more you know about your target audience, the more effective your marketing will be, and the more likely people are to respond.
For more farming tips, like how to choose an area and new farming ideas to stand out, get the free Ultimate Real Estate Farm Guide.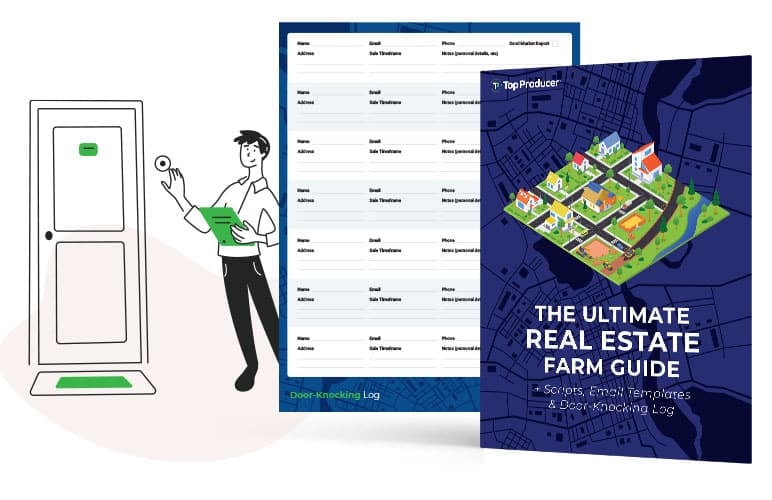 Pro tip: Rather than spend 95% of your budget mass marketing to people that aren't going to sell soon in the hopes of finding a handful of potential sellers, use AI to help you farm smarter. Tools like Smart Targeting can tell you the top 20% of households that are likely to sell in an area and launch a multi-channel marketing campaign on your behalf.
#3 – Keep clients in the loop on their local market 📈
It's great to keep your clients informed on the broader real estate market, but there's something to be said for hyperlocal information that tells them what's going on down the street.
Do this with a branded market report based on real MLS data. From local market stats to what the neighbor's house just sold for, you'll be providing the info consumers really care about.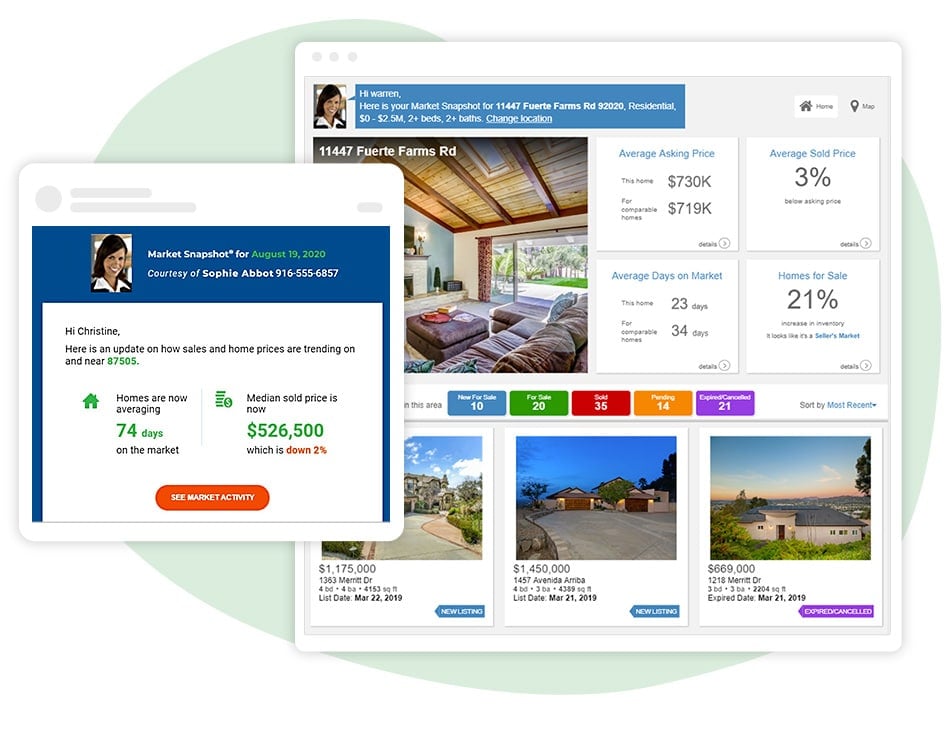 Branded Market Snapshot reports with live MLS data
Following just one of these tips will help ensure you come out on the other side more successful than ever.