Over the last year, Top Producer CRM has been working diligently with the Constellation Real Estate Group's propriety MLS data platform as well as the MLS boards in North America to improve the experiences of both our agents and their clients while using Top Producer.
We're excited to announce new MLS agreements that give Top Producer up to 6 months of MLS data feed and conform to the latest RESO standards! These MLS agreements allow subscribed agents to:
Search their MLS inventory
Track home buyer's properties of interest
Import listing info with just a click
Send data-packed email marketing!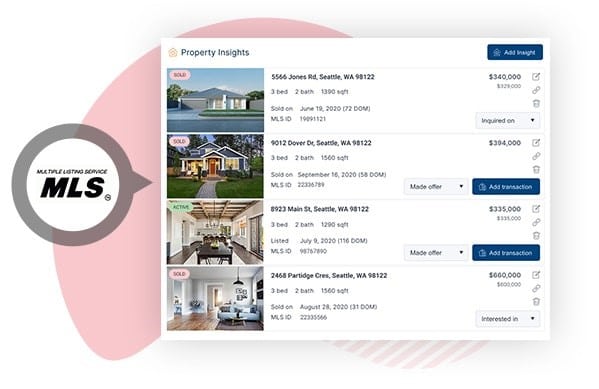 Why get a CRM with MLS integration?
You probably spend hours searching the Multiple Listing Service (MLS) for homes to show clients, verifying property details or just researching requests. By having live MLS listings housed in your CRM, you'll save big on valuable time and offer the data-backed follow up clients love.
How does CRM MLS integration work?
With Top Producer's MLS integration, you can import listings into your transaction records, saving you valuable time.
And MLS-powered Property Insights allow you to keep track of the properties you've shown your buyers, so you stay organized. Just enter the MLS number or partial address to select a property, and then set the status accordingly (for example, inquired on, not interested, etc). And the best part—once added to a buyer's record, the latest property status and details are automatically updated so you have the latest info at your fingertips.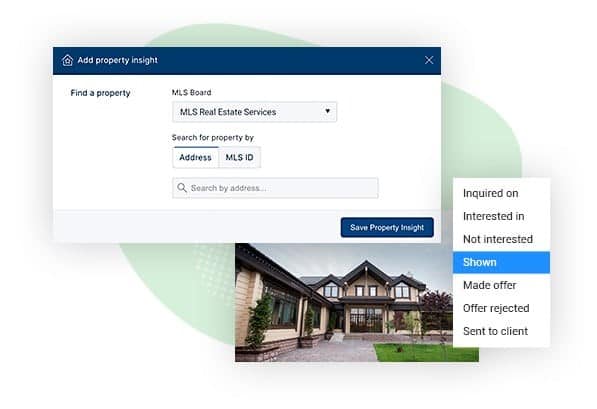 Automate and share MLS data with Market Snapshot Reports
Want to personalize and automate your follow up? With Market Snapshot® Reports, your clients automatically receive timely information about for-sale properties, new listings, price changes, neighborhood trends, and sold data.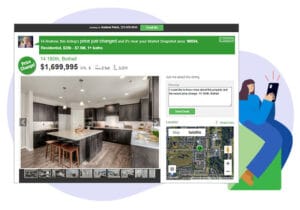 Market Snapshot Reports answer real estate's #1 question : "How's the market?" !
Spark conversations with direct message & convenient "email me" buttons
Share the latest property updates including just sold, price change, or just listed
Photos, maps, satellite images, and neighborhood views available
Detailed MLS information including beds, baths, sq feet, year built and more
Complete list of boards migrated to our new MLS data platform:
United States:
AK – Alaska
AL – Alabama
BaldwinAL – Baldwin County MLS
GreaterAlabama – Birmingham MLS (Greater Alabama)
GulfCoastAL – Birmingham MLS (Greater Alabama)
MontgomeryAL – Montgomery Area MLS (AlaMLS)
PhenixCity – Phenix City MLS
Strategic – Shoals Area MLS
ValleyMLS – ValleyMLS.com (Frmrly Noth Alabama MLS)
AR – Arkansas
CARMLS – Cooperative Arkansas Realtors MLS
GNIAR – Greater Northwest Indiana MLS
HotSprings – Hot Springs MLS
NorthwestAR – Northwest Arkansas MLS (frm. Arkansas Regional)
AZ – Arizona
ARMLS – Arizona Regional MLS
CentralArizonaPS – Central Arizona MLS
LakeHavasu – Lake Havasu AOR
MLSSAZ – MLS of Southern Arizona
NorthernAZ – Northern Arizona MLS, Flagstaff
PrescottAZ – Prescott Area MLS
Sedona – Northern Arizona MLS, Sedona
WARDEX – Western Arizona Regional Data Exchange (WARDEX)
Yuma – Yuma MLS
CA – California
Antelope – Greater Antelope Valley MLS
Bakersfield – Bakersfield MLS
BAREIS – Bay Area Real Estate Information Services (BAREIS)
BigBear – Big Bear Valley MLS – Currently unavailable for new orders.
Calaveras – CLAW MLS
CLAW – CLAW MLS
ContraCosta – MAX MLS and EBRD MLS
CRMLS – California Regional MLS (CRMLS)
DesertArea – Coop MLS – Desert Area
FresnoMLS – Fresno MLS
Humboldt – Humboldt County MLS
iTech – Coop MLS – iTech (now part of CRMLS)
Metrolist – Metrolist Services Inc.
MLSL – MLSListings Inc. (RE Infolink)
NSBCRMLSPS – North Santa Barbara County Regional AOR
PacificRegionalMLS – PACMLS
PlumasCounty – Plumas MLS
RimMLS – Rim Of The World MLS
SanDiego – San Diego MLS
SBAOR – Santa Barbara MLS
SFAR – San Francisco MLS
Shasta – Shasta MLS
Southland – California Regional MLS (CRMLS)
SouthTahoe – South Tahoe MLS
TahoeSierra – Tahoe Sierra MLS
Tehachapi – Tehachapi MLS
Tuolumne – Tuolumne County MLS
VictorValley – Victor Valley MLS
CO – Colorado
CREN – Colorado Real Estate Network MLS
GrandJunction – Grand Junction Area MLS
IRES – IRES MLS
PikesPeak – Pikes Peak MLS
Pueblo – Pueblo MLS
REColorado – MetroList of Denver MLS (REColorado)
RoyalGeorge – Royal George MLS
Telluride – Telluride MLS
VailPS – Vail MLS
CT – Connecticut
NewCanaan – New Canaan MLS
Greenwich – Greenwich MLS
SmartMLS – SMARTMLS
DC – District of Columbia
DE – Delaware
FL – Florida
AmeliaIsland – Amelia Island – Greater Nassau County MLS
BeachesMLS – Beaches MLS
BonitaSprings – Bonita Springs-Estero MLS
BrevardMLS – Brevard County MLS
CentralPanhandle – Emerald Coast MLS
CitrusCounty – Citrus County MLS
Daytona – Daytona Beach MLS
FlaglerCounty – Flagler County MLS
FloridaKeys – Florida Keys MLS
FortMyers – Florida Gulf Coast MLS
FranklinGulf – Franklin and Southern Gulf Counties MLS
FtLauderdale – Greater Ft Lauderdale MLS
HernandoCounty – Hernando MLS
IndianRiver – Indian River County MLS
KeyWest – Key West MLS
MartinCounty – Martin County MLS
NABOR – Southwest Florida MLS
NavarreBeachPS – Navarre Beach MLS
NewSmyrnaBeach – New Smyrna MLS
PalmBeachFL – Palm Beach MLS
Pensacola – Pensacola MLS
RealMLS – realMLS
SEF – South East Florida MLS
StellarMLS – Stellar MLS
Tallahassee – Tallahassee MLS
GA – Georgia
AltamahaBasinPS – Altamaha Basin MLS
AugustaGA – Greater Augusta MLS
CentralGA – Central Georgia MLS, Inc.
ClassicMLS – Athens Area MLS
ColumbusGA – Columbus GA MLS
FMLS – First Multiple Listing Service (FMLS) (ATGA)
GeorgiaMLS – Georgia MLS (MetroListing Services of Atlanta)
GoldenIsles – Brunswick Glynn
Hinesville – Hinesville Area MLS
MiddleGA – Middle Georgia MLS
SavannahMLS – Savannah MLS
SouthGeorgiaMLS – Valdosta MLS
SWGeorgiaPS – Southwest Georgia MLS
HI – Hawaii
Hawaii – Hawaii Information Service (MLS Hawaii)
HiCentral – HiCentralMLS (Honolulu)
IA – Iowa
CedarRapids – Cedar Rapids Area MLS
CentralIowa – Central Iowa MLS
DesMoines – Des Moines Area MLS
IowaAOR (formerly MidIowa) – Mid Iowa Regional MLS
IowaAOR (formerly NorthCentralIA) – North Central IA MLS
IowaAOR (formerly WestCentralIA) – West Central Iowa
IowaAOR – Heart IA Regional MLS
IowaAOR – South East Iowa
IowaCity – Iowa City Area MLS
NortheastIA – Waterloo Cedar Falls MLS
SoutwestIA – Southwest Iowa MLS
ID – Idaho
Intermountain – Intermountain MLS
Selkirk – Bonner County MLS
SnakeRiver – Snake River Regional MLS
IL – Illinois
MRED – Midwest Real Estate Data MLS (MRED)
RMLSA – Peoria Area MLS
RockfordIL – Rockford Area MLS
IN – Indiana
Bismarck – Bismarck Mandan MLS
IRMLS – IRMLS
MIBOR – Metropolitan Indianapolis MLS (MIBOR)
RichmondIN – Richmond MLS
SoutheasternIN – Southeastern Indiana MLS
SouthernIN – Southern Indiana MLS
TerreHaute – Terre Haute MLS
KS – Kansas
FlintHills – Manhattan, KS MLS
LawrenceKS – Lawrence MLS
MidKansasMLS – Hutchinson MLS
SalinaMLS – Salina MLS
SouthCentralKansas – South Central Kansas MLS
Sunflower – Topeka MLS
KY – Kentucky
HeartOfKentucky – Heart of Kentucky MLS
HendersonKY – Henderson Audubon MLS
LexingtonKY – Lexington-Bluegrass MLS
LouisvilleKY – Greater Louisville MLS
NorthernKY – Northern Kentucky MLS
Owensboro – Owensboro MLS
WesternKY – Western Kentucky Regional MLS
LA – Louisana
Acadiana – Acadiana MLS
BatonRouge – Baton Rouge MLS
GreaterSouthern – Greater Southern MLS
GreaterSouthern – Southwest Louisiana MLS
GSREIN – New Orleans Metropolitan MLS
MA – Massachusetts
BerkshireCounty – Berkshire County MLS
CapeCod – Cape Cod and Islands MLS
MarthasVineyardMLSRDC – Marthas Vineyard MLS
MLSPIN – Property Information Network (MLS PIN)
MD – Maryland
ME – Maine
MREIS – Maine Real Estate
MI – Michigan
AnnArbor – Ann Arbor Area MLS
LansingMI – MiRealSource MLS, Inc. (Michigan MLS)
MiRealSource – Flint Area MLS (part of MiRealSource)
MiRealSource – Lenawee County MLS (part of MiRealSource)
MiRealSource – MiRealSource MLS, Inc. (Michigan MLS)
MiRealSource – Monroe County MLS (part of MiRealSource)
NorthernGreatLakes – Northern Greal Lakes Regional (Central Michigan)
Realcomp – Realcomp MLS
SWMRIC (formerly JacksonMI) – Jackson Area MLS
SWMRIC – Michigan Regional Info Center (frm Soutwestern MichiganI)
UpperPeninsula – Upper Peninsula MLS
MN – Minnesota
Duluth – Lake Superior Area Realtors
GreaterLakes – NorthstarMLS
NorthStarMLS – NorthstarMLS
SouthernMN – Southern Minnesota MLS
MO – Missouri
ColumbiaMO – Columbia MLS
HeartlandMLS – Heartland MLS
JeffersonCity – Jefferson City Area MLS
LakeOzarks – Lake of the Ozarks MLS
MARIS – Mid America Regional Information System (MARIS)
OzarkGateway – Joplin MLS
SouthernMO – Southern Missouri Regional MLS
MS – Mississippi
MLSUnited – Jackson MLS (Central Mississippi)
MLSUnited – MLSUnited
NorthCentralMS – North Central Mississippi MLS
PicayunePS – Pearl River MLS
MT – Montana
BigSky – Gallatin MLS
BillingsMLS – Billings MLS
MontanaRegional – Montana Regional MLS
NC – North Carolina
Albermarle – Albermarle Area MLS
CanopyMLS – Canopy MLS
HighCountry – High Country MLS
HighlandsCashiers – Highlands Cashiers MLS
LongleafPine – Fayetteville MLS
MidCarolina – Pinehurst-Southern Pines MLS – Currently unavailable for new orders.
NorthCarolinaRegional (Brunswick County AOR) – North Carolina Regional MLS
NorthCarolinaRegional (Carteret County MLS) – North Carolina Regional MLS
NorthCarolinaRegional (Greenville Pitt AOR) – North Carolina Regional MLS
NorthCarolinaRegional (Jacksonville MLS) – ShippingName
NorthCarolinaRegional (Neuse River Region AOR) – North Carolina Regional MLS
NorthCarolinaRegional (Rocky Mount Area AOR) – North Carolina Regional MLS
NorthCarolinaRegional (Topsail Island BOR) – North Carolina Regional MLS
NorthCarolinaRegional (Washington Beaufort County BOR) – North Carolina Regional MLS
NorthCarolinaRegional (Wilmington Regional AOR) – North Carolina Regional MLS
NorthCarolinaRegional (Wilson MLS) – North Carolina Regional MLS
OuterBanks – Outer Banks MLS
TriadMLS – Triad MLS
TriangleMLS – Triangle MLS
ND – North Dakota
NE – Nebraska
GrandIslandNE – Grand Island MLS
GreatPlains – Great Plains Realtors MLS
LincolnCountyNE – Nebraska Statewide Lincoln County North Platte MLS
NorfolkNE – Nebraska Statewide Norfolk MLS
NJ – New Jersey
BrightMLS – brightMLS
CapeMayCounty – Cape May County MLS
CentralJerseyMLS – Middlesex County MLS
HudsonCountyNJ – Hudson County MLS
MonmouthOceanMLS – Monmouth Ocean Regional MLS
NewJerseyMLS – New Jersey MLS
NM – New Mexico
Las Cruces MLS PS – Las Cruces MLS
NewMexicoMLS – New Mexico Multiboard MLS
Roswell – Roswell MLS
SanJuanCounty – San Juan County MLS
SantaFe – Santa Fe MLS
SilverCity – Silver City Regional MLS
SouthwestMLS – Southwest MLS
NV – Nevada
InclineVillage – Incline Village MLS
LasVegas – Greater Las Vegas MLS
NorthernNV – Northern Nevada Regional MLS
NY – New York
Adirondack – Adirondack Champlain Valley MLS
Brooklyn – Brooklyn New York MLS
Cortland- The New York State Alliance of MLS (NYS)
CNYREIS – The New York State Alliance of MLS (NYS)
GlobalMLS – Global MLS (prv Capital Region)
JeffersonLewis – The New York State Alliance of MLS (NYS)
MidHudsonNY – Mid Hudson MLS
NYState – MyStateMLS
OneKey – Manhattan MLS
OneKey – OneKey MLS (MLSLI)
OtsegoDelaware – Otsego-Delaware MLS
StatenIsland – Staten Island MLS
UlsterCounty – Ulster County MLS
UNYREIS – The New York State Alliance of MLS (NYS)
WNYREIS – The New York State Alliance of MLS (NYS)
OH – Ohio
CincyMLS – MLS of Greater Cincinnati
ColumbusOH – Central Ohio Regional MLS (Columbus MLS)
MLSNow – Yes MLS
NORIS – Northwest Ohio Real Estate Info Systems (NORIS)
WRIST – WRIST MLS
OK – Oklahoma
LawtonOK – Lawton MLS
MLSOK – Oklahoma City MLS
MLSTechnology – MLS of Tulsa
NortheastOK – Northeast Oklahoma MLS
OR – Oregon
CentralOR – Southern Oregon MLS
Klamath – Southern Oregon MLS
PortlandOR – Portland Metropolitan Area MLS (RMLS)
SouthernOR – Southern Oregon MLS
WillametteValley – Willamette Valley MLS
PA – Pennsylvania
AlleghenyHighland – Centre County MLS
BrightMLS – brightMLS
CentreCountyPA – Centre County MLS
EriePA – Greater Erie MLS
LehighValley – Lehigh Valley MLS
PikeWayne – Pike Wayne MLS
PoconoMountains – Pocono Mountains MLS
ScrantonPA – Greater Scranton MLS
Siskiyou – Siskiyou MLS
WestBranch – West Branch Valley MLS
WestPenn – West Penn Multi List
RI – Rhode Island
StateWideMLS – State Wide MLS
SC – South Carolina
ColumbiaSC – Consolidated MLS – Columbia
CTAR – Charleston Trident MLS (CTAR) – Currently unavailable for new orders.
GreenvilleSC – Greater Greenville MLS
HiltonHeadI – Hilton Head Island MLS
LRMLSPS – Lowcountry Regional MLS
MLSGreenwood – Greenwood MLS
MyrtleBeach – Coastal Carolinas MLS
PeeDee – Greater Pee Dee MLS (Florence) – Currently unavailable for new orders.
Spartanburg – Spartanburg MLS
WesternUpstateMLS – Western Upstate (Anderson) MLS
SD – South Dakota
EastCentralSD – East Central MLS
MountRushmore – Northern Black Hills and Southern Black Hills MLS
SiouxFalls – Sioux Empire MLS
TN – Tennessee
CentralWestTN – Central West Tennessee MLS
Chattanooga – Chattanooga MLS
GreatSmokyMountains – Great Smoky Mountains MLS
Knoxville – Knoxville Area MLS
MemphisTN – Memphis Area MLS
Realtracs – Middle Tennessee Regional MLS
RiverCounties – River Counties MLS
TVRMLS – Tennessee Virginia Regional MLS
UpperCumberland – Upper Cumberland MLS
TX – Texas
Austin – Austin MLS
CentralTexas – Central Texas MLS
DelRio – Del Rio MLS
ElPaso – Greater El Paso MLS
Galveston – Galveston MLS
Harlingen – Harlingen MLS
Houston – Houston MLS
Kerrville – Kerrville MLS
Longview – Longview Area MLS
Lubbock – Lubbock MLS
NTREIS – North Texas Real Estate Info Systems (NTREIS)
OdessaTx – Odessa MLS
PermianBasin – Permian Basin MLS
PortNeches – Port Neches Port Arthur And Nederland MLS
SanAntonio – San Antonio MLS
SouthTexasMLS – Corpus Christi (Coastal Bend) MLS
TylerTX – Greater Tyler MLS
UT – Utah
ParkCityUT – Park City MLS – Currently unavailable for new orders.
UtahRealEstate – UtahRealEstate.com
WashingtonCountyUT – Washington County MLS, Saint George
VA – Virginia
BrightMLS – brightMLS
CBRAR – Chesapeake Bay and Rivers MLS
CentralVirginia – Central Virginia Regional MLS
CharlottesvilleVA – Charlottesville Area MLS
CharlottesvilleVA – Staunton Area MLS > merged with Charlottesville Area MLS
LynchburgVA – Lynchburg MLS
NewRiverValey – New River Valley MLS
REIN – Real Estate Information Network (REIN)
RoanokeValley – Roanoke Valley MLS
RockbridgeHighlands – Lexington, Buena Vista, Rockbridge MLS
WilliamsburgVA – Williamsburg Area MLS
VI – Virgin Islands
VirginIslands – Virgin Islands Territorial MLS
VT – Vermont
NEREN – Northern New England Real Estate Network (NNEREN)
WA – Washington
NorthwestMLS – Northwest MLS
Spokane – Spokane MLS
WI – Wisconsin
CentralWI – Cenral Wisconsin MLS
MetroMLS – Metro MLS
NorthwoodsWI – Greater Northwoods MLS
RANW – Northeast Wisconsin
RANWW – Northwestern Wisconsin MLS
SouthCentralWI – South Central Wisconsin MLS
WV – West Virginia
BrightMLS – brightMLS
HuntingtonWV – Huntington MLS
KanawhaValley – Kanawha Valley MLS
NorthCentralWV – North Central West Virginia MLS
WheelingWV – Wheeling MLS
WY – Wyoming
Cheyenne – Cooperative Listing Service of Cheyenne
NortheastWY – Northeast Wyoming REALTOR Alliance
SheridanCounty – Sheridan County MLS
Teton – Teton MLS
WyomingMLS – WyomingMLS
Canada:
AB – Alberta
AlbertaOne – Calgary MLS
AlbertaOne – Grande Prairie MLS
BC – British Columbia
Kamloops – Kamloops MLS
OkanaganBC – Okanagan MLS
VancouverBC – BC Residential MLS (MLSLink)
VictoriaBC – VIVA MLS
Whistler – Whistler MLS
NB – New Brunswick
Fredericton – Fredericton Area MLS
NS – Nova Scotia
NovaScotia – Nova Scotia MLS (South Shore MLS)
ON – Ontario
LakelandsON – Lakelands MLS (frmr Muskoka Haliburton Orillia)
OntarioRegional – Ontario Regional (ORTIS)
OttawaON – Ottawa MLS
SK – Saskatchewan
Saskatchewan – Saskatchewan MLS
AK – Alaska
AL – Alabama
BaldwinAL – Baldwin County MLS
GreaterAlabama – Birmingham MLS (Greater Alabama)
GulfCoastAL – Birmingham MLS (Greater Alabama)
MontgomeryAL – Montgomery Area MLS (AlaMLS)
PhenixCity – Phenix City MLS
Strategic – Shoals Area MLS
ValleyMLS – ValleyMLS.com (Frmrly Noth Alabama MLS)