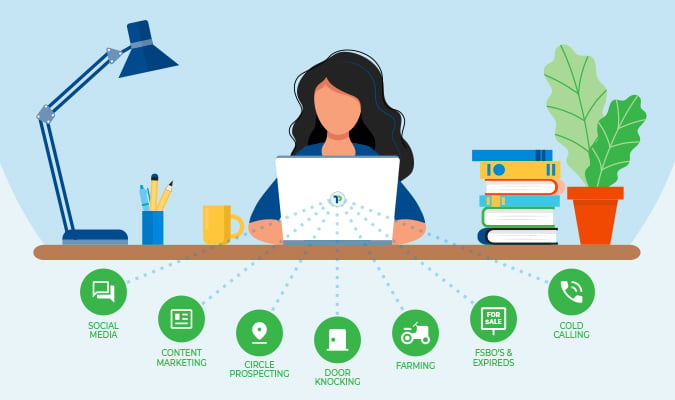 To succeed in real estate, you need to continually expand your network. If you're looking for proven strategies to ensure a steady stream of real estate leads, you'll ♥ this blog.
You'll learn:
Free and paid strategies to generate more real estate leads
How to convert more leads into clients
Scripts, templates & responses to common objections
So let's get started!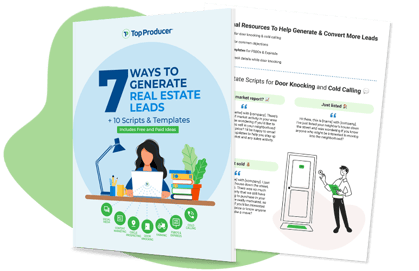 7 Ways To Generate Real Estate Leads
1 - Get Leads From Social Media 🌐
Since 96% of buyers use online tools during their home search1, one of the best ways to get leads is through social media marketing. It's affordable, allows you to expand your reach, and you're not limited to specific factors like traditional marketing.
With nearly 3 billion active users today, Facebook/Instagram is the top choice for many because you can use:
Targeted advertising: You can target areas & interests.
The algorithm: You can display ads to prospects showing intention to buy.
Paid solutions through 3rd parties: Many solutions are available to help get you in front of your target market online.
Facebook lead capture: Get better quality contact info, including phone numbers.
Here are some best practices for advertising on Facebook.
Tip #1: Use a valuable lead magnet 🧲
Offer something of value to attract and capture prospects on Facebook. Here are some examples:
Home buyer's guide

Staging tips checklist

Neighborhood guide

Home seller's checklist

First-time home buyer's toolkit

Home search worksheet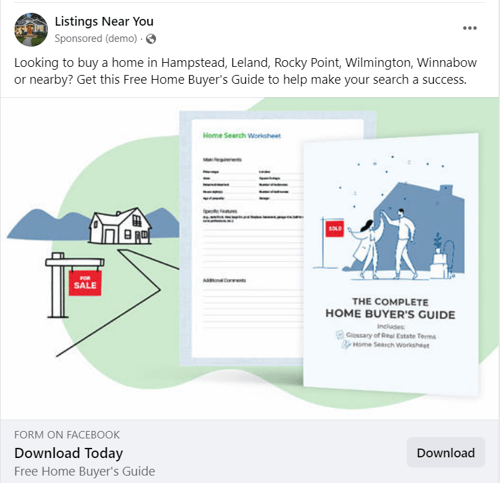 A Top Producer Social Connect ad that offers a valuable buyer's guide
in exchange for a lead's contact info
Tip #2: Target your audience 🎯
Use Facebook to target by location and interest.
Broad location targeting: Set based on where you're selling properties. Specific audiences based on a city, address or pin drop will include a minimum of a 15-mile radius.
Interest targeting: Target those interested in real estate by selecting specific interests and hobbies that indicate purchase intent. For example, home and garden, mortgage financing and home renovations all target those interested in real estate.
Tip #3: Have clear goals 📊
Depending on your goals, how you set up your campaigns will differ. Here are some best practices:
Map out the entire journey – think about how you're going to capture, respond, nurture and convert before you set up your campaign.

If your goal is to capture leads, use Facebook's native lead capture.

If your goal is to drive traffic to your site, link to your website from Facebook.

PRO TIP: Solutions like Top Producer Social Connect get affordable real estate leads for you through expertly-run social media campaigns. Proven social media advertising is combined with automated lead nurture created by marketing specialists to help you effortlessly expand your network and grow your database.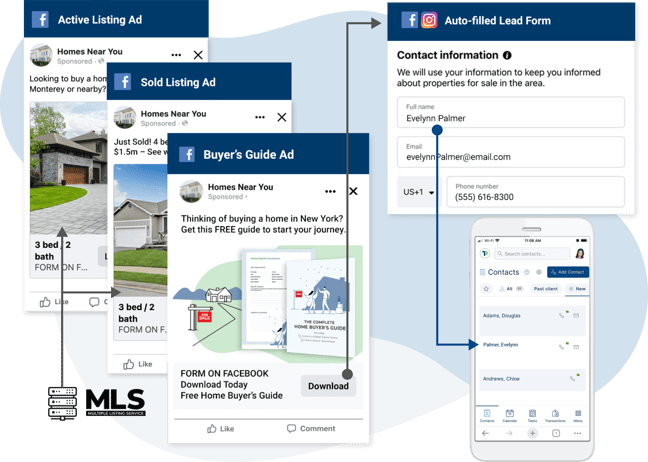 Social Connect offers done-for-you social media marketing + automated
nurture to help you convert more leads
2 - Content Marketing 🎞️
Content marketing conversion rates are six times higher than other methods2. If you provide answers home buyers and sellers are looking for, you can generate more leads, stay top-of-mind and build loyalty.
Here are a few tips.
Tip #1: Use ChatGPT to create content 🤖
ChatGPT is the chatbot that can mimic a smart intern, and it can be very helpful when creating content. Here are just a few ways ChatGPT can help:
Video and call scripts: Think calls with new leads, to videos on market updates and things to do in your area in Spring.
Social media posts: Just enter 'Give me 3 social media ideas for real estate'.
Blogs: Be sure to add your own touches to make sure the content is high quality so it ranks well in Google. 🌐

PRO TIP: Check out our ChatGPT for Real Estate Guide for more on how to use the chatbot in your daily business and get 15 free prompts you can use.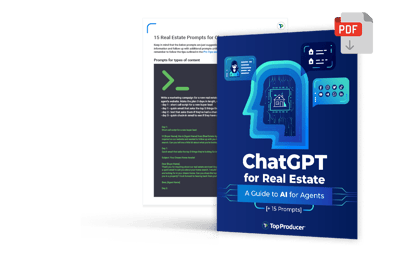 Tip #2: Save time by repurposing content 🔄
People consume content in different ways and by repurposing content, you save time and reach a wider audience and engage with them on various platforms. Successful agent Ben Kono uses this approach to blog and video creation:
Turn a video into a blog they can promote via email and social media.
Chop up the video using a tool such as repurpose.io to create bite-sized videos for Instagram and TikTok, and post the full-length video to Facebook, LinkedIn and YouTube.
Tip #3: Create compelling content 🎓
Educate your prospects and they'll come back for your expertise. Remember that the goal is to make it valuable, so don't be too promotional. Here are a few ideas:
Send home buying/selling tips that address prospects' questions and concerns.

Provide value with free resources like a home buyer's guide.

Share fun facts and details about the neighborhood, for example a holiday blog that shares a list of the best Christmas light displays each year.

PRO TIP: Check out this tried-and-tested content marketing strategy Ben Kono and his team use and are reaping the benefits.
3 - Circle Prospecting ⚪
Circle prospecting involves targeting a specific area around recent market activity, for example, a just-listed or recently-sold property. The idea behind circle prospecting is that those in the surrounding area have a direct interest in homes selling in their neighborhood.
Here are a few tips to effective circle prospecting.
Tip #1: Use it for one of your active or sold listings 🏡
This is a great tactic for a couple of reasons. One, it's proof that you're already doing business in the neighborhood, allowing you to showcase your expertise. And two neighbors want to know what homes are being listed at and selling for, so you save them the time of trying to find out and provide value.
Tip #2: Less is more—don't make your circle too big 🗺️
The further you are from the market activity, the less relevant it is to the homeowner. Sticking closer to the target area ensures interest and saves you time. Consider targeting a maximum of 50 homes to stay relevant.
Tip #3: Use multiple channels for best results 🧮
When you use a multi-channel approach, you reach a broader audience. Striking a balance between online and offline methods will get you the best results:
Print marketing—postcards, flyers, door hangers
Digital ads
Email campaigns
Hand-written notes

PRO TIP: Tools like Smart Targeting offer AI-powered farming and handle all of the marketing for you so you can focus on building relationships.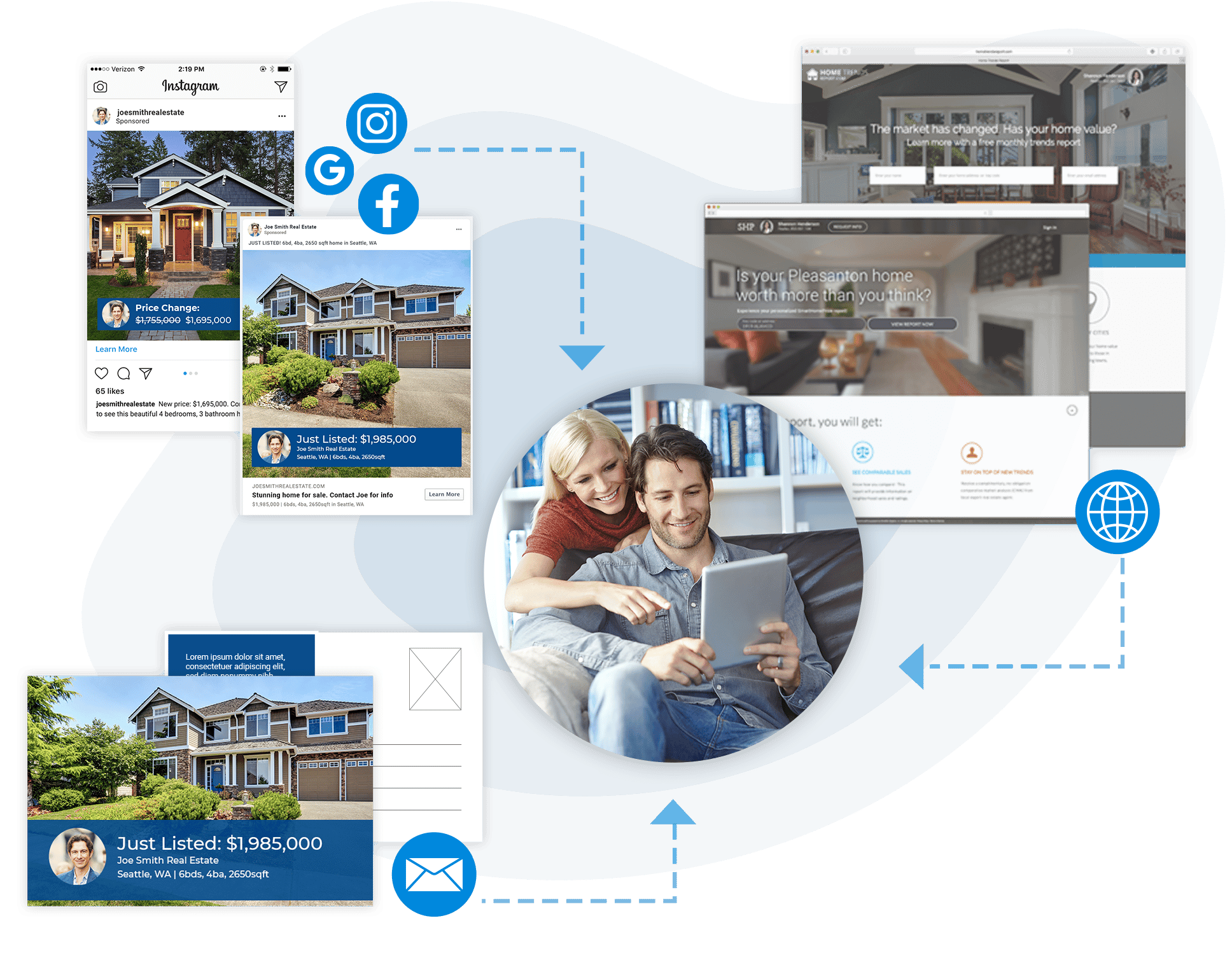 Smart Targeting's multi-channel marketing campaign
4 - Door Knocking 🚪
When it comes to your real estate marketing strategy, striking a balance between online & offline marketing will get you the best results. Door knocking allows you to establish a face-to-face connection, which is increasingly important in today's digital world. This boots-on-the-ground method also allows you to easily target a specific area and demographic.
Here are some tips to stand out.
Tip #1: Do your research beforehand 🕵🏼‍♂️
Be prepared and research the neighborhood before you go out. Look into things like home values, school districts and the new hotspot in the neighborhood. Thorough research will build credibility and show your commitment to the local community.
Tip #2: Offer value 💎
Provide homeowners with valuable information, such as recent sales data, market insights, or tips for enhancing their property's value. This demonstrates your expertise and positions you as a helpful resource.
A branded market report is the perfect thing to offer new homeowners:

Take this a step further and send market reports that pull live MLS data. This gives you access to valuable sold data, which most market reports don't have. Who doesn't want to know what the neighbor's house sold for?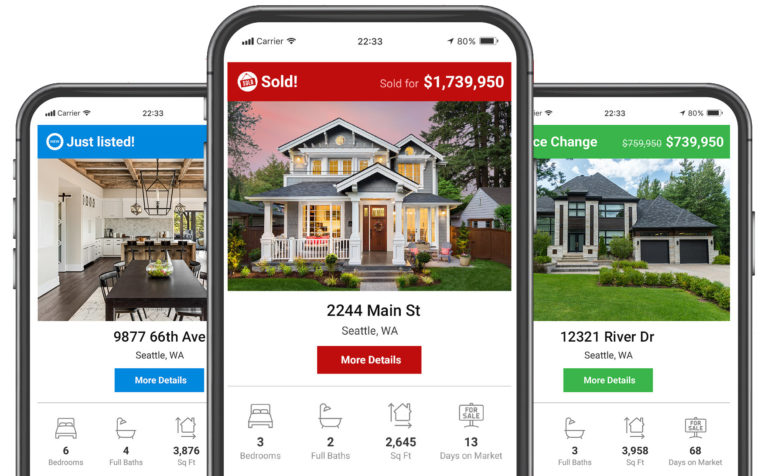 Market Snapshot reports use live MLS data, allowing you to share hard-to-find sold data.
Tip #3: Bring marketing materials 🎫
Have a stack of business cards, brochures, or other marketing materials that you can leave behind with homeowners. Make sure your contact information and a brief overview of your services are clearly displayed.

PRO TIP: Download the guide for door-knocking scripts 📝 and a helpful log 📋 you can use to keep track of details you learn.
5 - Smart Farming With AI 🚜
Real estate farming is a tried and tested lead generation strategy. If you focus your marketing efforts on a specific area and provide consistent value and attention, over time you'll become the go-to real estate expert and be top of mind.
Here are a few tips:
Tip #1: Find the perfect place to plant your seeds 🌱
Choose a size that matches your goals and budget (averages range from 500 – 1000 homes). And if there's a well-established agent in the area already, consider another area or use different tactics.
Tip #2: Know your target audience 👨‍👨‍👧‍👧
The more you know, the more effective your marketing will be. Research and consider focusing on a specific demographic.
Tip #3: Use AI to tell you who's most likely to sell 🤖
Rather than spend 95% of your budget mass marketing to people that aren't going to sell soon in the hopes of finding a handful of potential sellers, let AI tell you the top percentage of households that are most likely to sell. Smart Targeting uses predictive algorithms, data analytics and automated marketing to help put you in front of your next seller.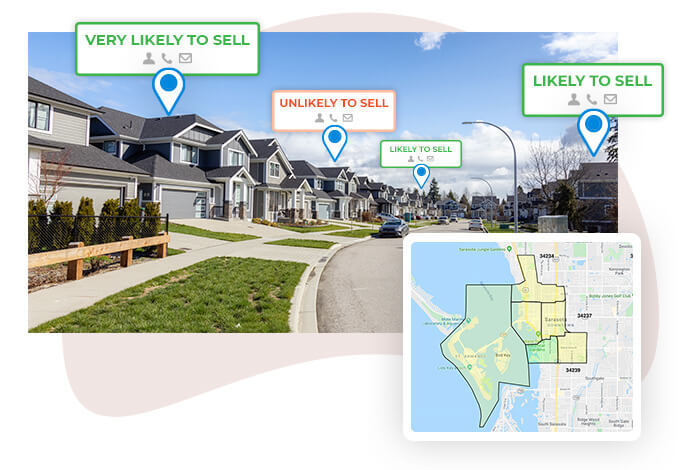 Smart Targeting turns your farm area from a zip code into a narrowed list of homeowners most likely to sell
6 - FSBOs & Expired Listings 🎲
Both FSBOs and expireds can be a good source of listings if you take the right approach. On the one hand, expireds have shown a willingness to work with an agent—they just haven't found the right one. While FSBOs have often found out the hard way how complex selling a home is and may be more open to what you have to say.
Here are a couple of tips when approaching each group.
Tip #1: Educate FSBOs on the value of using an agent 👩🏻‍🏫
You know that FSBOs typically sell for less—$225,000 last year compared to $345,000 for agent-assisted homes3, but the average FSBO doesn't know that. Lead with empathy and actively listen to their concerns before driving the facts home.
Tip #2: Do your research before contacting expireds 🧐
Find out why the listing expired first. Was it priced too high? Was it the marketing or were there issues with the property? If you understand the reasons, you can tailor your approach accordingly.
Tip #3: Be prepared for objections from both groups ✋
Expireds have already heard from their previous agent that they could sell their property and didn't deliver, so be prepared to showcase what you'd do differently. FSBOs likely are concerned about commission amounts, so you could offer partial services for a discount.

PRO TIP: Download the guide for free FSBO & expired listing email templates. 📧
7 - Cold Calling ☎️
While real estate cold calling may be one of the least favorite forms of lead generation for many agents, it's a cost-effective marketing strategy that gives you direct access to potential leads and allows you to take a personalized approach.
Here are a few cold-calling tips.
Tip #1: Know the law ⚖️
Make sure you familiarize yourself with the regulations in your area to avoid potential legal issues or penalties. Common regulations are do-not-call lists, time restrictions and caller ID requirements. Since regulations change over time, make sure you're up to date before you pick up the phone.
Tip #2: Use social media to your advantage 💯
Using social media, you can turn your "cold" calls into "warm" calls. You'll see their social bio, job, interests & more. Some CRMs automatically pull in a contact's social media info, saving you time and effort. And if you think about it, a call isn't cold if, before you pick up the phone, you know they:
Are a pilot
Play golf
Have kids that go to the same school as yours
Tip #3: Craft a compelling opening statement & prepare for objections 🚫
The first few seconds are crucial, so an opening statement that grabs their attention and establishes relevance and credibility is key. Be prepared for common objections and practice responses to concerns. Good objection handling can help overcome resistance and keep the conversation moving forward.

PRO TIP: Download the guide for free cold calling scripts 📝 + responses to common objections. 🗨️
Don't Just Generate Leads—Nurture Them Too
Many agents focus on generating more leads but fall short on the consistent follow-up that's necessary to convert them. If you take a systematic approach and use technology to automate the nurture process, it can have a big impact on your conversion rate.
Here are a few best practices.
Beat other agents by being fast: Most people work with the first agent they meet, so send a personalized automated response within 5 minutes of receiving a lead.



Nurture with consistent touchpoints: Since the average lead isn't ready to buy immediately, regular touchpoints that go beyond the first few weeks is most effective.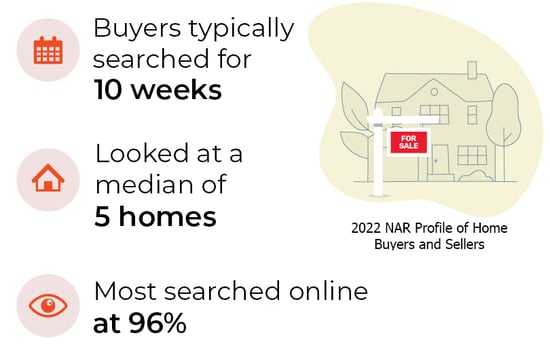 Use different communication methods: A system that allows you to use a variety of different contact methods—SMS, email and phone calls—helps you increase your connection rate.
Educate prospects: If you provide consistent value and educate leads, you'll stand out and they'll come back for your expertise. 👩‍🏫



Technology can automate lead nurture for you. Top Producer Social Connect combines online lead generation and automated campaigns to nurture leads on an agent's behalf. For up to 4 months after receiving a lead, prospects receive branded market reports, infographics and other educational content designed to educate prospects about the market and home buying process.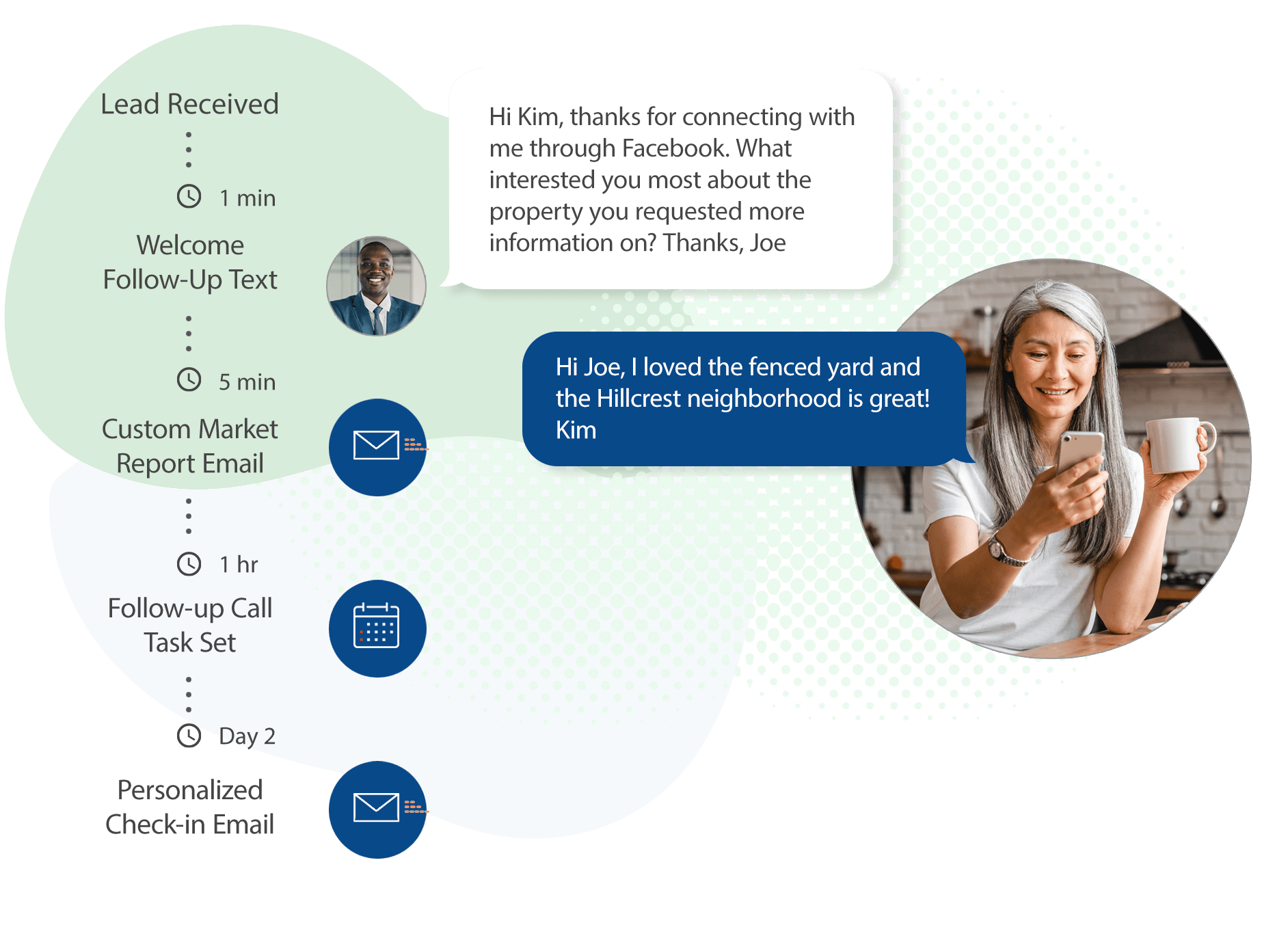 Download the guide for free scripts 📝, templates 📧, responses to common objections 🚫, and more!
1, 3 – NAR 2022 Profile of Home Buyers and Sellers
2 – Content Marketing Institute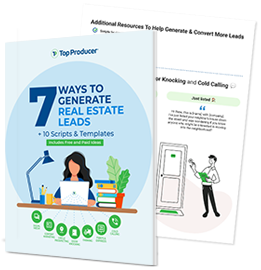 FREE DOWNLOAD
7 Ways To Generate Real Estate Leads
+ Scripts & Templates for Door-knocking, Cold Calling, FSBOs and Expireds