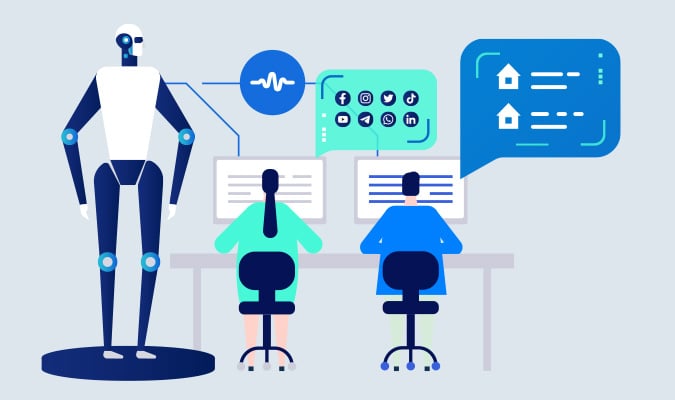 If you're curious about AI and want to learn about the many ways it can save you time and take your real estate business to the next level, you've come to the right place. 🚀

You'll learn:
How ChatGPT—Ai's new kid on the block—can help in your daily business

. Trust us, you'll be surprised.😯
Plus download the guide for 15 free real estate prompts for ChatGPT.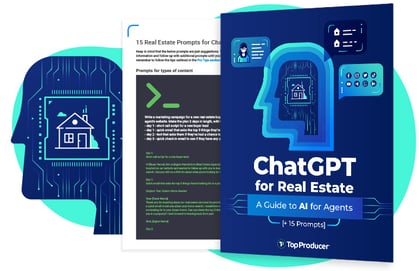 The Growing Use of AI in Real Estate
Artificial Intelligence (AI) is a branch of computer science that enables machines to perform tasks that normally require human intelligence, and it's increasingly being used in real estate. From the ability to provide you with better quality leads, to software that can give important property info in seconds—crime stats, likelihood of a natural disaster, school ratings—AI can save you valuable time.

If you've ever wondered if AI is going to replace you, you're not alone. But real estate is and always has been a relationship business. Buying a home is an emotional and high-stakes venture that requires the experience of a qualified professional. Here's a direct quote from ChatGPT itself, one of the latest chatbots that's taking the world by storm:
"It's worth noting that while ChatGPT can be a powerful tool for real estate, it is important to use it in conjunction with human expertise and judgement.

Real estate is a complex and nuanced field, and while ChatGPT can provide valuable insights and information, it is always important to consult with experienced professionals when making major decisions."
We couldn't have said it better ourselves. AI can definitely make your life easier, but it can't replace the magic you do on a daily basis. 💫 Think of AI as time-saving tech that can give you a great starting point and allow you to spend more time on what you do best.

Sure, we are naturally skeptical about AI in general as humans, but don't let that stand in the way of simplifying your business.

Here are just a few ways AI can help.
Using ChatGPT for Real Estate
Real estate agents across the country are using the free tool, ChatGPT to help with tasks like writing property descriptions, video scripts, blogs and more.
Trained on enormous amounts of data, ChatGPT is capable of providing intelligent, informative, and accurate responses to a wide range of topics, including science, technology, literature, and the arts. It serves as a virtual assistant that can answer questions, provide explanations and offer suggestions. Heck, it can even pass law and medical licensing exams. ✔️
Before we begin, a couple of important notes:
ChatGPT is super smart and can provide info on many topics, but it's not perfect and does make errors from time to time.

For example, when I asked it to write a listing description for my home address, it got most of it right, but unfortunately I don't have the walk-in closet and spa-like ensuite it claimed. 🛀🏻 That said, I just had to give another simple prompt to correct the errors.


If you use ChatGPT to write blogs, be sure to make edits and add your sparkling personality ✨ to any content and you'll be good to go. AI-written content can rank well in Google if it fulfills the user intent (i.e. provides the answers someone is looking for) and follows Google's guidelines. But AI-generated content does have the potential for errors and duplication (others have probably asked for the same content), and inaccurate and duplicate content are penalized by search engines. Also, AI content isn't always the most creative on the block, so use it as a starting point and tweak it so you stand out from the crowd.
Ways to Use ChatGPT for Real Estate
Here are a few ways ChatGPT can save you time and hassle:
Bios:

One of your most valuable marketing assets, your bio can pop up just about anywhere, so it's crucial to get it right. With 2 prompts, I had a really good starting point that I could add personal details to.
Listing descriptions: Enter your listing's details and even the address and get a well-written property description in seconds.
Video and call scripts: From calls with new leads to videos on market updates and things to do in your area in Spring, coming up with scripts has never been easier.
Social media posts: Need ideas for social media? Just enter 'Give me 3 social media ideas for real estate'.
Blogs: Be sure to add your own touches to make sure the content is high quality so it ranks well in Google. 🌐
Website copy: Simply enter details for the page you want copy for and remember to tweak it.
Legal documents: Did I mention ChatGPT passed exams at a US law school? 🤷
Email and text messages: Customer emails, drip campaigns, the list goes on. Include some details about what you want to communicate, and a well-written message is less than a few seconds away.
For example, ChatGPT and I teamed up to create this buyer campaign for a new website lead. In less than 10 minutes, I had all of the content created and entered into a drip campaign in my real estate CRM.
First, I asked ChatGPT to create the content:

In just a few seconds, ChatGPT responded with this: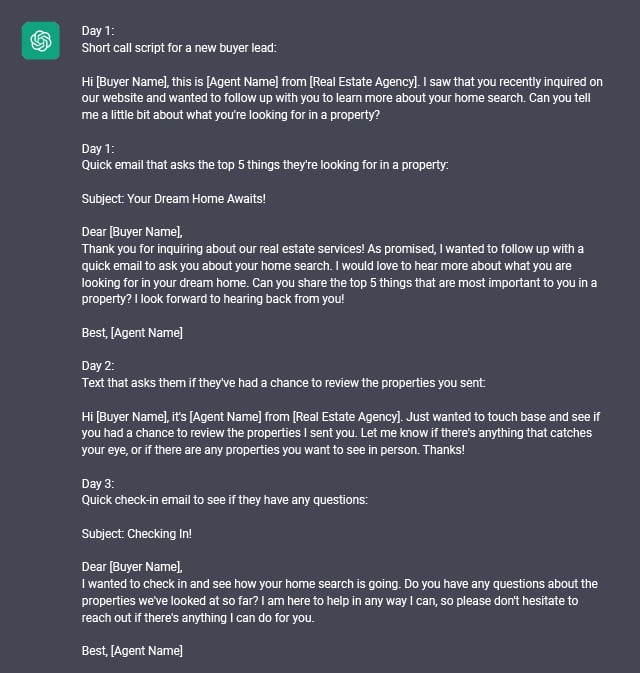 And in just a few minutes, I tweaked the content to make it sound more like me and created this Task Plan in my CRM. With the flick of a switch, now any incoming buyer leads will automatically have this plan applied. Cool, right?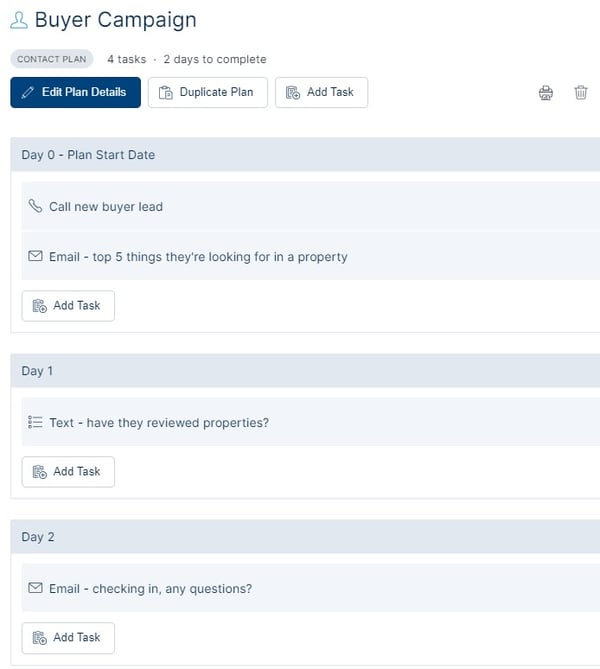 How to sign up for (the free) ChatGPT service
It's as easy as 1-2-3.
Click Sign Up.

Enter your info and let the fun begin.
Ask ChatGPT a question and get ready to have your mind a little blown. 🤯 In a good way.
Note: Since the whole world is trying ChatGPT right now, you might get a message that there are too many sign-ups. Just try again in a day or two. The same goes for entering a prompt and getting a message that an error occurred. This just means there are too many people using it and try again later. Entering prompts closer to the end of my workday has proven to be a better time than midday.
Pro tips for entering the best prompts in ChatGPT
Getting the best responses from ChatGPT starts with entering the right prompts. You can download the guide for a free list of 15 real estate prompts we created for you, but here are some general guidelines and tips.
The more information you give, the better ChatGPT's responses will be. For example, when asking for a listing description, include details about the type of property, location, features you want to highlight, the address and more.

Include the tone you want ChatGPT to mimic—professional, conversational, funny, etc. You can even tell it to write like a specific person (e.g. write me a listing description like Tom Ferry wrote it).

If ChatGPT is too wordy, just ask it to write it in a more concise manner. You can also ask it to limit the response to a specific character count if needed (e.g. shorten that to 280 characters).

Tell ChatGPT to act like someone. For example: act like a first-time homebuyer. What are your biggest fears when purchasing a home?

Provide context, for example: I'm a real estate agent that sells luxury properties in Beverly Hills. What are the current trends for luxury properties in this area?
Smart farming with AI and automated marketing
It's not just chatbot technology that can help with real estate. AI can help you dominate your real estate farm too. 🌱🚜 Rather than spend 95% of your budget mass marketing to people that aren't going to sell soon in the hopes of finding a handful of potential sellers, AI can tell you the top 20% of households that are most likely to sell.
Tools like Smart Targeting use predictive algorithms, data analytics and automated marketing to help put you in front of your next seller. A powerful predictive marketing system analyzes a ton of data and local market trends on every home in the area to identify the triggers that lead to people selling their home. It looks at every person that's listed in the last 20 years and 2000 attributes to see what they had in common, such as:
Where did they work

Were they married or divorced

How many kids do they have

How long did they live there

How much equity was in the home, etc
From that it determines why people have listed in the past to use that info to predict what's going to happen today. 🧞
And once Smart Targeting determines the top 20% that are likely to list soon, a multi-channel marketing campaign is then launched on your behalf. Facebook ads, print marketing, email campaigns and more consistently get your brand in front of your top prospects.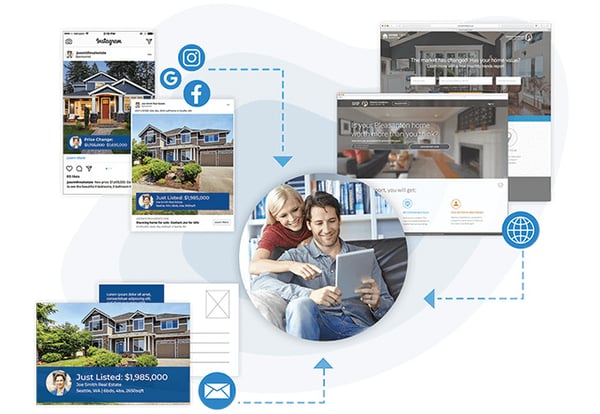 Smart Targeting's multi-channel marketing campaign
Download the guide below for 15 free real estate prompts you can use with ChatGPT.
©️Copyright notice: Prompts are intended for personal use only. If you intend to use information from this post/guide, please include proper source attribution by linking to this blog post (https://www.topproducer.com/blog/chatgpt-for-real-estate). Top Producer is not affiliated with ChatGPT or OpenAI.