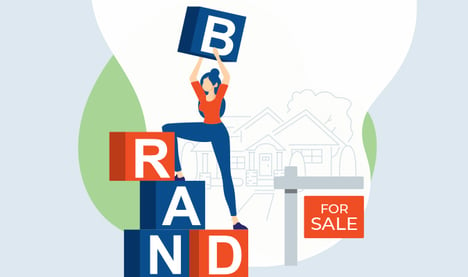 With over 3 million active real estate licenses in the US today1 and listings harder to come by in 2023, your brand needs to stand out now more than ever. So if you're looking for help building an effective and established brand, you'll ❤️ this real estate branding guide.
You'll learn how to: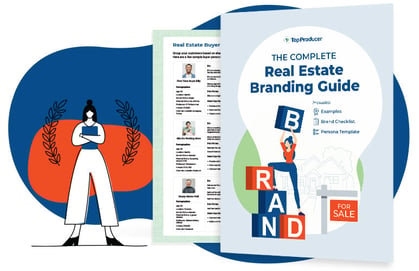 Identify your target audience
Before you can tailor your branding and craft that meaningful message that's going to resonate with potential clients, you need to first consider who they are and what makes them tick.
One way to do this is by creating personas, which is just a fancy way of saying you group your customers based on shared traits and things they have in common.
Think about your past clients, your geographic farm and people in your community. Then consider:
Age
Marital status
Parental status
Income & profession
Male or female
First-time or repeat buyers
What drives & motivates them; what their needs & goals are
The local culture, values & traditions
Then come up with at least a few personas. Here are a couple of examples:


Pro Tips:
Download the guide for a free persona template

👩🏼‍💼

that makes coming up with key groups of your customers a snap.

Once you've come up with a few personas, set up a quick email template in your

CRM

and then

send a group email

to touch many clients at once. Young professionals might be interested in the new local hotspot, while families might be interested in the community event that's happening next week.
Define what sets you apart
Puff out that chest a little as you think of your strengths, skills and specialties.
The goal is to stand out from your competition.
As you sit down to (simply) articulate the value you offer to potential clients in a sentence or two, remember to always tie it back to them by telling them how they'll benefit from it.
Here are a few things to include:
💪🏻 Strengths: List your skills and then pick a few that will resonate most with your audience.
🏡 Specialties: Do you specialize in a specific type of property or connect with a particular type of buyer?
🌟 Differentiator: What do you do for your clients that other agents don't?
And when you're done, shout it from the rooftops! And highlight it in each and every piece of marketing material you put out.
Craft a memorable bio
Now that you know your audience, what's important to them, and what sets you apart from other agents, it's time to perfect your bio.
You want to strike an emotional connection, highlight your professional experience, and just be authentic, amazing you. All within 300 words or less.
Here are a few tips:
📖 Tell a story: People

stories and if you tell a good one, it'll make you memorable. Start with why you do what you do and the path that led you to real estate.
🏆 Showcase your skills and knowledge: Only include your most impressive achievements. And if you're new to real estate, include your brokerage stats and tie your past work experience back to real estate (e.g. if you worked in sales, highlight your negotiation skills).
👨‍👨‍👧‍👧 Stand out from the crowd: You nailed this down in the previous step. (Look at you—already ahead of the game.)
And when you're done writing it, be sure to update it on your personal and company websites, real estate search websites, social media, and anywhere else it appears across the web.
Here's an example of a short bio that highlights the agent's professional expertise: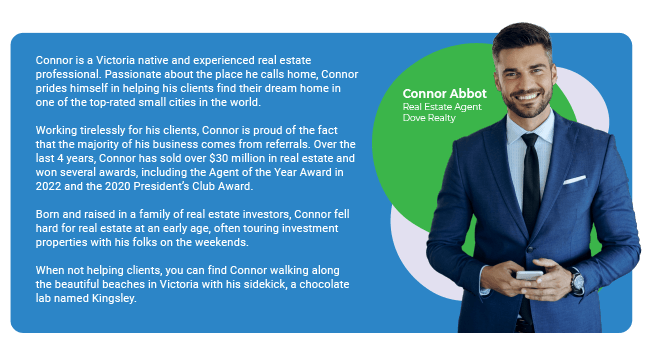 Make sure your brand is consistent
While your competitor may be running ads with out-of-this-world branding and visuals, try not to be tempted to switch everything up—unless you're ready to do a full rebrand.
Brand repetition and predictability are really important to helping your brand achieve that instant recognition across the web (and in real-life too!). A consistent presentation of a brand can increase revenue by 23% on average.2
Consider these items when measuring your brand's consistency:
🎨 Design: Colors, fonts, formatting. These things should remain consistent across all your online and offline marketing efforts.
👩 Visuals: Your logo and headshot should be the same across the board. You want to make sure Linda the Lead would recognize you if you happened to bump into her at the grocery store.
📰 Messaging: Your real estate bio and tagline need to be consistent, including the tone of voice used and story you tell.
And this consistency should be reflected on:
Your website and blog
Real estate search websites
Social media channels
Print materials and signage
And, well, everywhere

Pro Tip:

Download the guide

for a helpful brand consistency checklist 📋 to make sure your consistent across the board.
Perfect your online presence
95% of buyers from all generations use the internet in some way throughout their home search3, so you can bet potential clients will first check you out online.
While it's of the utmost importance that your website and social media profiles reflect your brand, make sure you have a presence on the leading real estate search websites too.
And the proof is in the pudding, so rather than tell potential clients you're trustworthy and have years of experience, why not include glowing reviews that speak for themselves? Ask your current clients for a review as part of your process, and don't be shy about it—72% of consumers say they'll leave a review if they're asked to.4
Here's an example of an agent website that ties it all together:
Kelly Weisfield's website has stunning images, great typography, highlights her experience even before any properties, and showcases client testimonials on the home page.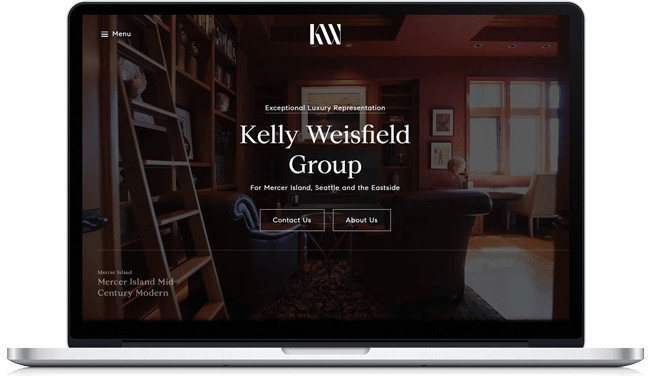 Source: Kelly Weisfield
Get in front of those most likely to sell
You've invested the time, effort and patience into building your brand. Now let's make sure you get it in front of your target audience.
There are a ton of marketing channels out there—print, digital, social media, event marketing to name a few. So how do you know which channels to choose? Well, it starts with narrowing down where your target audience is, and once you've found them, tracking their engagement and continually optimizing on these channels.
This may sound tricky, but you've already nailed down who your audience is with the simple personas we discussed earlier. And finding out who is engaging the most with different platforms is just a quick Google away. So do your research and then pick the channels that work for your business.
And if you want to effortlessly reach your target audience, we can help.
Tools like Smart Targeting help you turn your farm area from just a zip code to a narrowed list of homeowners most likely to sell. Instead of spending 95% of your budget mass marketing to people that aren't going to sell soon, AI tells you the top households that are most likely to sell. 🤖 Smart Targeting also handles all of the marketing for you, from Facebook ads to print marketing and email campaigns, so you can focus on building relationships.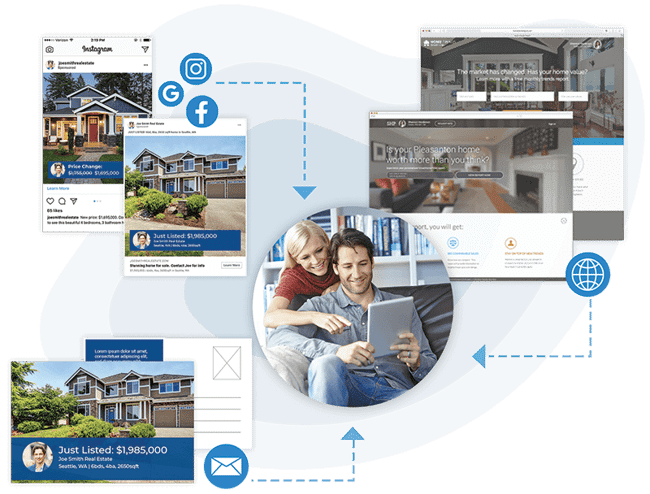 Smart Targeting's multi-channel marketing campaign
And that's all there is to it. With the real estate branding strategy outlined in this guide, you'll be well on your way to building an established and effective brand.
Download the guide below to get a free brand checklist 📋 and persona template 👩🏼‍💼 to make coming up with personas a snap.
1 - Association of Real Estate License Law Officials (ARELLO)
2 – The Impact of Brand Consistency' report by Lucidpress and Demand Metric
3 – NAR 2021 Profile of Home Buyers and Sellers
4 - BrightLocal Local Consumer Review Survey