The very thought of organizing your real estate client database may elicit a feeling of panic as you think about the current state of your database. But don't fret. Organizing it is easy once you know how. The hardest part is just starting—period.
The benefits are too big not to though. One of the easiest ways of generating business is simply working your database. The typical REALTOR® earns 13% of their business from repeat clients and 17% through referrals1, and this number only grows the longer you're in business if you stay in touch.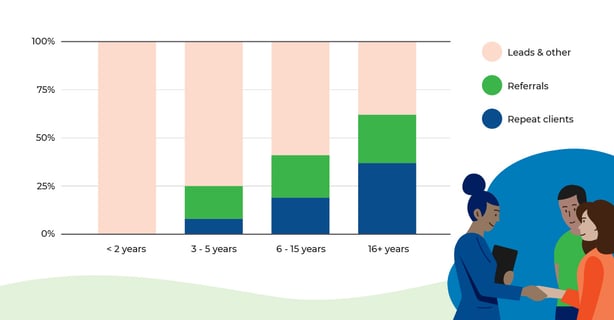 And if your database is organized properly, staying in touch and sending relevant, engaging content will be (almost) effortless. Promise.
How should I organize my contacts in my CRM?
Here are 5 key methods you should use.

Lead source: Tagging every lead with the source gives you valuable insight into your best lead sources, and can help determine how you contact them. For example, an inquiry from realtor.com® may be more receptive to a phone call than someone who downloaded an e-book from your site, who you might just follow up with by email.
Pro tip: You can connect over 150+ lead sources to your Top Producer® CRM, and the lead source will be automatically added to the contact record.

Contact type: One of the most important ways to organize your database is by contact type. Knowing who your contacts are makes marketing to them a lot easier. Buyer, seller, sphere, past client, referral—you know the drill. And chances are you'll apply more than one type to each contact.
Pro tip: Long-time Top Producer® power user, Leah Goldstein, sends out a survey to learn her clients' preferences—from loan officers and lenders to whether they like coffee/tea or beer or wine—and then uses contact types to keep track of their likes.

Property type: Investment property, single-family residential, condo, land, etc. Categorize your contacts according to the properties they own, or plan to buy. That way you can share information that's relevant to them. For example, when a new listing comes on the market that matches what your condo buyers are looking for, you'll be the first to tell them.

Location: Many say location is the single most important factor in real estate. The neighborhood, nearby schools, walkability and amenities—they're all crucial. Knowing which area they're interested in enables you to send super relevant and engaging content to your clients.

Last transacted date: Knowing when your contacts last bought or sold a home determines the type of message you send. A couple settling in to their home in the first few months would warrant a different message than a couple that has been in their house for 25 years.
Okay, but how do I enter all this stuff in Top Producer® CRM?
You'll find 3—lead source, property type and location—in the Lead Info tab in the contact record: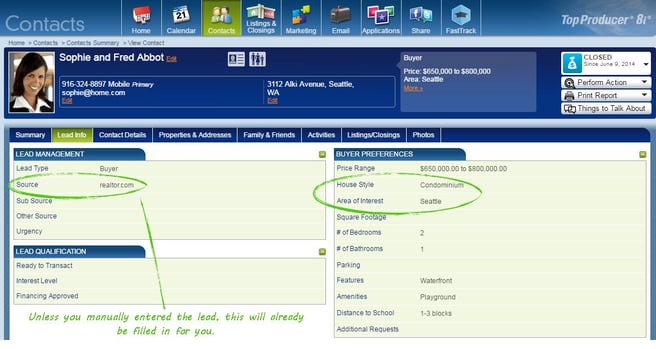 Contact Type lives in the Contact Details tab:

And Closing Date lives in—you guessed it—the closing record: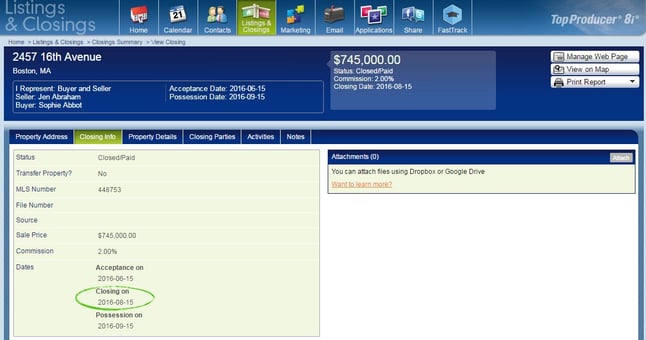 Alright, my database is organized. Now what?
1. The Follow-up Coach in Top Producer® CRM knows who's who, so be sure to follow up with your daily 5.
If you haven't logged some form of communication with a contact in a while, the Follow-up Coach will bubble them up to make sure they don't slip through the cracks and list with another agent. And with the quick and easy follow-up options, you'll make meaningful connections in no time flat.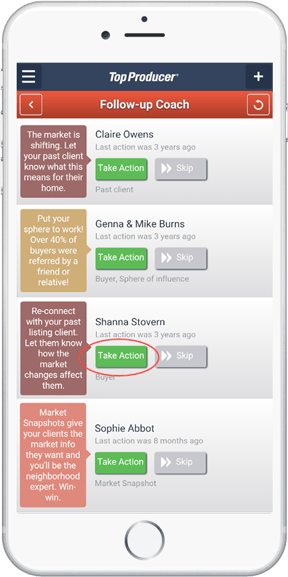 2. Target your marketing based on who they are.
In Top Producer® CRM, go to Contacts > Search for Contacts and use the Advanced Search feature to find the groups you so expertly created.
Contact Type
Lead Source

House Style and Area
And Last Transacted Date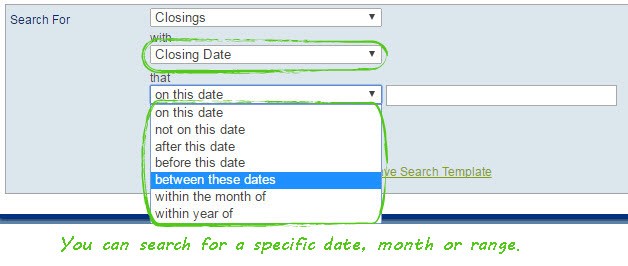 3. And here are a few ideas on what to send them:

One of our quick email templates. (More to come soon!)

For recent sales, don't be shy – ask for a testimonial.

New listings that match their desired property type & area.

A Market Snapshot® report, which works for all stages of the client lifecycle.
Want to learn more about how Top Producer® solutions can help you grow your business? Request a demo or call 1-855-534-5534.
---
Top Producer® Systems has been a leading real estate CRM provider since 1982. Tens of thousands of agents and brokers use Top Producer® real estate software to help them manage leads and contacts, stay organized, and follow up with home buyers, sellers and owners. Learn more at topproducer.com.
1 – National Association of REALTORS® 2019 Member Profile