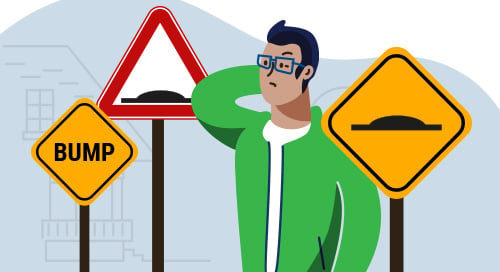 As a new real estate agent, you might be tempted to keep your leads and contacts in your phone, a spreadsheet, or a free CRM you're offered. After all, you're just starting to build your real estate business.
Before your book of business starts to grow, consider purchasing a proven real estate CRM to avoid speed bumps later down the road. Read these 3 reasons why.
#1. Your client database is your most valuable asset as a real estate agent
Sure, you've got great people skills, excellent knowledge of the local market, and the skill to bring deals to a close – but the relationships you build today will fuel your business for years. A real estate CRM can help you manage client relationships, and keep your valuable data safe.
Consider this fact: the typical REALTOR® earns 13% of their business from repeat clients and 17% through referrals from past clients.1 (That percentage tends to grow the longer you've been in business, if you stay in touch with past clients and your sphere).
Pro tip: It's never too early to consider your exit strategy from real estate: if you take care of your book of business, it can be quite valuable to you and another agent. Michael Price, successful agent and 24 year Top Producer® user, has strong opinions on this topic:
"You have to think like a business owner—not a salesperson.

If you don't have a record of your business, you don't have one."
#2. It's easier to start a database with 50 contacts than 1,000
A CRM or client database can help real estate agents keep their contacts organized, stay on top of conversations, follow up effectively, and grow a repeat and referral business.
It's easy to keep track of a few leads or contacts in your phone and remember every client when you're just starting out. But before you know it, you'll have a lot of past clients, a growing sphere of influence, and too many contacts and conversations to keep track of.
Pro tip: Don't be remembered as the real estate agent who forgets people, personal details or conversations! Avoid this major speed bump by choosing a real estate CRM and tracking your contacts and communications right from the start.
#3. Real estate agents move around
In 2018, the median experience for all REALTORS® was 8 years, meanwhile the median tenure per brokerage was 4 years.2 What happens when it's time for you to move on? Will your database and clients come with you? Ask these questions!
Losing access to your leads, contacts or communication history for even a few months can cause a major speed bump in your progress.
Pro tip from successful agent Rose Kemp, who switched to a new broker 4 years into her career – but didn't switch real estate CRMs:
"I've always had my Top Producer® and it's always been mine. And it doesn't matter where I go or what I do, that is my CRM, that is my business partner. A lot of these CRMs with the brokerage firms — if you leave that firm, you're leaving that behind, all of that. That's something that I'm very fortunate I learned early on."
Before you commit yourself to a real estate CRM…
It's crucial to ask certain questions so you can make an informed decision. Is your data safe? Can you take it with you? Not all real estate CRMs are created equal, so we've laid out the 10 questions you should ask before choosing a real estate CRM.
The bottom line—ask questions, start early and think ahead. Your decision to invest in a real estate CRM now can pay itself off in repeat and referral business for many years to come.
Want to learn more about how Top Producer
®
solutions can help you grow your business?
Request a demo
or
call 1-855-534-5534
.
Top Producer® Systems has been a leading real estate CRM provider since 1982. Tens of thousands of agents and brokers use Top Producer® real estate software to help them manage leads and contacts, stay organized, and follow up with home buyers, sellers and owners. Learn more at topproducer.com.
1 National Association of REALTORS® 2019 Member Profile
2 National Association of REALTORS® Quick Real Estate Statistics, 2018