To say you're in for a treat is an understatement. Successful real estate agent Leah Goldstein of Ebby Halliday Realtors in Dallas-Fort Worth shared her secrets to how build a repeat and referral business and keep it thriving.
Leah's strategy is so effective and easy to implement that you could begin seeing results right away. From finding out what makes your clients tick by sending a survey, to using that knowledge to provide the exceptional service and thoughtful surprises that will win them over, her strategy is nothing short of brilliant.
Here's how she does it.
The goal achieved in the wee hours of the morning
Shutterstock.com/Chonlachai
With a Starbucks within arm's reach, Leah is on the computer by 6AM. Before the phone starts ringing and the hecticness of the day ensues, she's checking three things—email, Facebook and Top Producer® CRM.
On Facebook, she's looking for meaningful events in her clients' lives—graduations, birthdays, anniversaries. If she sees anything, she enters it in to Top Producer® CRM (see #3 in 'How she does it' below).
She then begins writing the notes and gift cards for her clients that, when received, will elicit that "Aww, look what Leah sent us" reaction. (Why? Because Leah pays attention, but we'll get to that.)
"I aim to send out 50 notes and gift cards every month. If I can make that many connections with clients I'm currently not involved in a transaction with, my referral business just flows well.

And if I stop sending these out, I've noticed business slows down, so that's pretty motivating."
The formula she uses to get it done
If you read our first post about Leah, you'd know that she's all over anything annual and meaningful—house anniversaries, birthdays, graduations, etc. It's the little things that go a long way in any relationship—listening, noticing and remembering. And here's the thoughtful but simple process Leah uses to spread a little

to 50 or more of her clients each month.

And here's the 'how she does it' (so you can too)…
Step 1: Send a simple survey to your clients
From preferences on things like loan officers & mortgage lenders, to how they prefer to be contacted & whether they life coffee/tea or beer/wine, the 'All About You' survey Leah sends to new clients is very clever.
"This relationship is more than just buying or selling a house – they have to really trust us. I think we all know that, but getting details about our clients can be hard sometimes. Sending a survey out has worked well for me."
Using your Google account, you can create a survey using Google Forms. Just enter the questions you want to ask, then click a button to send it via email.
And since relationships aren't one-sided, Leah answers some of the survey questions and includes them in a PDF. That way her clients will learn a little about her too—how she loves her dachshunds & Starbucks, what she likes to do when she's not working, etc.
Next, track it in Top Producer® CRM
To do this, from the Contact Details tab in their record > click beside the Contact Type field on the left > then click the Add link to add tags that reflect their likes—coffee lover, wine lover. You get the drift.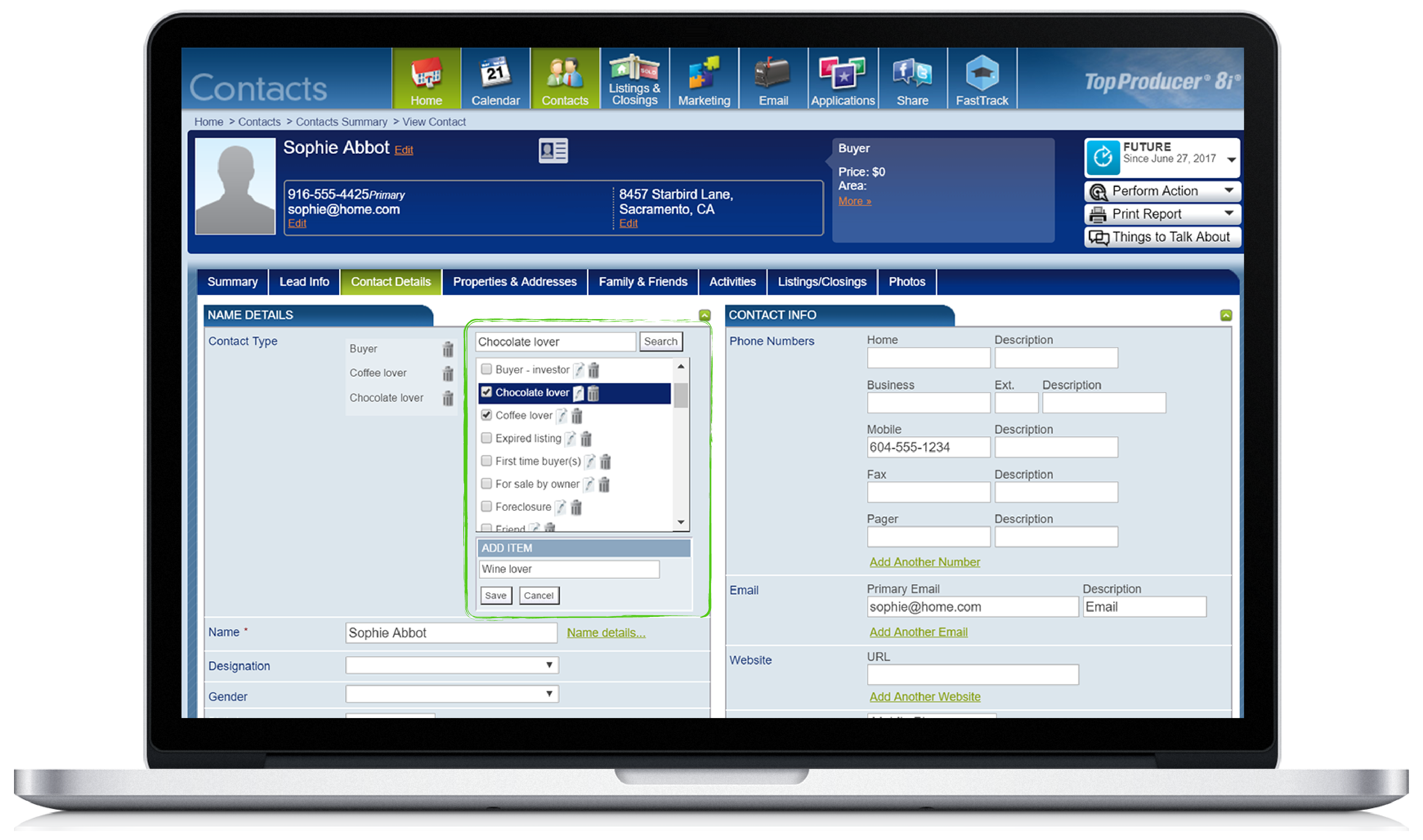 Step 2: "Stalk" them on Facebook
Now I know you don't need the steps on how to do this, but you'll be pleased to know that Leah's experience with this approach has only been positive:
"People don't seem to mind I'm stalking them on Facebook. They appreciate the thought."
Step 3: Enter birthdays in Top Producer® CRM
Open the contact's record > click the Contact Details tab > then click beside the Birthday field to enter the date.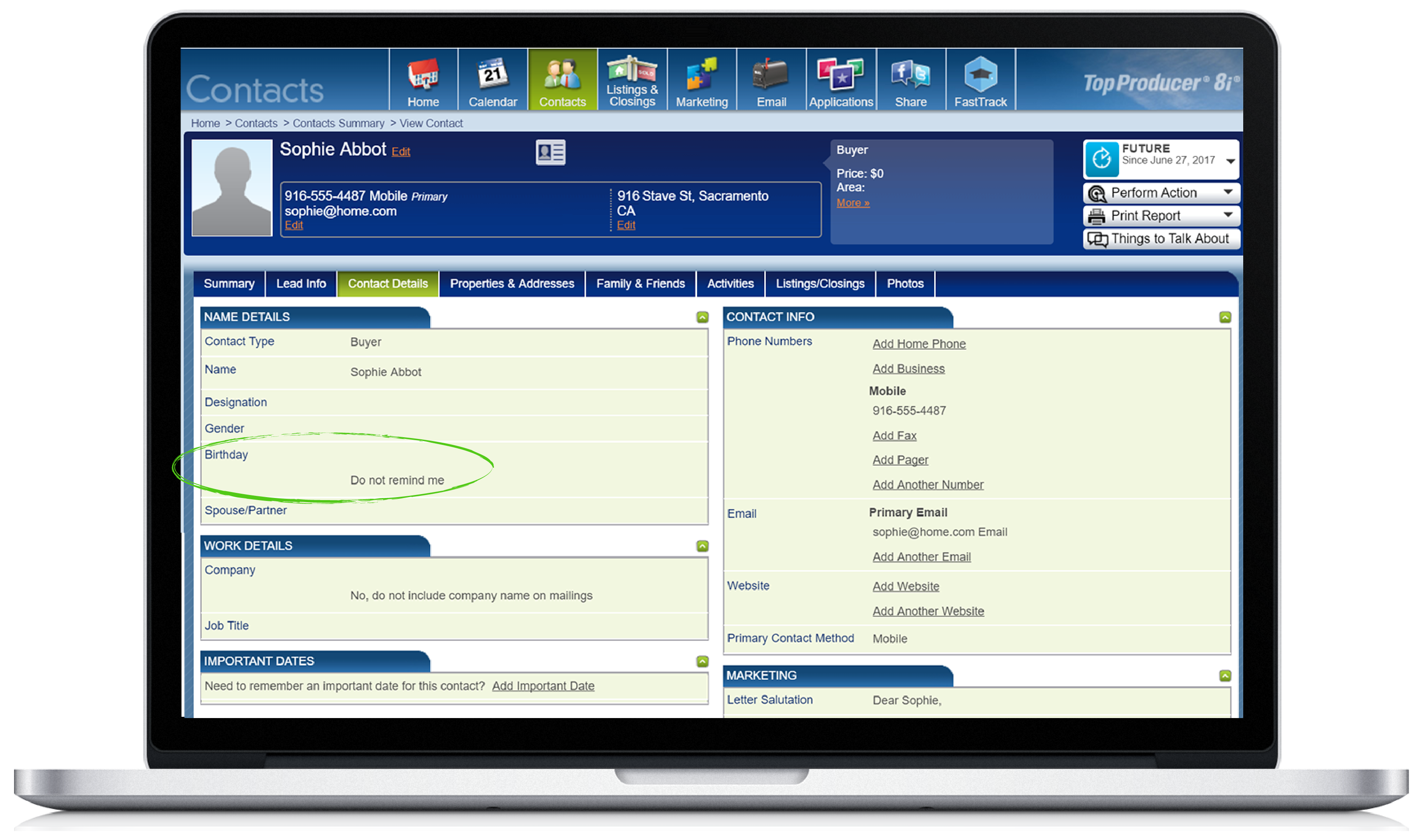 This shows up on the To-dos tab in My Business the number of days in advance you set the reminder for.

Enter any other important dates in Top Producer® CRM
Open the contact's record > then click Add an important date for this contact (circled below).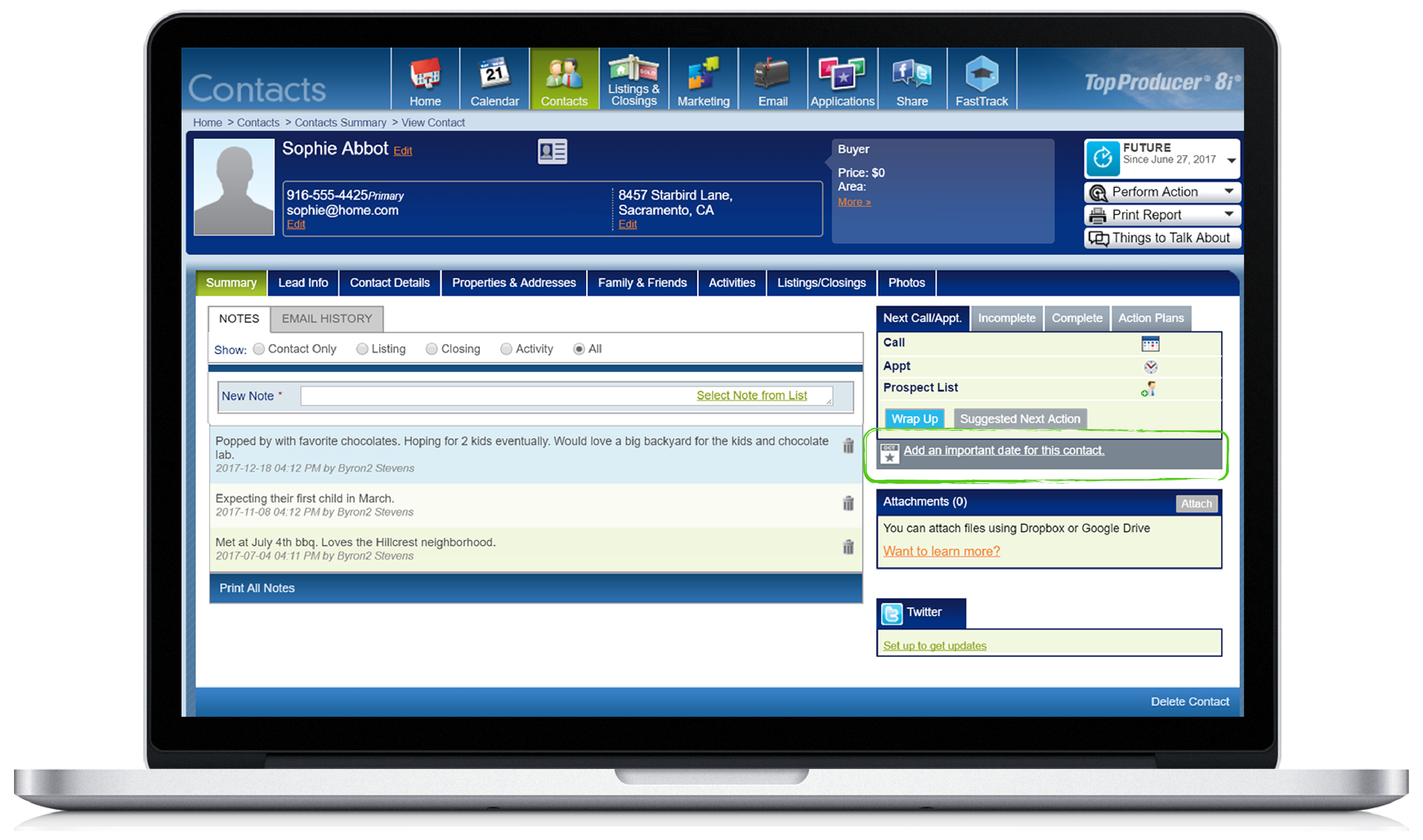 Bonus tip: When you're adding the date, put the year in brackets. For example, if they moved into their house in 2013, type Home anniversary (2013). That way you can say "Can you believe you've been there 4 years?!"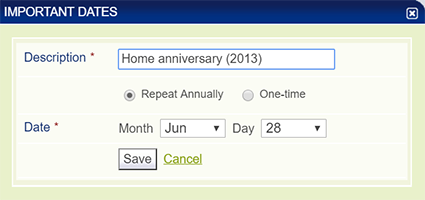 Then, 7 days before it comes due, you'll be prompted on the Important Dates tab in My Business to do your thing:

Step 4: Spread the love with a thoughtful gift
Jamba Juice, Bath & Body Works, Starbucks, iTunes—Leah keeps a stash of these gift cards in her desk so she's ready to rock each morning.
And since she's kept such good track of her clients' likes, knowing just which one to send is a cinch.

Step 5: Last but not least, make a note to connect
For each gift card and note Leah sends, she records the details and sets a follow-up reminder on the actual day. That way she can post a message on the day of to say happy birthday and enjoy the frozen yogurt!
To do this, just click Wrap Up in the contact's record > then record what you sent and set a follow-up reminder: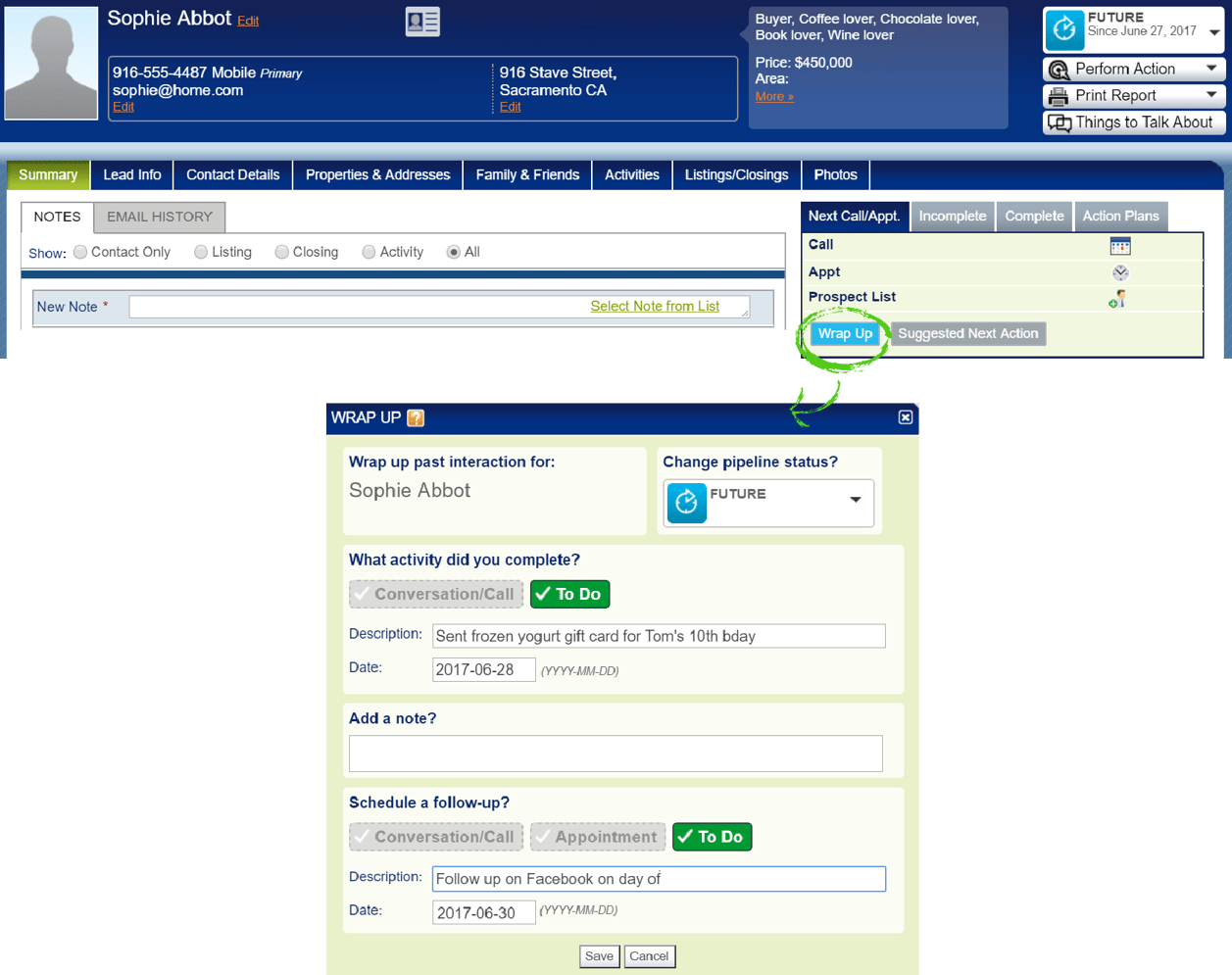 That's it for now, folks. To close though, we want to say a great big thank you to Leah for sharing not only the secrets to her success, but her precious time too. The exceptional service she provides and the help she offers to her fellow agents is pretty inspiring stuff.
Want to find out how Top Producer® solutions can help you build repeat and referral business? Email learnmore@topproducer.com or call 1-855-534-5534.
---
Screenshots represent site and mobile applications as of publication date. Site and mobile applications subject to change without notice.