2-minute read
—
Your latest clients couldn't be happier with the service you provided. You pulled out all the stops, landed them the home of their dreams, and all for less than asking price. You are a miracle worker.
And while you can't imagine them turning to anyone else for their real estate needs in the future, the truth is if you don't stay in touch—they probably will.
The good news? You just need a simple follow-up plan with touchpoints that are:
Personal – one-on-one interactions leave more of a lasting impression than an email blast
Valuable – a friendly "hello" is good, but info about the current market is better
Consistent – what do you prefer: friends who reach out when they need something… or friends who remember every birthday and anniversary?
Watch the video and read on for a simple 4-step plan for your past client follow-up.
4 easy client follow-up methods to make sure your clients don't forget you
Spend 30 minutes a day on social media
Follow your clients on social media so you can:
Comment on their new garden or family vacation photos.
Check for meaningful events—birthdays, graduations, anniversaries—and follow up with a note or gift card.
Solve their pain points and bring value.
Make sure you add notes and important dates to your real estate CRM so you don't forget the details!
Master client follow-up with the Follow-up Coach
The Follow-up Coach knows who's who and provides smart suggestions & one-touch actions based on your relationship. Each day we'll give you 5 clients you should connect with and quick follow-up options to make follow-up a snap.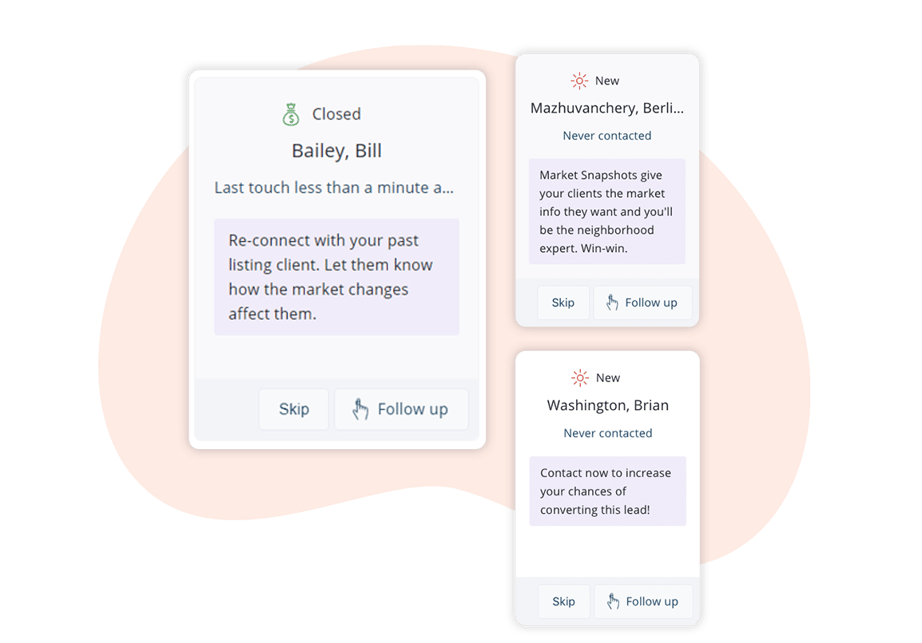 Sign a couple of clients up for a Market Snapshot® report each day
Send your past clients a Market Snapshot® report to keep them in the loop on what's going on in the market and tell them what the neighbor's house just sold for.

Pro tip: Did you know you can completely manage your reports from within Top Producer® X CRM and see if they've viewed the report and other valuable stats?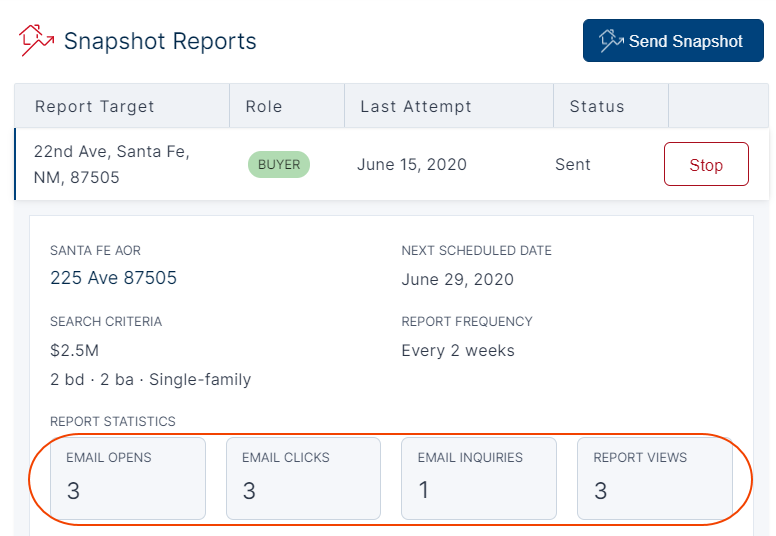 Set reminders for your 'A-list' clients
This one is a 2-step process, but your A-list clients are worth it.
First, prioritize your buyers and sellers using contact types.
Then use custom follow-up reminders to make sure you:

Call or text every few months

Pop-by once a year
And that's all there is to it. Set aside a little time for client follow-up each day and you'll reap the rewards in the future!
Top Producer® Systems has been a leading real estate CRM provider since 1982. Tens of thousands of agents and brokers use Top Producer® real estate software to help them manage leads and contacts, stay organized, and follow up with home buyers, sellers and owners. Learn more at topproducer.com.