Our first post in the new Product Spotlight series, where we'll give you a heads up about the latest tools that complement and play well with the Top Producer CRM products you're already using. We hope you learn a tip or two.
Guest post written by Spacio
Open houses. They're a great way to attract potential buyers, showcase a home for sale, and give your real estate business visibility. But if the leads you collect are easy to lose or hard to track, you're going to have a difficult time turning a lead into a sale. Today's buyers, particularly the high-tech Millennial generation, want a modern, high-tech solution. The pen-and-paper approach of yesteryear is no longer appealing for buyers, and for real estate agents, it's a logistical nightmare. That's why top-producing agents are abandoning the paper approach in favor of something more advanced. Using these 2 simple tech tools, you can completely revolutionize your lead capture and management process.
Say goodbye to the annoying clipboards and hello to beautiful lead capture!
So your open house date has finally arrived. There are fresh flowers in the kitchen, the living room is decorated with bright and home-y accent pieces, and the front yard is looking so beautiful, your buyers will think they fell through a painting and stumbled into Narnia.
But what happens when your buyers walk into your beautifully staged home and find a worn, ugly clipboard waiting for them? Writing out all your contact details on a form isn't just annoying—it also indicates that your real estate company is stuck in the Dark Ages, before the Internet came about.
With Top Producer CRM and Spacio, you can leave the old, worn-out methods for your behind-the-times competitors and wow your buyers with something new. Better yet, you can stop wasting time entering sign-up forms into your database and start promoting homes for sale!
Top Producer CRM/Spacio Integration: Automate Your CRM Processes
Introducing Spacio: The paperless open house. With Spacio's simple interface, you can create an engaging, beautifully contemporary lead capture experience with your iPad or laptop. Your potential buyers can quickly and easily input their contact details on the spot – and immediately receive details about the property in their email inboxes. Once your open house is over, you can export your buyer lists to your Top Producer CRM account.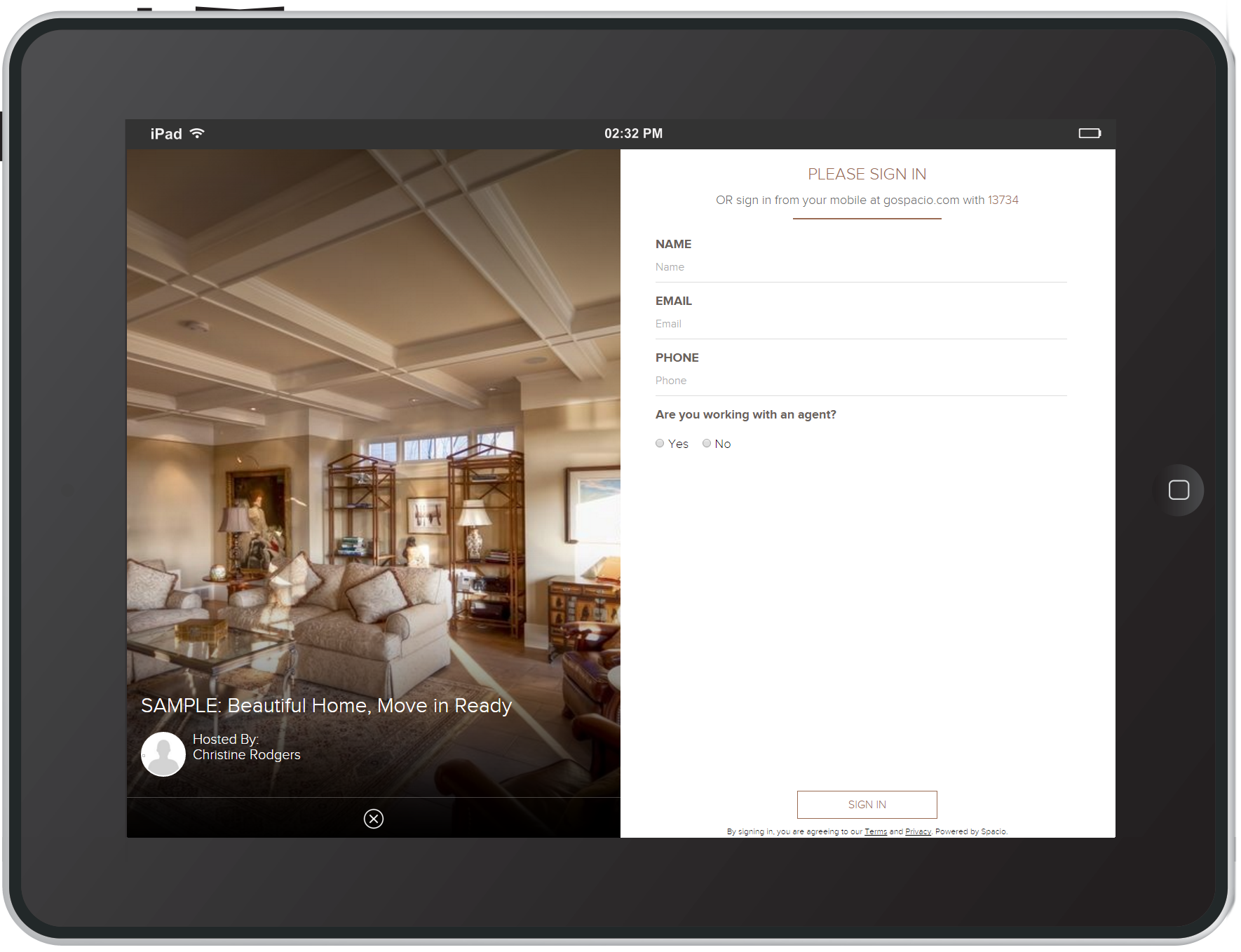 With Top Producer CRM, you can easily view who's interested in buying or selling, who needs a little more information, and who wants to learn more. Top Producer CRM will even suggest appropriate touch points for each buyer and help you to create personalized emails and branded monthly newsletters that are designed to appeal to each buyer demographic.
Send Spacio Leads to Top Producer with Automatic Synchronization
Spacio makes it easy to send your leads to Top Producer with its auto-sync function. Every time a potential buyer visits your open house and signs in with Spacio, their information will be synced with Top Producer. This integration makes open house lead management simple and doesn't interrupt your workflow.
It takes just a few seconds to integrate Top Producer with Spacio. All you'll need is the email address registered in your Top Producer account. Here's how it's done:
If you need to get your Top Producer email—it ends with @myleads.io—then you'll need to log in to Top Producer. Once logged in, click your name at the top right to access the 'Settings' menu. Select 'Contacts' and you'll be able to copy your email.

Next, log in to Spacio, then click on the "My Account" link in the navigation menu:

On the account page, click on the 'Integrations' tab near the top of the page. Scroll down until you see the Top Producer CRM integration. Then enter your email address and click apply:

That's it! Every open house registrant that signs in with Spacio will be sent directly to Top Producer CRM. These leads will also be tagged with 'spacio' so you'll know who's who.
Now you can quickly and easily import and track leads and design lead nurturing campaigns. And with a more modern lead capture system, you'll wow your open house attendees and give your sellers even more reason to trust you.
Screenshots represent site and mobile applications as of publication date. Site and mobile applications subject to change without notice.