Texting is a way of life for real estate agents. Maybe it's because 85% of customers prefer to receive a text message over a call or email1. Or maybe it's the fact that the average American checks their phone 52 times a day2. :O
No matter what the reason, texting has become a very common way for real estate agents to quickly and effectively communicate with clients. Not as intrusive as a phone call, and not swimming in a sea of 500 emails in the Inbox, it's easy to see why.
Which is why we're SO excited to announce that you can now send text messages from within Top Producer® X, our next gen real estate CRM!*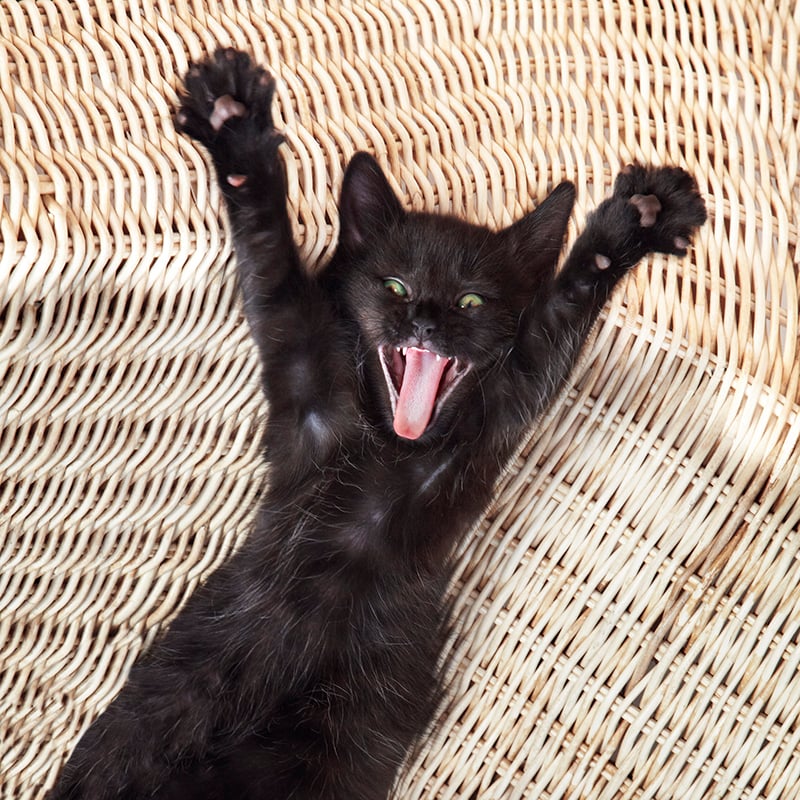 iStock.com/stocknroll
Sending a text message to a client couldn't be easier
Log in to Top Producer® X to start sending texts! Once you've taken the 2 minutes needed to set it up, you can send a text from within the contact record by clicking the Send Text tab.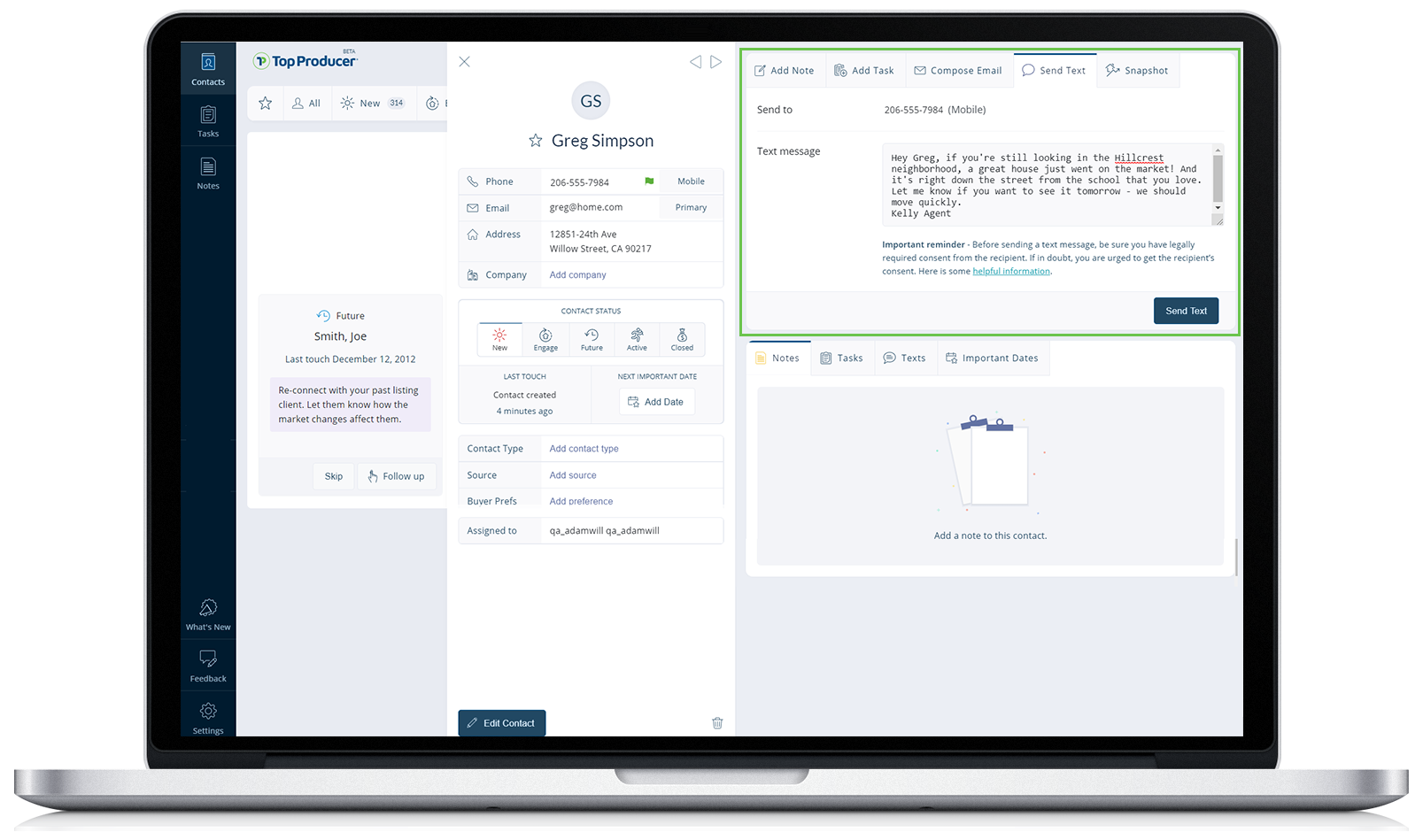 And the best part? When you text from within the program, Top Producer® X will repay the favor by storing your conversations, so a complete text communication history is just a click away!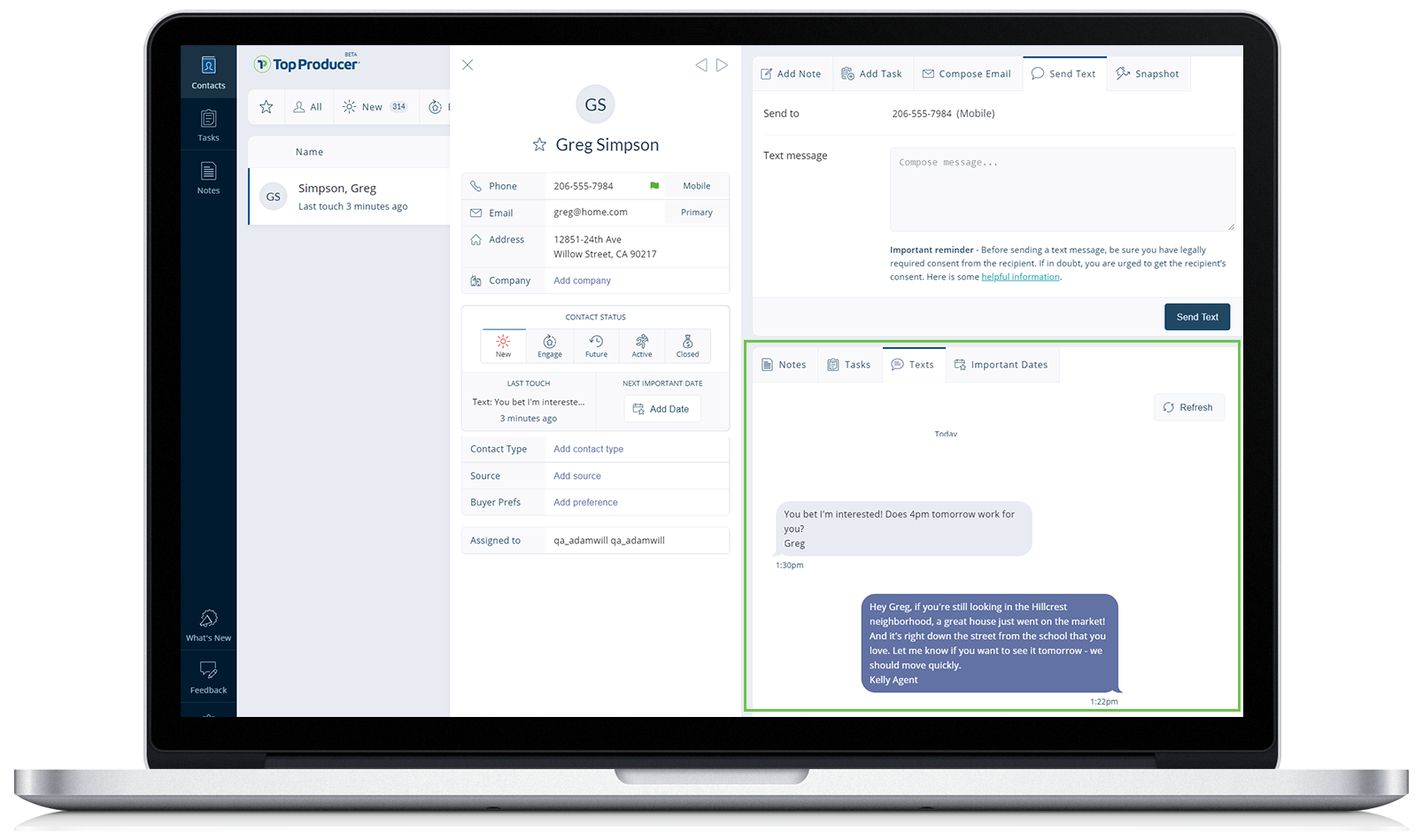 Note: In order to track your texting communication history, you have to send text messages from within Top Producer® X. If you send messages via iMessage or another text service, the communication history won't appear in Top Producer® X.
This sounds awesome. How do I set up texting?
Easy.

1. In Top Producer® X, click Settings from the bottom left > then click Texting.
2. Enter your mobile number > then click Save Texting Setup

in the bottom right.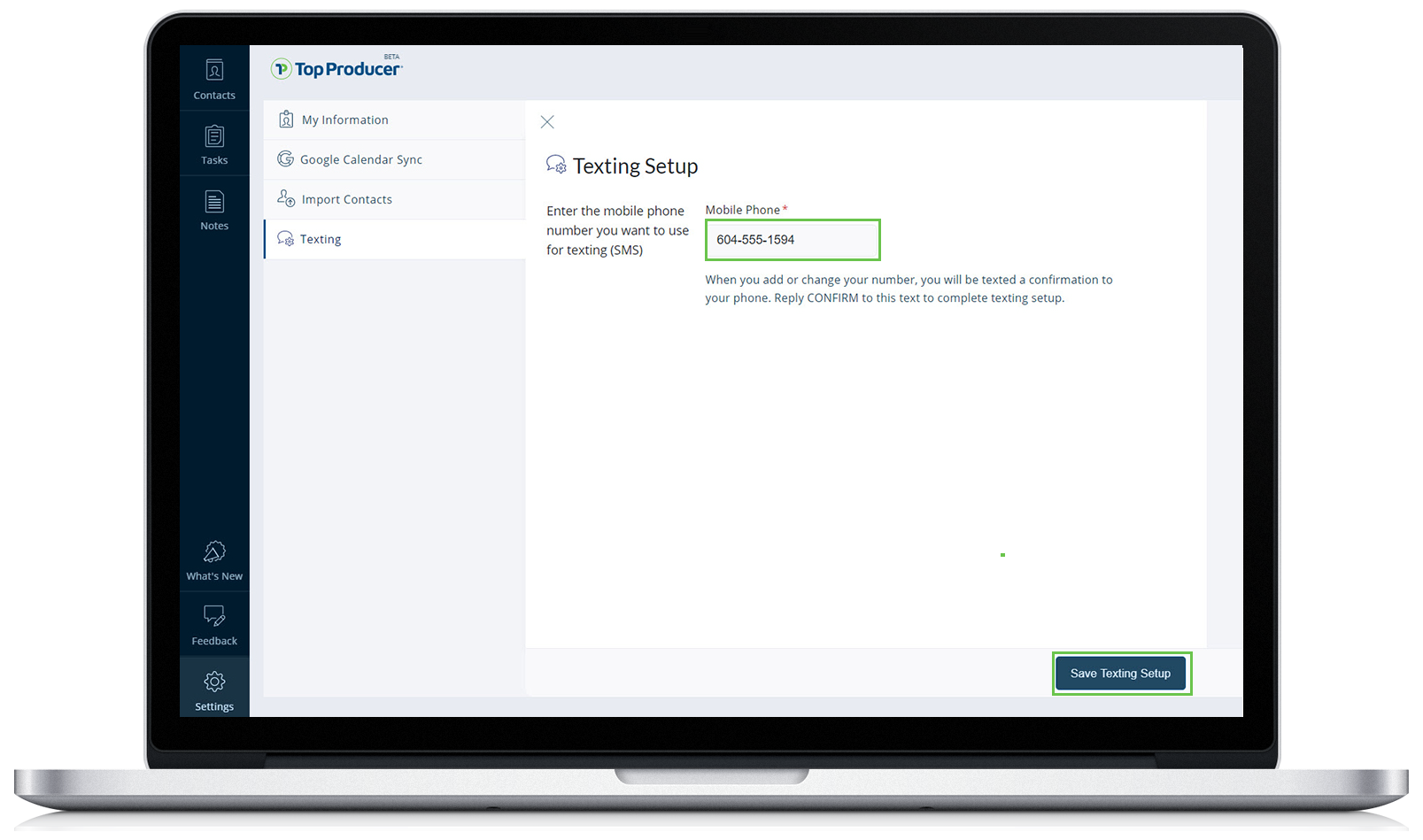 3. Check your text messages for a confirmation text > then reply Confirm

to confirm your phone number. And that's all there is to it!




FAQs: Texting from within Top Producer® X
What phone number will my contacts see? What happens when they reply or call back?
You will be assigned a FREE Top Producer® phone number for your local market area. Any text messages you send from Top Producer® X will come from this number. Any replies or calls back to that number will be routed to your cell phone.
Why is texting disabled for Canadian customers?
In an effort to help our customers stay compliant with anti-spam legislation in Canada (CASL), we are not currently offering texting for Canadian customers. We apologize for any inconvenience.
Can I text from within Top Producer® 8i?
At this time sending and tracking text messages is only available in Top Producer® X, not 8i and older versions of Top Producer® CRM. Current Top Producer® subscribers can log into Top Producer® X at crm.topproducer.com.
Can I send mass texts to all my clients? Do you have text templates?
At this time, we do not offer the ability to send mass texts, as we want to make sure we protect our users from legal cases related to marketing using text. Text templates are on the way soon though! Stay tuned!
This is our first iteration of texting within Top Producer ® X, and we will continue to improve on the functionality available. And while there are so many advantages to communicating with your clients via text message, remember to make it count by always providing value.
Want to learn more about how the NEW Top Producer® CRM will help you stay in touch with your clients? Give us a call at 1-855-534-5534.
---
1 – U.S. edition of the 2018 Global Mobile Consumer Survey from Deloitte
2 – AT&T Market Survey
* Texting is currently only available to Top Producer® users in the United States, due to anti-spam legislation in Canada.