One of the easiest ways of generating business is simply working your database. Most homebuyers (53%)—and even more home sellers (66%)—find their agent through friends and neighbors, or use an agent they used in the past.1
The secret to repeat-and-referral business is simple: stay in touch with your past clients and sphere. Agents who set aside time for follow-up are the most likely to succeed, with the longest careers, highest earnings, and the highest percentage of repeat-and-referral business.
And if you organize your database, it makes staying in touch and sending relevant, engaging content a lot easier.
3 key ways to organize your real estate database
There are three ways to tag your contacts in Top Producer® X CRM: contact type, lead source, and contact status. Tagging all of your contacts makes it easier for you to identify and effectively follow up with a specific group. For example, people looking to buy in neighborhood X, or 'A-List clients' that get an invite to your holiday party.
Contact Types
Use contact types to keep track of:
Who they are: Buyer, seller, sphere—you know the drill.
Their interests:

Market your listing on the golf course to the right people and stay in touch with relevant content.

Pro tip: How do you find out their interests? Social media of course, and in Top Producer® X CRM your clients' social media info is automatically displayed in their records, so this info is just a click away.
Geography: Keep track of the areas they like to make your marketing more relevant.
Their occupation:

This is more relevant today than ever to understand the impact global events are having on individuals.

Their likes:

From loan officers and lenders to whether they like coffee/tea or beer or wine—keeping track of your clients' likes will come in handy down the road.

Pro tip: Long-time power user, Leah Goldstein, sends out a simple Google form to learn her clients' preferences.
You can also use contact types to categorize your buyers and sellers so you know where to put your focus.
Buyer categorization:
A – ready to put in an offer within 3 months & have pre-approval
B – same as 'A' but not pre-approved
C – looking to put in an offer in 3-6 months
D – looking to put in an offer in 6 months or later
Seller categorization:
A – Referred you 2 or more times in a year
B – Referred you to at least 1 person
C – Would refer if the opportunity came up, but hasn't yet
D – An indifferent past client
To add a contact type in Top Producer® X CRM, just click Edit Contact from their record > then click in the Contact types field to select from the list.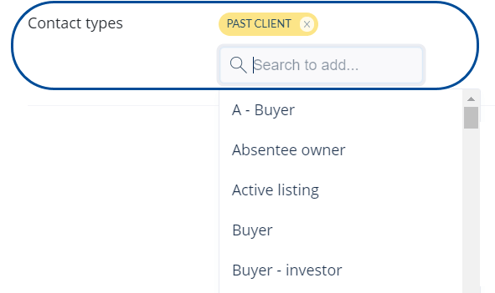 Lead source
Track where your leads come from to help determine your best lead sources. You can connect over 150+ lead providers to Top Producer® X CRM, and the lead source will be automatically added to the contact record.
To add a lead source, just click Edit Contact from their record > then select a Lead source from the drop-down list.

Contact status
Keep track of where your contacts are in the client lifecycle—new, active, closed, etc—so you always have an accurate view of your pipeline.
To set a contact's status, when viewing their record, just select a status in the Contact Status section.
And now that your database is the most organized on the block, let Top Producer® X CRM help you take client follow-up to the next level!
The Complete Follow-up Guide has everything you need to know about following up in Top Producer® X CRM, from how often to follow up to what to send.
---
Top Producer® Systems has been a leading real estate CRM provider since 1982. Tens of thousands of agents and brokers use Top Producer® real estate software to help them manage leads and contacts, stay organized, and follow up with home buyers, sellers and owners. Learn more at topproducer.com.
1 – National Association of REALTORS® 2019 Profile of Home Buyers and Sellers