Know it's time to reach out to a contact but aren't sure what to talk about? We've got you covered. With the new Social Insights in Top Producer® X CRM, you can now see your contacts' social media info in their record, so meaningful connections are just a click away.
How to see the Social Insights in Top Producer® X CRM
When a contact's profile is publicly available, you'll see their social bio, interests, photo and links to their online profile, making conversations a snap. Top Producer® X can pull social info from LinkedIn, Twitter, Medium, Pinterest and more.
And the best part? No setup is required!
Just log in to Top Producer® X and open a contact's record to view the details.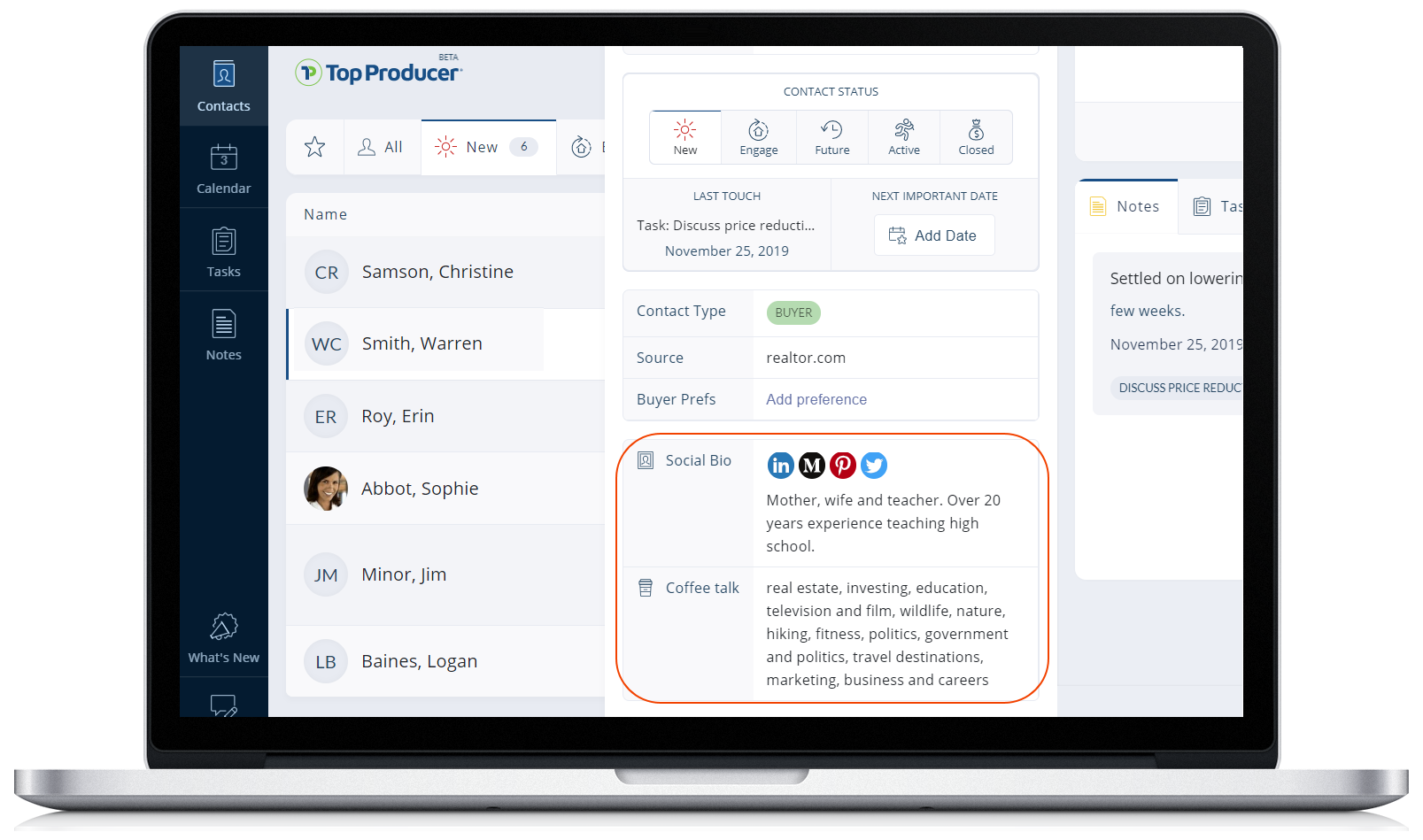 FAQs:
How does Top Producer® X find a contact's social media info?
We use a connector called FullContact, which uses the email address you've entered in a contact's record to find their social media profiles.
Why isn't my client's social info appearing in Top Producer® X? The email address I entered is associated with their social media account.
This is likely due to strict privacy settings on their social media account. For example, if they have set their profile to the maximum privacy settings, we can't pick up their profile info and photo.
How do I know if Top Producer® X has pulled a contact's social info?
You can open a contact's record to quickly view the social info (as shown in the image above). You can also take a quick look at the Contacts list – if you see photos you didn't add yourself, it's likely that Top Producer® X picked up the contact's photo and other social info.
Want to learn more about how Top Producer® solutions can help you grow your business? Request a demo or call 1-855-534-5534.
Top Producer® Systems has been a leading real estate CRM provider since 1982. Tens of thousands of agents and brokers use Top Producer® real estate software to help them manage leads and contacts, stay organized, and follow up with home buyers, sellers and owners. Learn more at topproducer.com.