Our lives changed dramatically in March 2020, when the impact of COVID-19 started to be felt across North America. And as our bubbles grew smaller and our homes became offices, classrooms and gyms, home sweet home became more important than ever before.

Selling and buying patterns changed: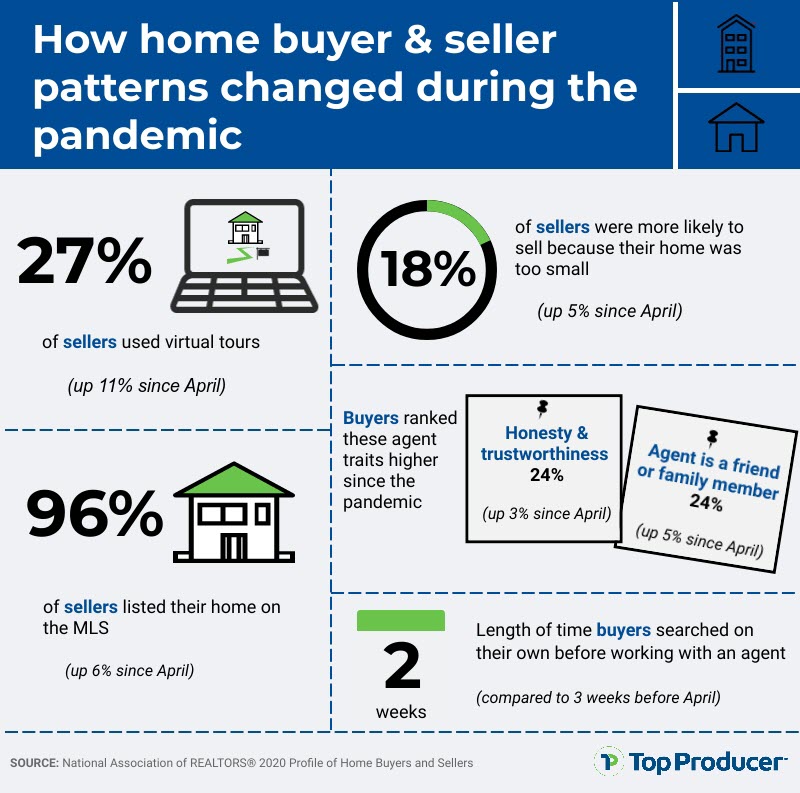 And real estate agents came up with innovative and effective ways to adjust to the new reality of COVID-19. Virtual showings became the norm, and Zoom the place for listing presentations and reviewing offers.
Many of these virtual home buying and selling practices are likely to stick around well beyond the COVID-19 era because of their convenience and efficiency. Here are a few ways to embrace them and set yourself up for success in 2021.
Now is the time to embrace video
Now more than ever people want to know what's going on in the market, so you're sending them Market Snapshot® reports to keep them up to date on market activity, including new listings, price change and sold alerts direct from your MLS.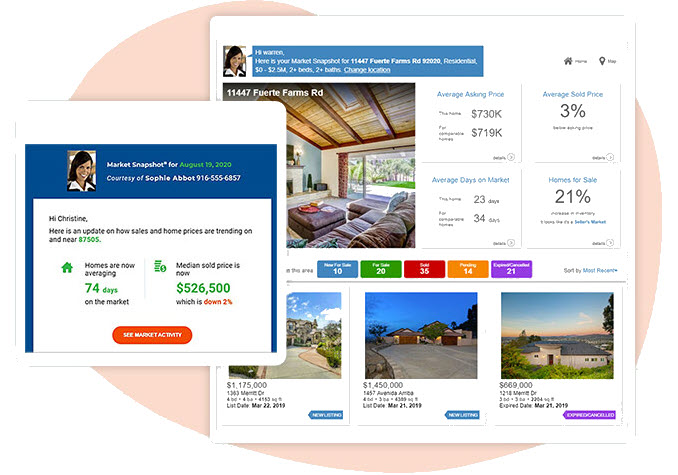 Nice work, but don't stop there.
Here's how long-time Top Producer® user and 39-year real estate veteran, George Fotion, takes his market reports to the next level with video:
1. After helping a client sell a house, sign them up for a monthly market report to keep them in the loop on market changes.
2. Flick a switch in Top Producer® X CRM to be notified when clients view the snapshot:

3. Then use Loom—a free video tool that lets you create short, shareable videos—to point out some of the key gems in the snapshot that the client might not notice or understand.
Talk about the 4 quadrants in the upper right that show key market stats, discuss the supply and demand issues shown in the bottom right, and show them where to access amenity info in their new hood.
It might take you 5-10 minutes to shoot the video and share it, but the impression left on your client lasts much longer.
And if you thought your real estate online presence was important before COVID-19…
More buyers than ever before are starting their home search online to avoid unnecessary in-person meetings. Here are a few tips to make sure your online presence reflects the professional you are:
Ask for reviews immediately post-sale: When prospects check you out online, you want them to see as many glowing reviews as possible. Check out The Right Way to Ask for Real Estate Reviews for tips on how.
Google yourself: Make sure you're painting a consistent picture of who you are and how you can help potential clients. If you need help, tools like Real Grader can analyze your digital identity across marketing sites.
Revisit one of your most valuable marketing assets—your bio: You want to strike an emotional connection, highlight your professional experience and define what sets you apart, all within 300 words or less. No problem. Check out Branding 101 for all you need to know.
Every industry has made major changes to adjust to the COVID-19 pandemic, and the real estate industry is no exception
Real estate agents all over the world have shared ideas and relied heavily on technology to allow themselves to continue to provide superior service to their clients. Take a moment to reflect on your own resilience and the changes you've made, and then make a couple more to set yourself up for success in the year to come.
Stay safe everyone.
We're here to help – don't hesitate to call us at 1-800-830-8300.
Not a current Top Producer® CRM customer? Request a demo or call 1-855-534-5534.
---
Top Producer® Systems has been a leading real estate CRM provider since 1982. Tens of thousands of agents and brokers use Top Producer® real estate software to help them manage leads and contacts, stay organized, and follow up with home buyers, sellers and owners. Learn more at topproducer.com.