A good CRM offers many benefits, including saving you time, organizing your client database and business, and simplifying client follow-up so you can build a healthy repeat and referral business. CRM stands for "customer relationship management," and that's what a good real estate CRM will do for you. In fact, a CRM is often the first (and wisest) investment a real estate agent can make.
With so many options available though, it can be tough to choose the CRM that's right for you. So we've gathered a list of questions you should ask during your search. But first, let's cover why you need a CRM to help manage your business in the first place.
Benefits of a real estate CRM
At any given time, you're managing these 3 aspects of your business: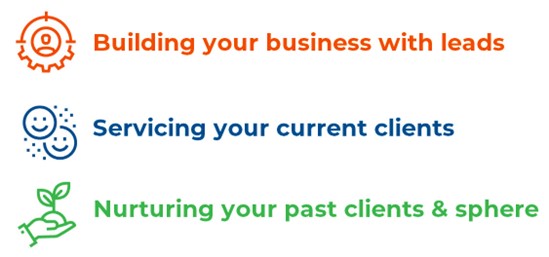 Keeping track of contact info, follow-up tasks and notes for all of your prospects and clients at every stage of the sales cycle can be a daunting task, not to mention remembering when they're planning to downsize, what their dog's name is, and where their kids go to school. Posting sticky notes to your desktop or leaving contacts in your phone or an Excel spreadsheet are surefire ways to let things fall through the cracks, and when they do, clients will go elsewhere. And you know better than anyone—it takes a lot of time, effort and money to build the relationships that lead to transactions.
A real estate CRM can help you streamline the whole process of lead nurturing and follow-up so your prospects and clients don't forget you, and when they're ready to buy or sell (or have a friend who is), you're top of mind.
10 questions to ask when looking for a real estate CRM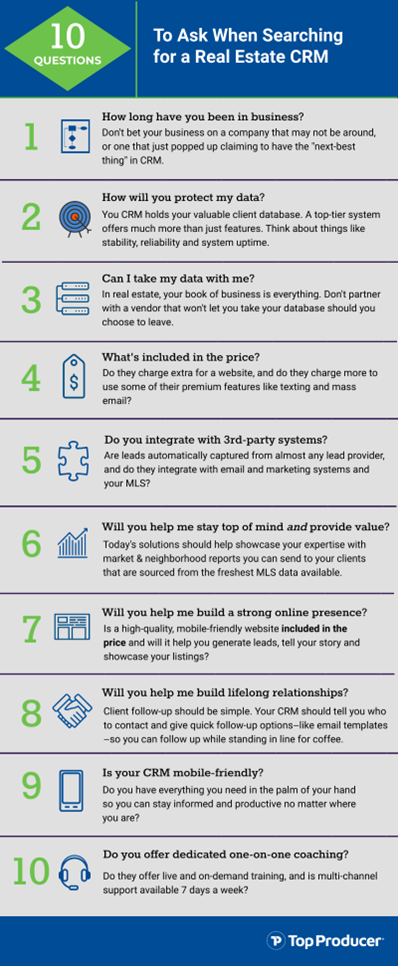 Top Producer® has been a leading provider of real estate CRM solutions since 1982. Want to learn more about the NEW Top Producer® real estate CRM? Give us a call at 1-855-534-5534.