Want to close more deals? Look no further than your follow-up game. With 66% of sellers either using an agent they worked with previously or getting a referral from friends or family1, not following up could cost you more than just one commission. It'll likely cost you several down the road too. How often you should follow up depends on where the consumer is in the buying or selling process. And while most CRMs require strict tagging rules in order to automate follow-up, Top Producer® X CRM is taking simplified follow-up to the next level. Now you can create smart contact lists and custom reminders in just a few clicks!
The custom tabs we released recently in Top Producer® X CRM allow you to surface the most important contacts in your contact database. Just search for a specific group of people, and then save that group as a tab in your Sales Pipeline:

We've now taken this a step further with the ability to create smart contact lists and custom reminders for these groups!
Watch the live demo below or read on for more info:
Just set how often you want contacts to hear from you, and then with just a quick glance, you'll see who you need to follow up with.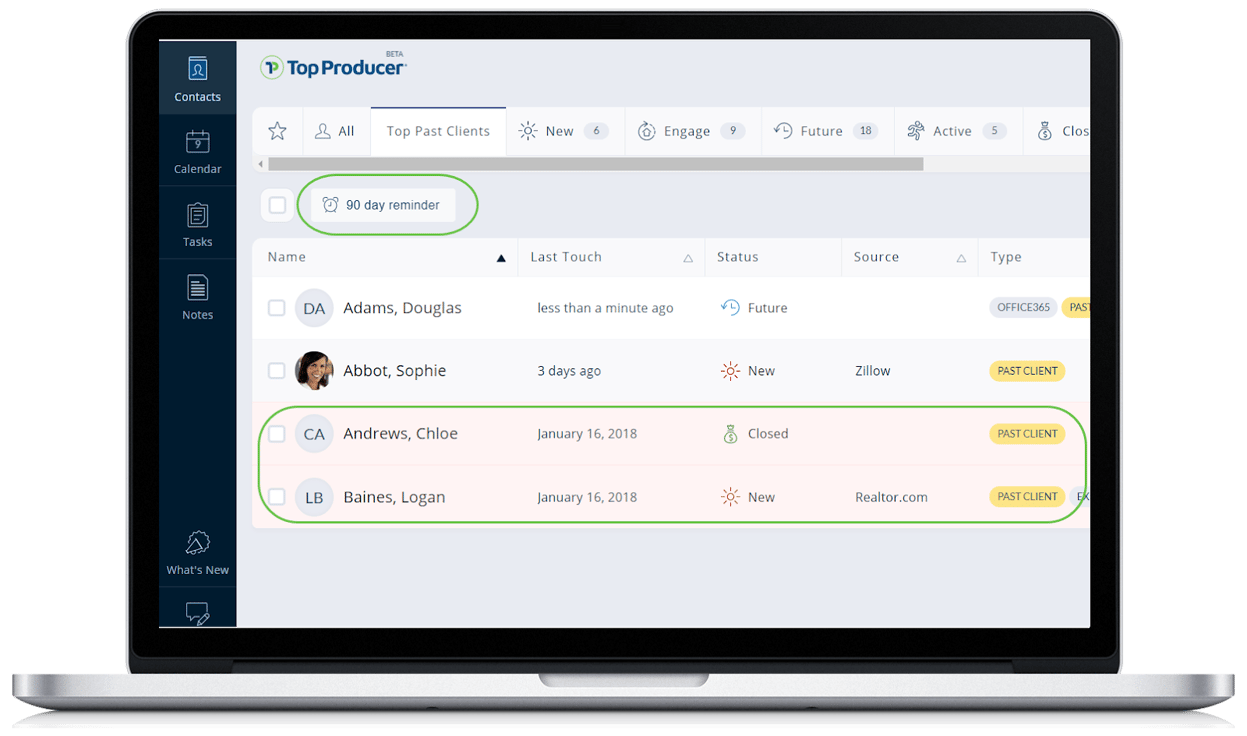 Follow-up is about to get a lot easier.
Here are a few ideas for smart contact lists and custom reminders to inspire you
Show your past clients some ❤️
Your past clients know you went the extra mile for them; don't let them forget it by not staying in touch. Since you've tagged them all with the 'past client' contact type in your database, all you have to do now is create a tab and set how often you want to follow up.

Pro tip: Sort by the Last Touch column to see who needs attention first.
Reach out to your sphere regularly
Remind your sphere what you do for a living. Check in every now and then to see how they're doing, chat about the market, discuss the new local hotspot and ask if they know anyone that's looking to make a move.
Reach out to homeowners in the area you specialize in
Glenview is your hood—you put in your time door knocking, hold community garage sales every spring and know the neighbors' by their first names. Nice work. Don't let this "boots-on-the-ground" reputation go to waste. Check in regularly to talk about the listing you just sold down the street or ask if they need any home-improvement recommendations. You know the drill.
Stay on top of your online lead follow-up
Online leads are great but you need to be on top of your follow-up game if you want to convert them. No problem—just search for your online lead source, create a tab and then check the Last Touch column regularly to see when you last touched base.
This sounds great! How do I set it up?
All it takes is a few simple steps.
1. Create a new group of contacts you want to follow up with in Top Producer® X:
a) Click Contacts on the left > then click

> Create tab to the right of your sales pipeline.
b) Select what you want to search for (Contact type, Contact status or a Search for phone, street name, city or zip code).
c. Type a name for your tab in the Tab label field > then select your criteria below.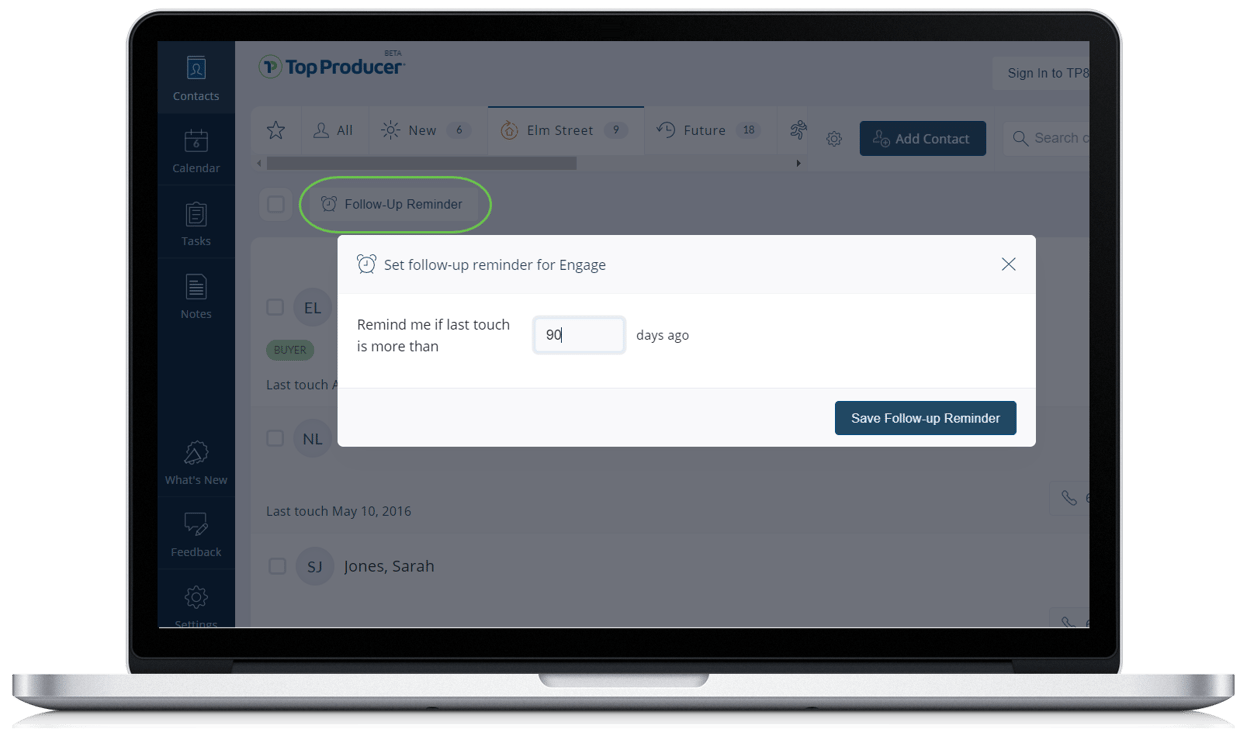 2. Once your new tab is ready to go, then you can set how often you want to follow up with this group by clicking Add Follow-Up Reminder on your new tab.
And that's all there is to it! When your 'last touch' date reaches the number of days you specify, contacts that need follow-up will be highlighted in red. Then you can take advantage of the follow-up options—send a quick text or an email template—and rest easy knowing you're doing precisely what's needed to build a thriving repeat and referral business.
1 – National Association of REALTORS® 2019 Profile of Home Buyers and Sellers