Released in October of 2015, Facebook Lead Ads simplify the mobile sign-up process and make it really easy for mobile users to connect with services and businesses that interest them. Thanks to LeadsBridge, we're super happy to announce it's easy as pie to get these leads in to Top Producer CRM!
Prior to the release, (dare I say) the advertising experience wasn't perfect. Leads were directed to an external website that took a long time to load. Couple that with the fact that it was wayyy slower on mobile devices and you've got a recipe for an unimpressed lead. (We ♥ our phones +

have longer attention spans.)
With the Lead Ads though, these problems are a distant memory. Now when a lead clicks on an ad, a form inside Facebook loads, so the results are instantaneous. And better yet, the fields are pre-filled so us lazy types have to enter less info!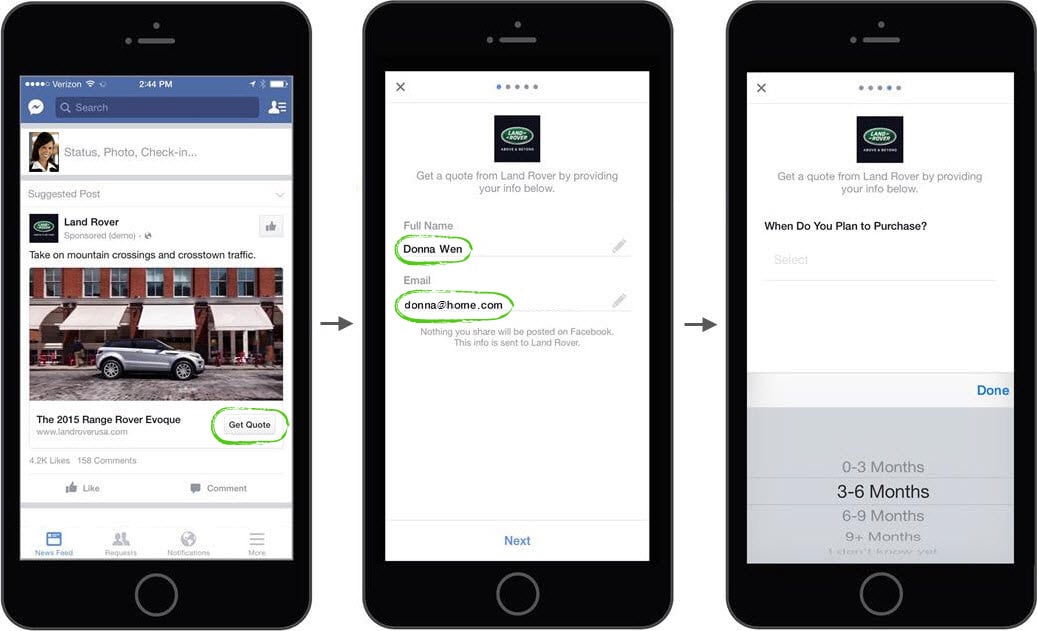 (See why this was marketed as "Tap-tap-done"?)
Why do I need LeadsBridge?
While Facebook's Lead Ads rock, there's one teensy problem—they don't automatically flow to your CRM. Instead you have to export your Facebook leads to a CSV file and then import in to your CRM. Ugh.
LeadsBridge has cleverly bridged this gap though, so there's no messing around with CSV files. Once you set up the LeadsBridge integration, all of your Facebook Lead Ads will flow automatically in to Top Producer CRM!
Sounds good. How do I set this up?
Setting up the integration is easy.
Note: These instructions are for Top Producer CRM, but this integration will work with FiveStreet too. Just grab your FiveStreet email address and then follow steps 2 & 3 below. (You'll find the email address in FiveStreet by clicking Lead Sources from the main menu.)
1. First, grab your notification email address from Top Producer CRM. From the Settings area, click the Contacts tab > then click Copy to copy your email address.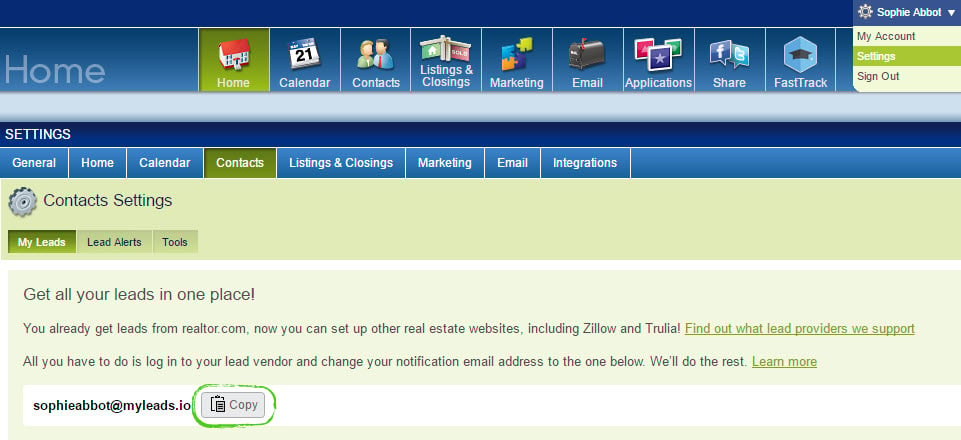 2. Then you need to copy this address in LeadsBridge. From the menu in the top right, click Integrations > then click Add new.

3. Next, enter a name > select Real Estate Lead Metadata from the Type field > then copy your Top Producer CRM notification email address in the To field. (You can CC anyone you want too.) When done, click Save.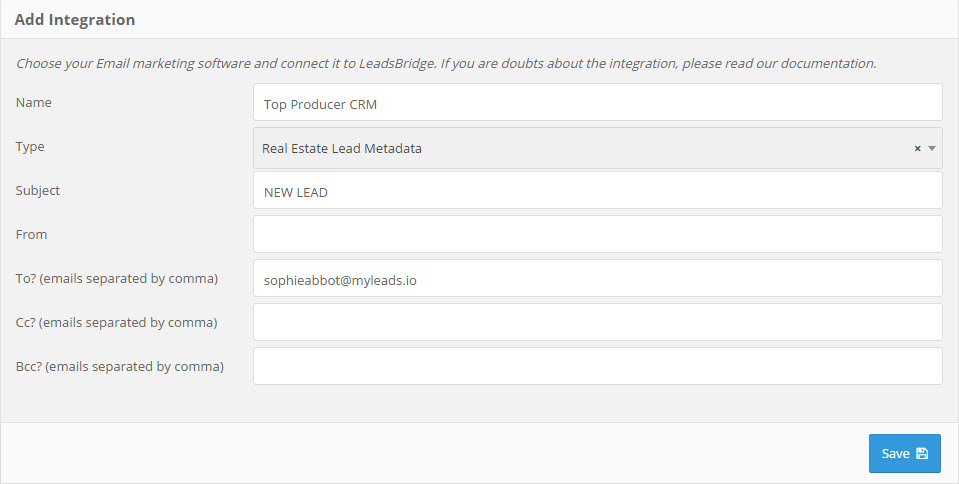 That's it! Now all of your leads from Facebook will flow in to Top Producer CRM.
Technology trends change frequently. These statements are believed to be true at the time of this article's publish date but not guaranteed. Screenshots represent site and mobile applications as of publication date. Site and mobile applications subject to change without notice.