We're excited to introduce the new and improved contact sync in Top Producer® X CRM! The ability to seamlessly sync your contacts is a must-have for a real estate CRM. And we wanted to build the best possible experience, unlike CRMs that require 3rd-party integrations and only provide one-way sync.
Do we think it was worth the effort? Absolutely. Here's why.
What sets Top Producer® X Contact Sync apart from the rest
When we designed the new sync, we were determined to make it:

Easy: Sync directly with the programs agents use every day (Gmail and Google apps, MS Exchange / Outlook.com / Office 365, and Apple's iCloud!)
⇔ Two-way: If you add a contact on your phone / connected application, it should appear in your CRM; if you update that contact later in your CRM, it should update in the source (beware: some CRMs offer contact "sync" that is just a one-way contact import).

Cost-effective: No additional costs or third-party integrations required.
Sounds good, right? Here's how to set it up
Setup takes 2 minutes and is all done from within Top Producer® X CRM.
1. Log in to Top Producer® X CRM, then go to Settings > Contact Sync.
Note: If the Contact Sync menu item isn't available to you, check out the FAQs in this article for the reason why, or give us a call at 1-800-830-8300 – we'd be happy to help you out.
2. Enter your email address for the account you'd like to sync > then click Authorize.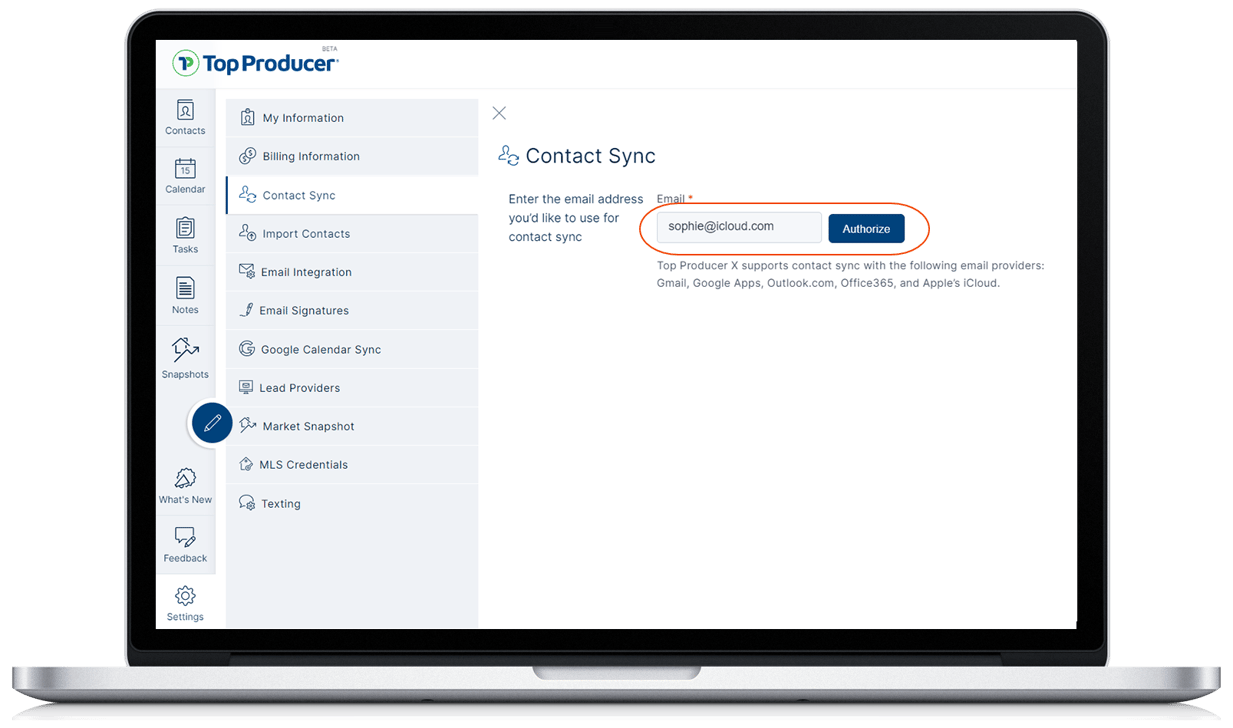 3. Grant access to sync your account and that's all there is to it! Your account will now be synced with Top Producer® X CRM.
If you'd like more info, including FAQs, check out this article.