You know the importance of follow-up to your business. Regular, thoughtful touch points throughout the year are appreciated and keep you top of mind. One question we get asked a lot though: How often should I follow up with the different groups in my database?
So we've laid out the key groups you work with—leads, active clients, past clients and sphere—and provided a simple strategy for each.
Our world is highly competitive, which means the more aggressive you are in building your business and client base, the better your chances of success. Keep this in mind as you read the suggestions below.
Following up with your Leads
Day 1: The first few minutes of receiving notification that your new lead has arrived, it's crucial that you make contact ASAP. Let tech do the work with an automated text or email and set aside some time to follow up with a phone call if you're not available immediately. Solutions like FiveStreet can automatically deliver personalized auto-responses to new leads in less than a minute.

Pro tip: No answer when you called? Hang up and call back immediately. (People will sometimes pick up when someone calls twice in a row, thinking it's important.) Leave a voicemail if they don't pick up.
Day 2: Send a quick text message to follow up! Ask them how their search is going, if they have any questions, and if they want their market report modified to better suit their preferences.
Day 3: Give your lead another ring. Ask them if they saw anything in the market report that caught their eye.

Pro tip: If they don't pick up, try this trick – leave a voice message and then immediately follow up with an email ("I just tried calling; here's my number").
Day 4: This is the day for your "Hail Mary" email. Give them the confidence that you're going to answer their questions whenever they need help.
After you connect: Remember that the first time you speak with your new lead is an opportunity to start showing you're willing to go above and beyond for them. Why not sign them up for a market report for the area they're interested in and send alerts when there are new listings in the area?
Bi-weekly: Send market updates every 2 weeks or so. Not only will this keep your potential new client in the loop, it will also continuously remind them that you're there to assist.
Following up with your Active Clients
Weekly: In this stage it's crucial to keep your clients informed about what's going on in the market as it happens. Keeping them in the know will help build trust and a strong relationship.
Working with a buyer? Send market updates and alerts for new listings they might be interested in, as well as any price changes and sold alerts.
Helping someone sell? Keep them informed about the performance of their listing, as well as other changes on the market (new listings, price changes and sold alerts).
Following up with your Past Clients
Keeping in touch with your past clients will lead to repeat and referral business down the road.
When the deal closes: Consider a housewarming gift. It can be as simple as a pot of flowers or a baked goods basket.
Immediately post-sale: Ask for a review! Check out The Right Way to Ask for Real Estate Reviews for tips on how.
Moving day: This is a great opportunity to offer assistance – ask if they want help moving or bring over pizza for dinner on moving day.
1-2 weeks post-moving day: Check in to see how they're settling in.
Every quarter: Send a market update to let them know how the market is doing should they ever consider selling. The deal may have closed, but it is important to make sure your client keeps you top of mind when they think of real estate.
Twice a year: Check in with a quick call, text or email just to see how they're doing. Or, check in on their important days (birthdays, home anniversaries, etc).

Pro tip: Make sure to enter important dates and notes in your real estate CRM so you can have meaningful conversations in the future!
We know this may seem like a lot but remember, but there are real estate tools designed to ease the process for you.
Following up with your Sphere of Influence
Once a quarter: Check in and say hi.
Nothing bad can come out of saying "hi" and it gives you a good opportunity to chat about the market, discuss the new local hotspot and ask if they know anyone who's interested in making a move soon. Send them a market report too so they stay on top of the market.
Now that you've got a plan, let technology simplify your follow-up
Your CRM should be one of the tools you lean on most for help with follow-up.
Top Producer® X CRM allows you to quickly surface the most important clients in your database and set how often you want them to hear from you. With just a quick glance, you'll see who you need to follow up with!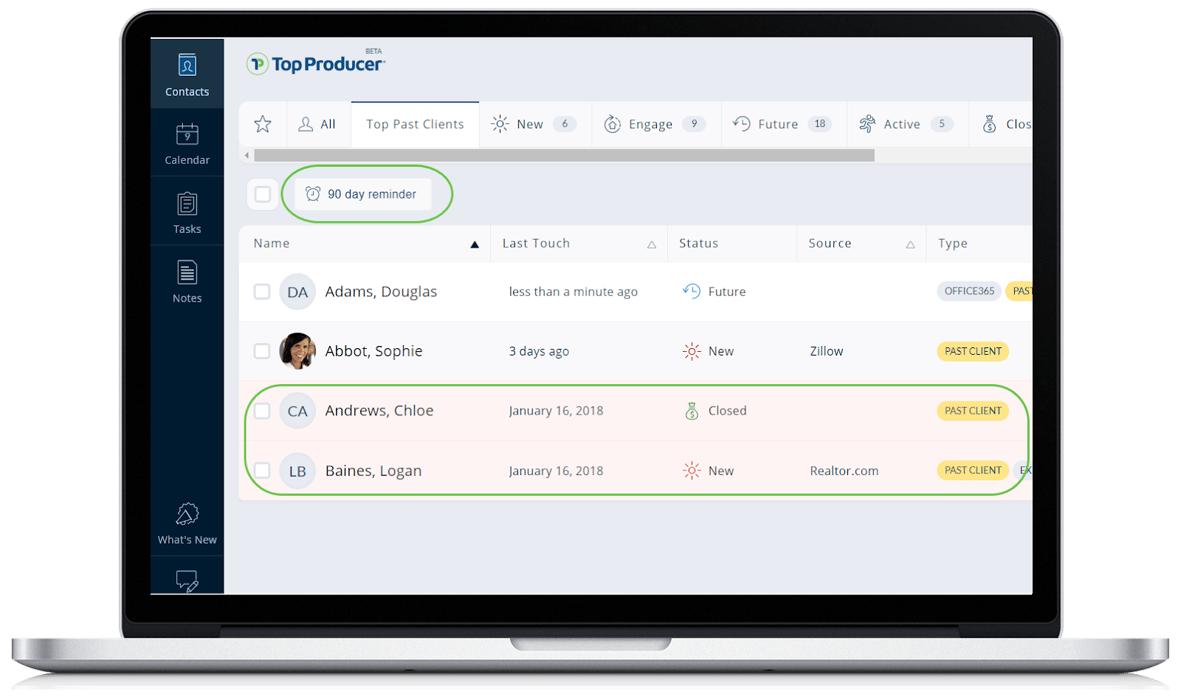 And while the above method is a very proactive way to take control of your client follow-up, your CRM should also provide a backup method to make sure clients don't slip through the cracks. The Follow-up Coach in Top Producer® X CRM does just that by suggesting five contacts you should reach out to each day: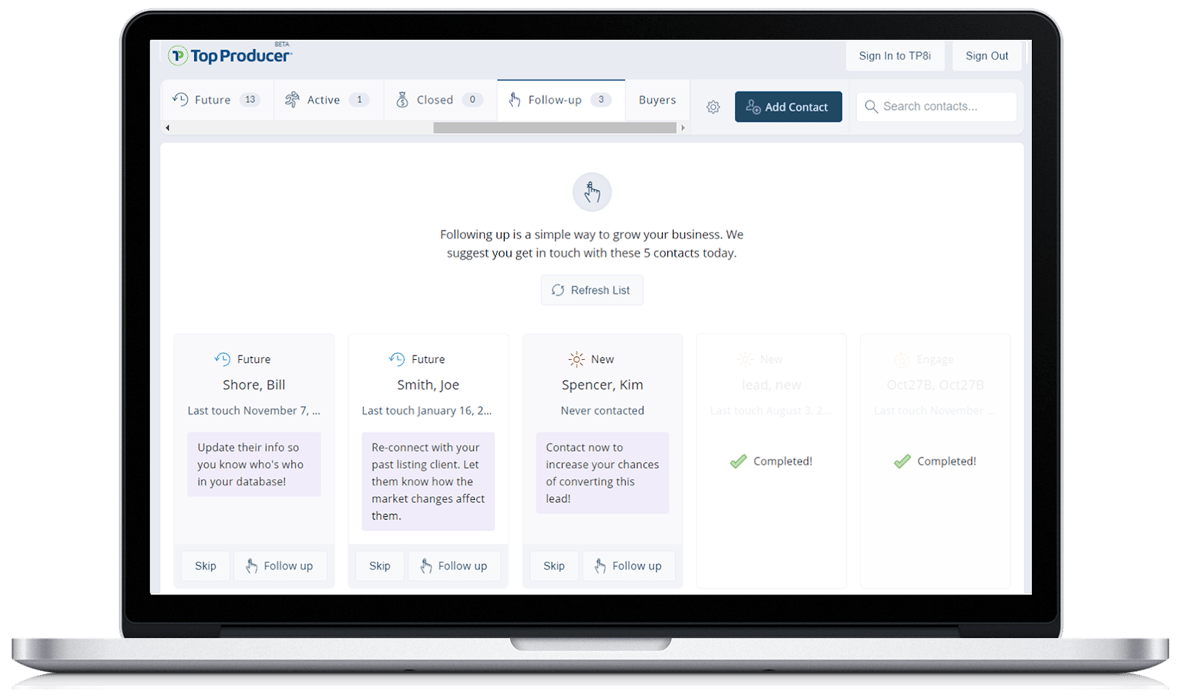 And last but not least, showcase your expertise and stay top of mind with Market Snapshot® reports. As you can see by the suggestions in this article, these reports work well for all stages of the client lifecycle.

Take the time to set up a system for your client follow-up now and you'll thank yourself later! Log in to Top Producer® X CRM now and get started.
Not a Top Producer® customer and want to learn more about how our solutions can help you grow your business? Request a demo or call 1-855-534-5534.
Top Producer® Systems has been a leading real estate CRM provider since 1982. Tens of thousands of agents and brokers use Top Producer® real estate software to help them manage leads and contacts, stay organized, and follow up with home buyers, sellers and owners. Learn more at topproducer.com.