So you've got Top Producer® X CRM to help you build better client relationships—smart move! An organized and healthy repeat & referral business is just around the corner.
And while Top Producer® X CRM has a lot to offer, including MLS-powered Transaction Management, Property Insights and branded market reports, we've laid out a few key things you should check out during your first week. Familiarize yourself with the basics now, and then check out some of the more advanced features later.
4 areas to focus on in your first 7 days with Top Producer® X CRM
Note: If you haven't yet completed the setup, you'll want to start there. Here are quick setup details or give us a call at 1-800-830-8300 and we'll walk you through it.
1. Tag your contacts from the get-go
Tagging your contacts makes it easier for you to identify and effectively follow up with a specific group. For example, everyone who's looking to buy in the Hillcrest neighborhood, or all of your 'A-List clients' who get an invite to your holiday party.
Here are three quick ways to tag your contacts in Top Producer® X CRM:
Contact types: Keep track of key client details, including what neighborhoods they're interested in, whether they're a buyer or seller, love to golf, and more.
Example of tagging contacts in Top Producer X CRM
Lead source: Track where your leads come from to determine your best lead sources.
Contact status: Track where your clients are in the client lifecycle so you always have an accurate view of your pipeline.
For more on how to assign these tags, see How to organize and tag your contacts in Top Producer® X CRM.
2. Get to know the follow-up tools
Staying in touch with your past clients and sphere can lead to repeat business for many years to come. Here are 2 simple processes you can implement in a matter of minutes:
Smart contact lists with custom reminders: In just a few clicks, you can bucket your contacts and then set how often you want them to hear from you. Then, with just a quick glance, you'll see who you need to follow up with.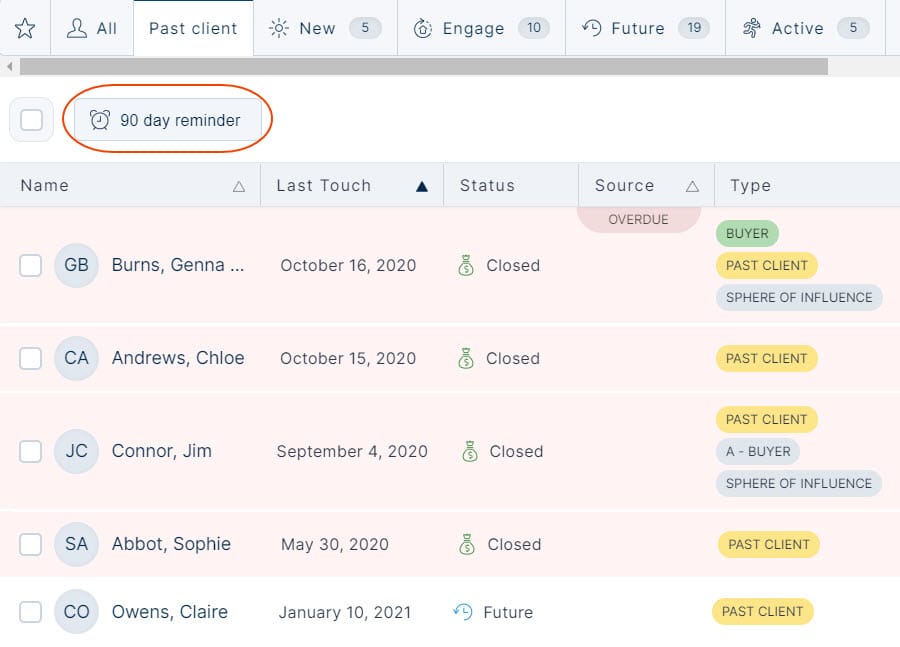 Bucket your contacts and set follow-up reminders in Top Producer X CRM
Follow-up Coach: Accessible from the Contacts list, the Follow-up Coach will bubble up any contacts you haven't communicated with in a while to make sure they don't slip through the cracks. Quick and easy follow-up options can have you following up with your "daily 5" in 10 minutes or less.
Check out our Complete Guide to Follow-up for more info.
3. Service your clients with ease
Providing first-class service starts with keeping really good records, so you'll want to be sure to record key dates and client details from the beginning. Keep track of where the kids go to school and what the dog's name is, and when you follow up on the anniversary of closing, your clients will be more than impressed.
You can add notes and important dates from the contact record: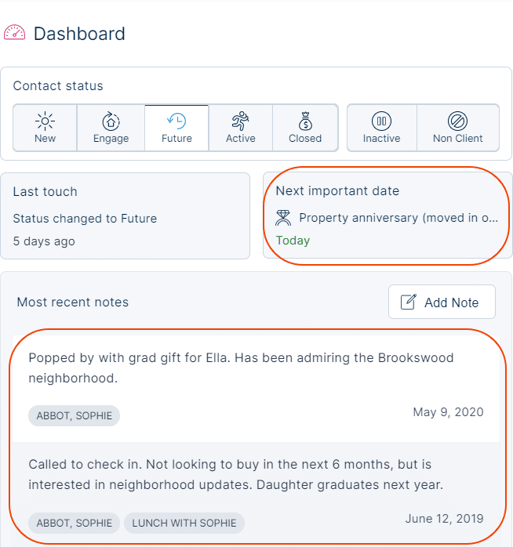 Recording important dates and keeping good records in Top Producer X CRM
4. Build your business with this simple process for leads
Top Producer® X CRM integrates with over 150 lead providers, so once you've connected your lead sources, any new leads appear on the New tab in your Sales Pipeline. You'll want to check this daily:

The Sales Pipeline in Top Producer X CRM
Before you reach out to a lead, use the social media insights in their record to learn a little about them:
Learning more about a lead via social media insights in Top Producer X CRM
And once you've qualified them, change their contact status to reflect where they are in the client lifecycle and add any notes: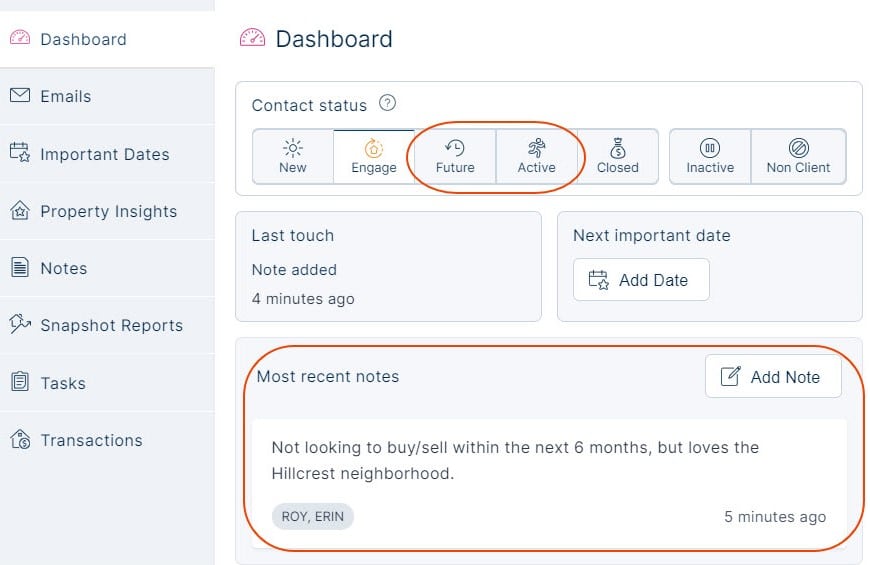 Keeping track of where a contact is in the buying/selling lifecycle in Top Producer X CRM
Start with the above daily habits and you'll be off to a great start with your new CRM!
Once you're ready to dive a little deeper, be sure to check out the MLS-powered Property Insights, Transaction and Task Plan Management, branded market reports with sold data, and so much more. And don't forget to join our Facebook group for more strategies and tips, stay on top of product updates, and share your feedback.
We look forward to helping you build lifelong relationships and grow your business!
---
Top Producer® Systems has been a leading real estate CRM provider since 1982. Tens of thousands of agents and brokers use Top Producer® real estate software to help them manage leads and contacts, stay organized, and follow up with home buyers, sellers and owners. Learn more at topproducer.com.