The email integration in our next-gen real estate CRM, Top Producer® X, just got better! You can now add multiple email signatures, choose the default email you want to send from, and add images to your email messages!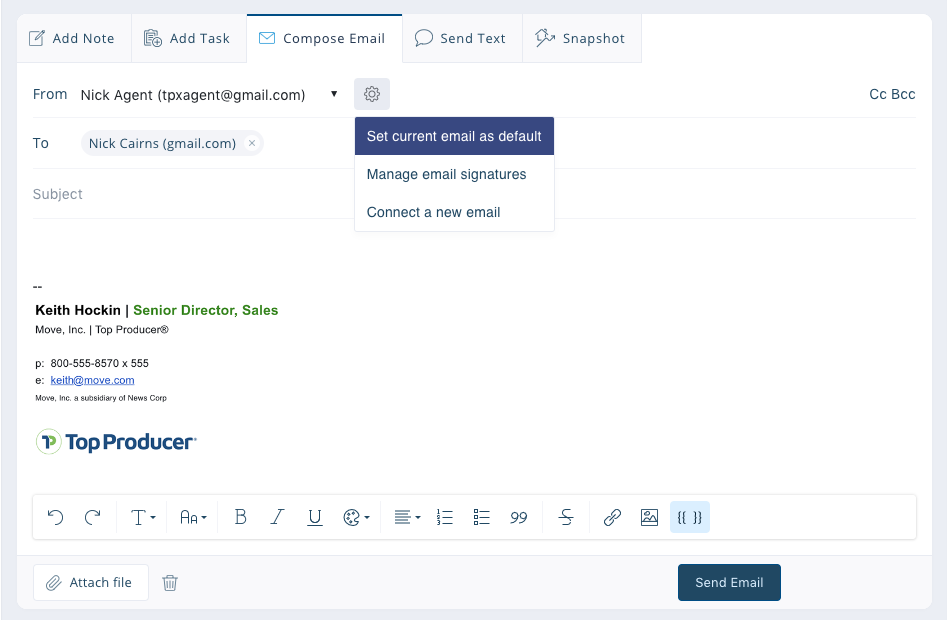 But before we show you how easy it is to add your signature and images, here are a couple of common mistakes you'll want to avoid.
Common email mistakes and how to avoid them
1. Make sure your contact info is clickable in your signature
We see a lot of images in signatures that include phone numbers and websites that aren't clickable. In today's world of "mobile-first", consumers will click-to-call or click to view your website.

Pro tip: Go ahead and include your contact info in an image in your email signature, but make it easy for them to contact you by including your phone number in the body of the email and making sure your website is clickable.
2. Limit images in your email message
A picture is worth 1000 words, but with so many devices and screen sizes today, it's tricky to get images to appear correctly across all devices. And if they don't, you may leave a non-tech savvy impression.

Pro tip: Send plain text emails or limit the amount of images in your emails. If you choose to include a lot of images and heavily-formatted html emails, make sure they display correctly on ALL devices.
Now that you're armed with those tips, here's how to add your email signature
You can add a signature for every email account you've connected to Top Producer® X.
1. Log in to Top Producer® X > then click Settings > Email Signatures.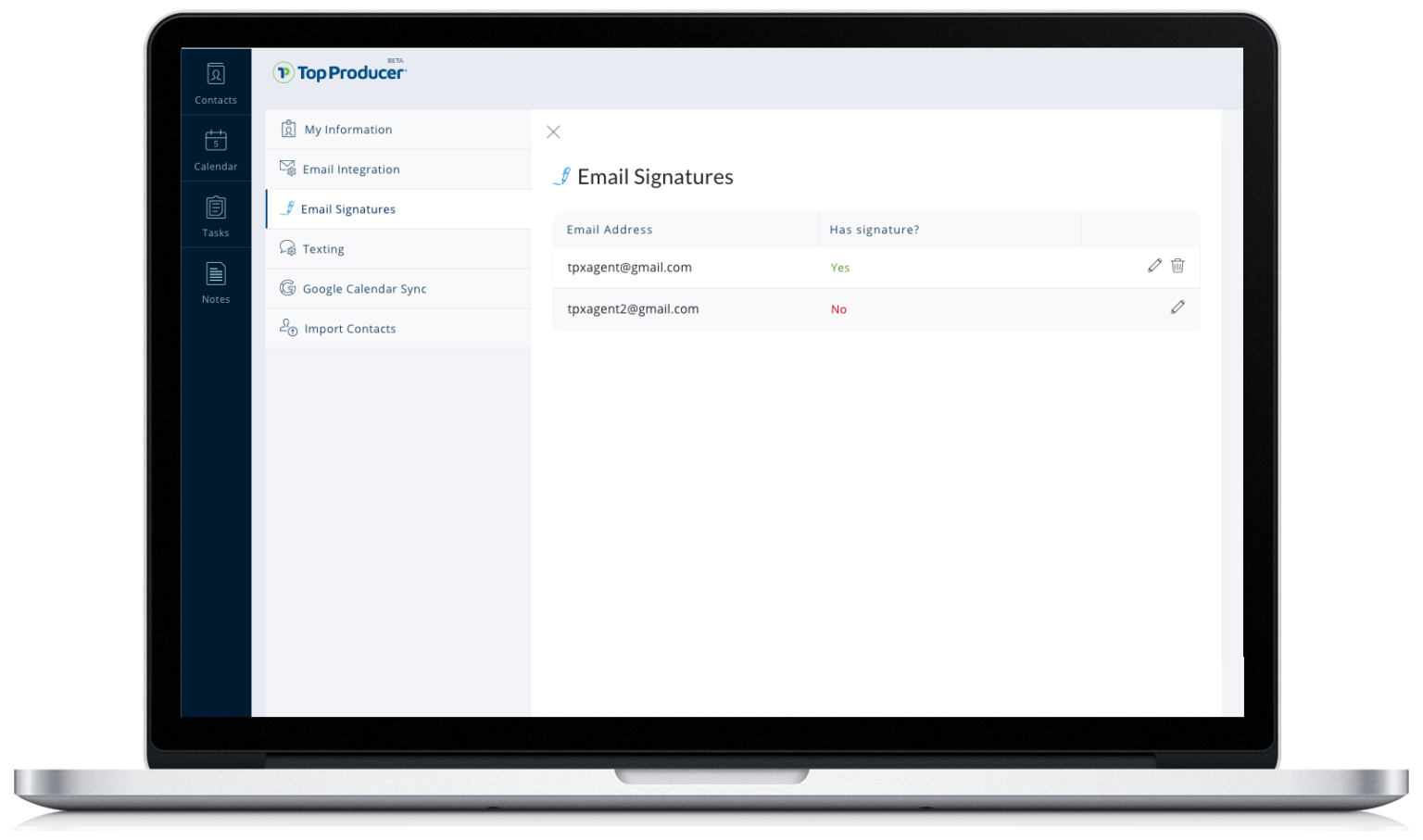 2. Click

to open the editor and compose your email signature. Two new toolbar icons allow you to add links

and images

.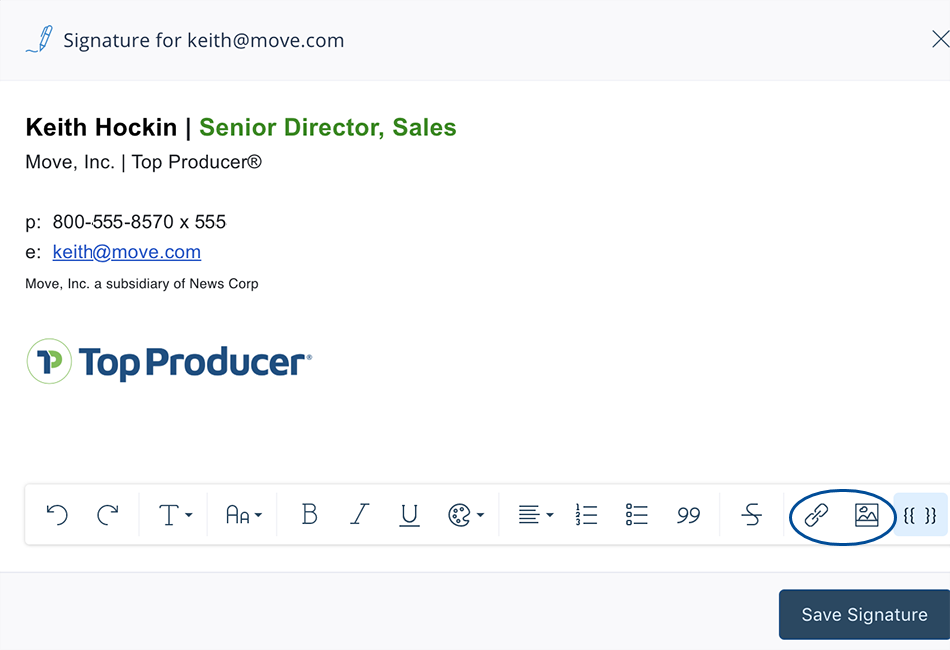 3. When done, click Save Signature and that's it!
And setting a default 'send from' address for your emails couldn't be easier
When composing an email, just click click

> then click Set current email as default.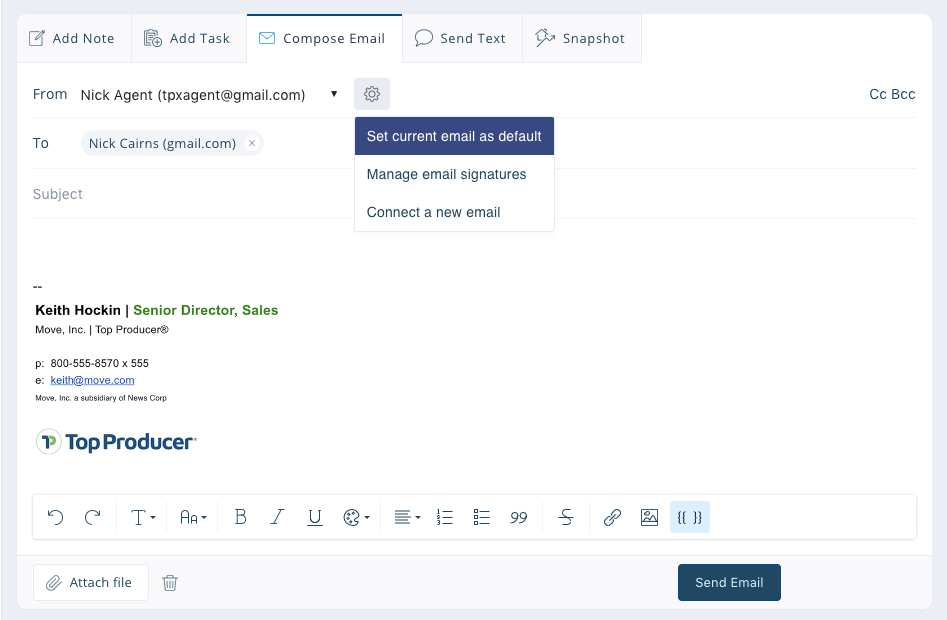 If you're a current Top Producer® customer, log in now to check out these changes in Top Producer® X!
Want to learn more about how Top Producer® solutions can help you grow your business? Request a demo or call 1-855-534-5534.
Top Producer® Systems has been a leading real estate CRM provider since 1982. Tens of thousands of agents and brokers use Top Producer® real estate software to help them manage leads and contacts, stay organized, and follow up with home buyers, sellers and owners. Learn more at topproducer.com.