If you take the time to set up a system for your real estate client follow-up now, you'll thank yourself later. Agents who set aside time for follow-up are the most likely to succeed, with the longest careers, highest earnings, and the highest percentage of repeat-and-referral business.
Why? Because more home buyers and sellers find their agent through friends and neighbors, or use an agent they have in the past. It's simple—if you stay in touch you'll be top of mind when it's time for your clients to make a move or know someone who is.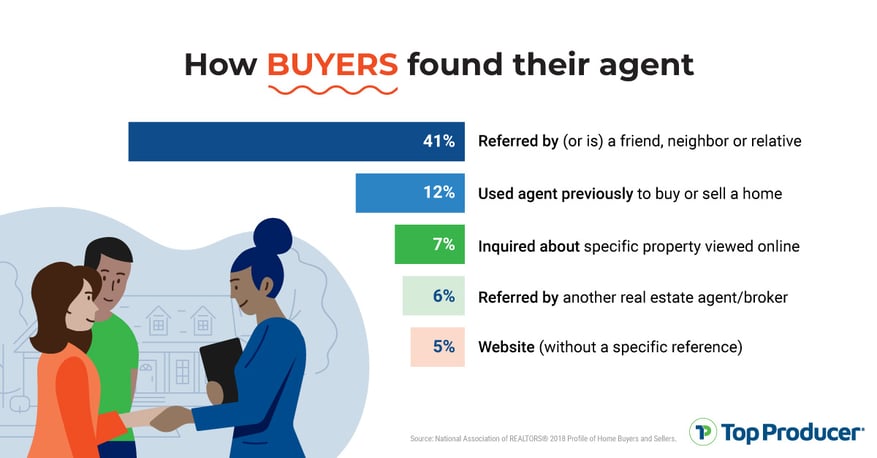 And with Top Producer® X CRM in your corner, follow-up is as easy as 1-2-3.
Step 1: Tag your contacts
An organized database makes client follow-up a lot easier. And when you consider all the business that will be coming your way when you perfect your follow-up game, setting aside some time each week to tag your contacts just makes good sense.
In Top Producer® X CRM you can tag your contacts by:
Contact type:

Keep track of key client details, including what neighborhoods they're interested in, whether they're a buyer, seller or part of your sphere, and more.

Lead source: Track where your leads come from to determine your best lead sources.
Contact status: Track where your clients are in the client lifecycle so you always have an accurate view of your pipeline.
And once you've tagged them, identifying and following up with specific groups—those who

the Sunnyside neighborhood or the VIPs you invite to your holiday party—is a snap.
For all the details, including how to tag your contacts, see How to tag and organize your contacts in Top Producer® X CRM.
Step 2: Plan how often you want to follow up
We get asked this question a lot: How often should I follow up with the different groups in my database? So we've laid out the key groups you work with and provided a simple strategy for each.
New leads: Immediately follow up with an automated text or email message until you're available to call. After you connect, show them you're willing to go the extra mile with a market report for the area they're interested in.
Active clients: If working with a buyer, send a market update and new listing, price change and sold alerts. If working with a seller, keep them informed about the performance of their listing and any changes in the market.
Past clients: Every quarter, send a market update to let them know how their biggest investment is performing, and twice a year check in just to see how they're doing.
Sphere: Check in once a quarter. Chat about the market, discuss the new local hotspot and ask if they know anyone who's interested in making a move soon.
For a complete breakdown of how often to follow up, including the 4 things you should do after a client buys or sells their home, see How often should real estate agents follow up.
Now let Top Producer® X CRM take your follow-up to a whole new level
Use the tools in Top Producer® X CRM to simplify your follow-up so you can focus on the important stuff like strengthening your client connections and servicing your current clients.
Custom follow-up reminders
Quickly surface the most important clients in your database and set how often you want them to hear from you with custom follow-up reminders. With just a quick glance, you'll see who you need to follow up with.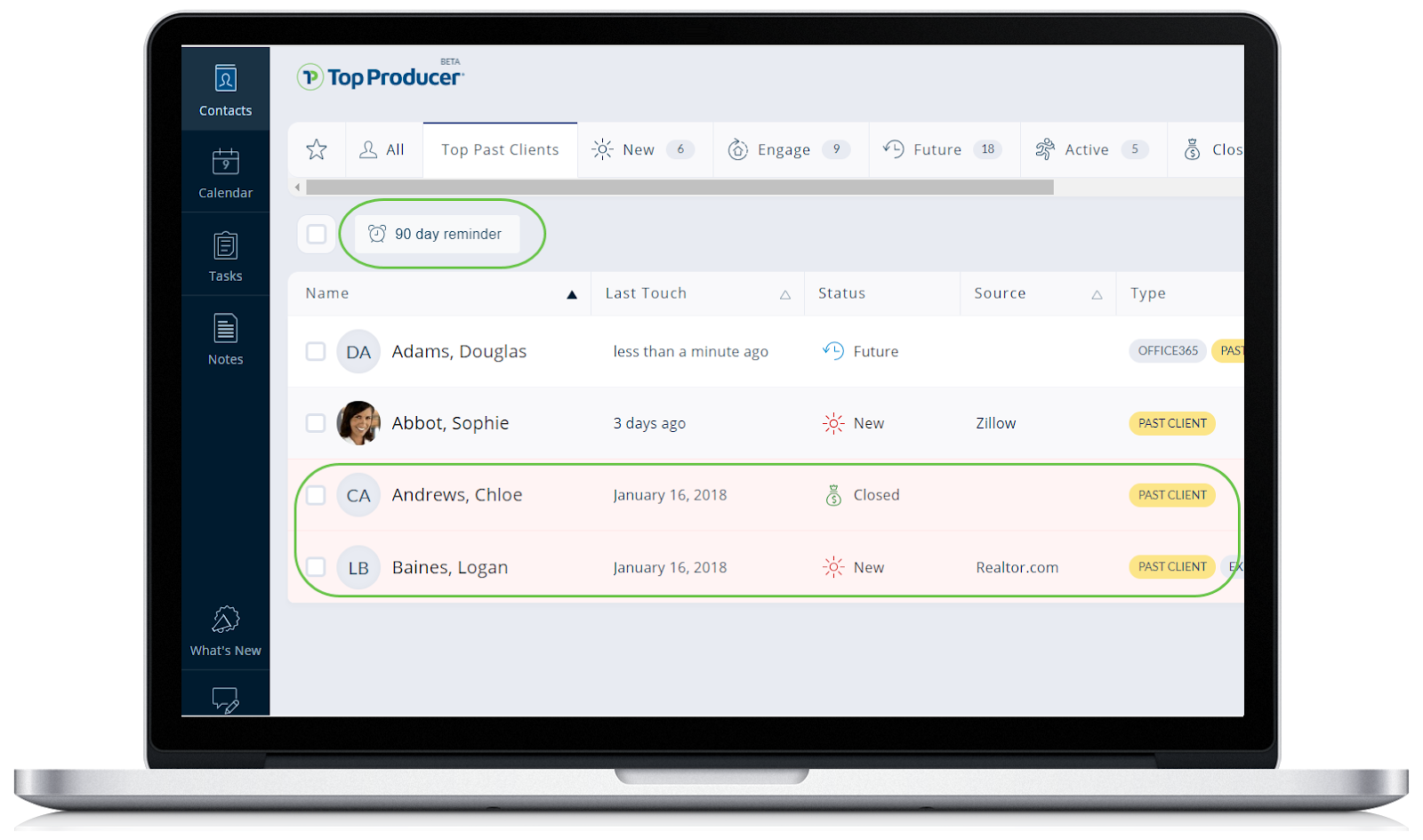 See the Custom Follow-up article for details on setting custom follow-up reminders.
Follow-up Coach
If you haven't logged some form of communication with a contact in a while, the Follow-up Coach will bubble them up with quick and easy follow-up options to make sure they don't slip through the cracks.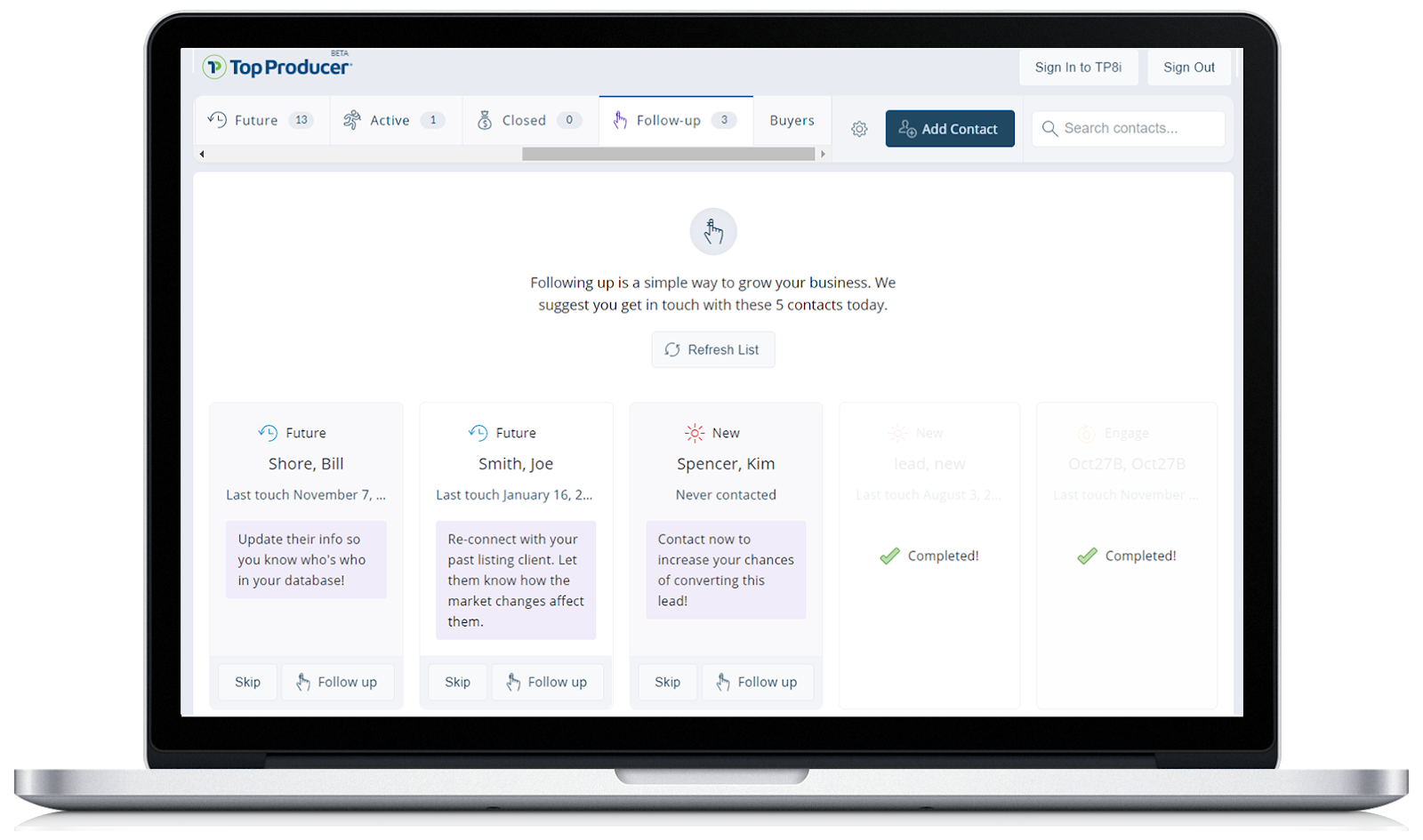 To access the Follow-up Coach, just log in to Top Producer® X CRM > then click the Follow-up Coach tab.
Market Snapshot® reports
A popular upgrade for Top Producer® CRM customers, Market Snapshot® reports work well for all stages of the client lifecycle. From the alerts that tell your past clients what the neighbor's house sold for, to the price change that brings your clients' dream home to within their budget, you'll effortlessly tell your clients what's going on in the market.

See our Quick Start Guide for everything you need to know about working with Market Snapshot® reports in Top Producer® X CRM.
Quick email templates
Send personalized emails to your clients from within Top Producer® X CRM with just the click of a button. From templates for new listings to FSBOs and home anniversaries, staying in touch with your clients has never been easier.
To access the templates, just click the Compose Email tab in the contact's record > then click the Template

button to see a list of merge codes and templates.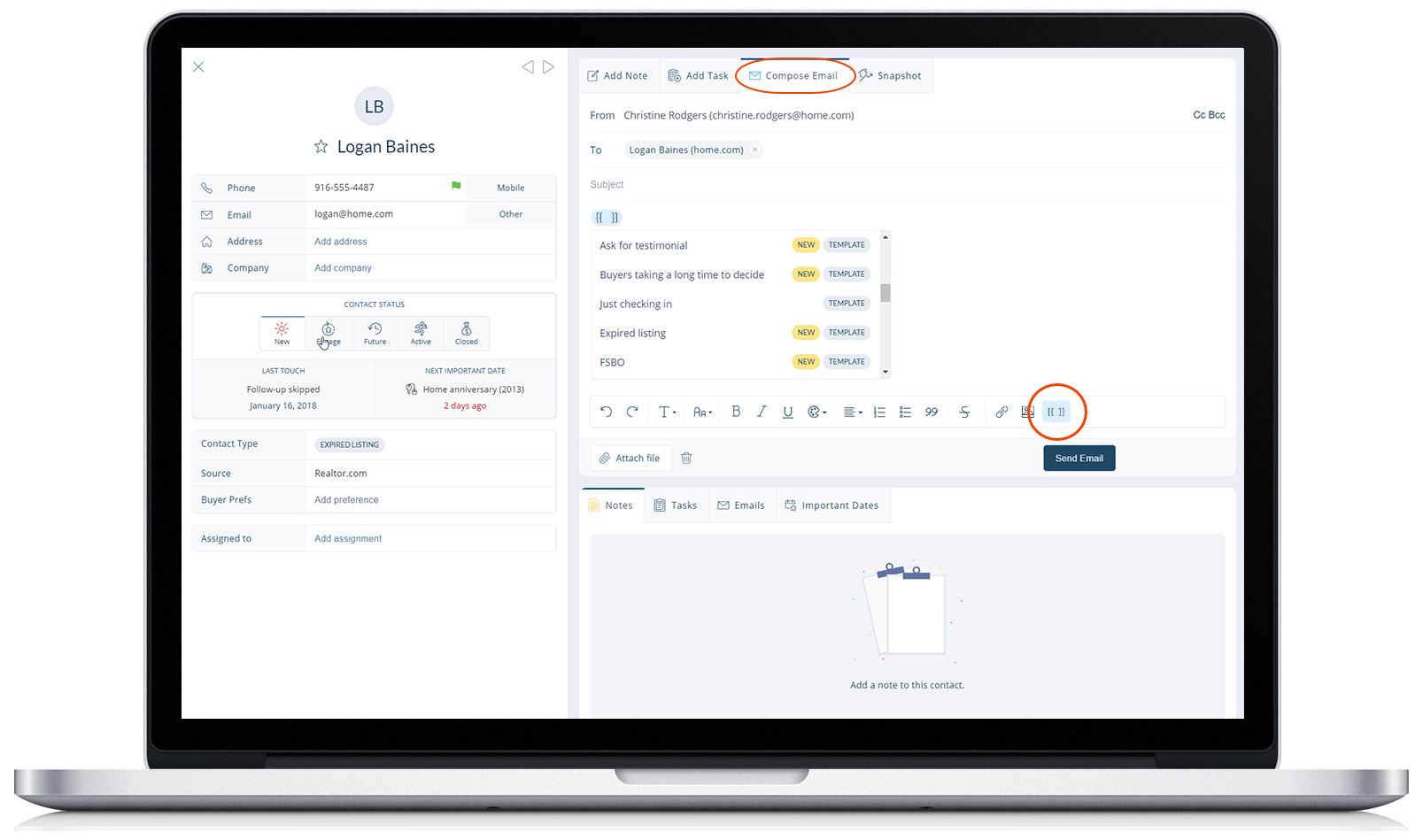 So now that we've covered the three steps to effective client follow-up, let's build a thriving repeat-and-referral business, shall we?
---
Top Producer® Systems has been a leading real estate CRM provider since 1982. Tens of thousands of agents and brokers use Top Producer® real estate software to help them manage leads and contacts, stay organized, and follow up with home buyers, sellers and owners. Learn more at topproducer.com.