Successful real estate agent shares his client-first business model and how he uses Top Producer® CRM to build relationships and stay organized.
—-
Michael Allen learned almost everything he knows about real estate from his mom, Melissa Allen, the brain behind the original $495 listing. The two REALTORS® work side-by-side at Carle Properties in Little Rock, Arkansas, and together this successful family-owned real estate company is proudly Selling Arkansas, one yard at a time.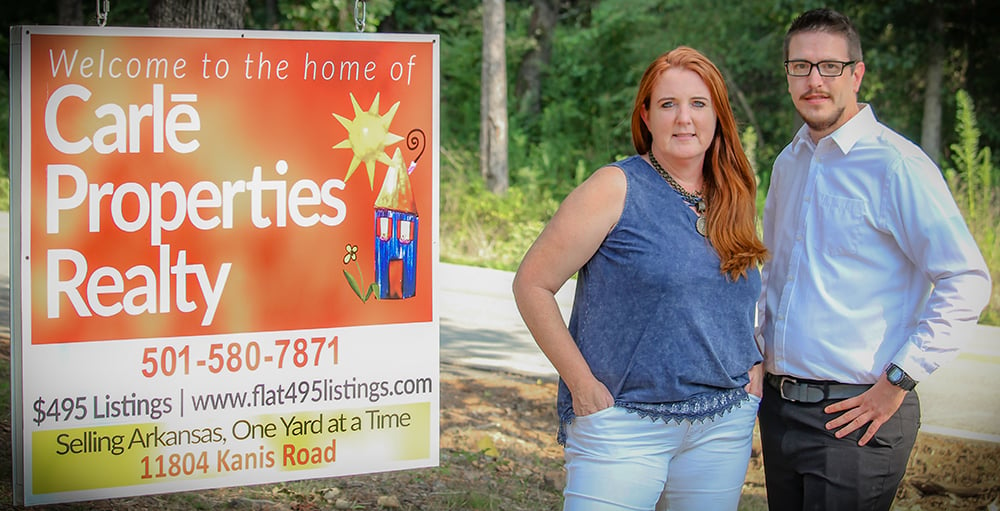 Here's how.
Carle Properties takes pride in putting real estate clients first
Carle Properties is the home of the original $495 listing, which started with a conversation on a Sunday afternoon in church.
Melissa is a believer in giving back to the community, so when a friend approached her and Carle Properties' founder, Denise Carle, about needing to sell their home fast, they did it for free. After helping a few others in the same situation, Melissa and Denise started to wonder if they could sell more homes, and help more families, by simply reducing their commission.
And so it was born. The $495 Listings Plan was launched in 2008. All agents offer full service—MLS sign-up, lock box, marketing, staging—you name it. They do everything the "big guys" do. They just do it for less than their competition.
"With over 4000 Realtors in the area, it can be hard to set yourself apart. Fortunately the business model we have does it for me.

When it comes to affordability—we don't have a competitor."
Charging only 2.9% commission, they pride themselves on offering a solution for home sellers that makes sense. The small team at Carle Properties closed 162 deals last year, with Melissa maintaining 15-20 listings at a time.
While business was good, Michael needed a system to stay organized and streamline business-building activities
Michael was jotting down contact info on sticky notes and entering them in his phone, so his client info was scattered. He also had no visibility into his business. Where did his best leads come from? Were they ready to transact? How many times did he reach out last year?
So he got Top Producer® CRM and started building a database. He exported every FSBO from Zillow to a spreadsheet, and then imported them into Top Producer® CRM. And, after some dedication and diligence, he now has a systematic approach to lead-gen that saves him time and brings in more business.
"With Top Producer® CRM, my daily lead-gen went from hours to 20 minutes and is very trackable."
Michael's real estate lead and client follow-up begins and ends in Top Producer® CRM
A successful real estate agent knows the importance of client follow-up, so Michael reaches out to the 5 contacts the Follow-up Coach puts in front of him every day. He organizes them too—do they need to be categorized with a contact type, and should their pipeline status change?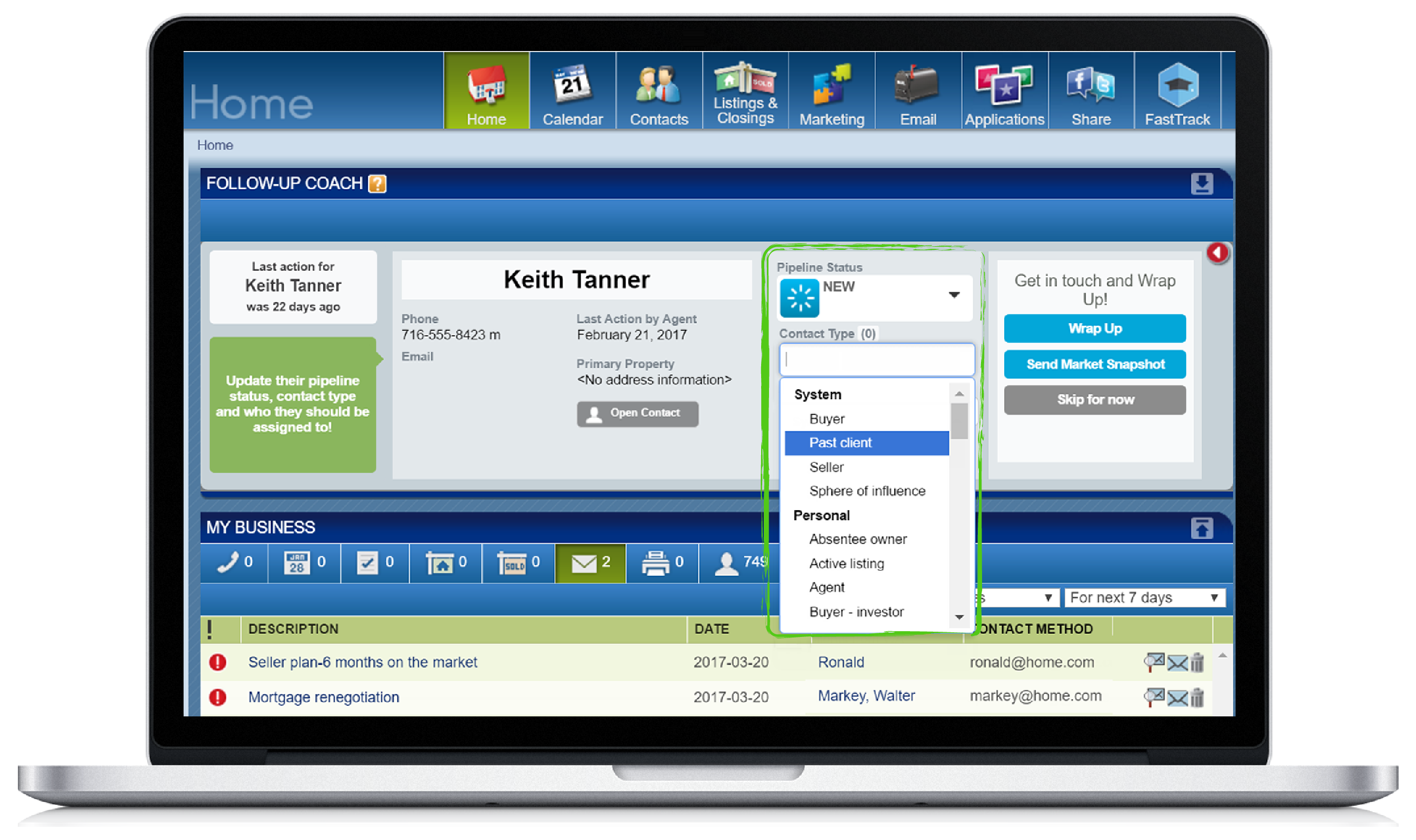 Michael then moves on to the Sales Pipeline for his lead-gen activities. He calls all new leads, and if he gets in touch with them, he tells them about the $495 listing. He only moves them to Engage after he speaks with them, and if he tries three times and hasn't made contact, he moves them to Inactive.

During the last week alone he's been able to filter hundreds of people using this method.
"I know exactly who I've talked to and who I haven't—it's very methodical. Calling 47 people took 35 mins, and I got a listing appointment out of it.

All of these 47 contacts are in a different place—categorized and moved, and they're not going to get oversaturated."
And being the type of guy who loves tracking his business and statistics (did I mention he reads NAR reports while drifting off to sleep?), he loves the Sales Pipeline. With just a quick glance on the home page, he knows exactly where his business is at.
"Top Producer® CRM is changing the way I track leads and manage my customers."
Now Michael is helping his mother get organized in Top Producer® CRM too…
And well, we don't think there's a bigger compliment than that. Melissa is rocking it at 15-20 listings at a time and currently doing a lot of her tracking on paper, so we can't wait to see where a little helping hand from technology will take her!
And likewise, with Michael's systematic process and strong work ethic, there's no question an amazing career lies ahead. A big thanks to Michael for sharing his time; we wish the team amazing success and are pleased to be a part of their process.
Want to see how Top Producer® CRM can help grow your business? Request a demo or give us a call at 1.855.534.5534.
Top Producer® Systems has been a leading real estate CRM provider since 1982. Tens of thousands of agents and brokers use Top Producer® real estate software to help them manage leads and contacts, stay organized, and follow up with home buyers, sellers and owners. Learn more at topproducer.com.