35 year real estate veteran and Top Producer® CRM user shares his simple 3-step plan to stay in touch with past real estate clients.
—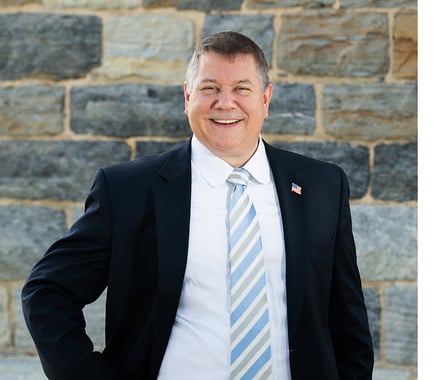 RE/MAX broker Mark Svrcek has been in real estate for 35 years and has seen and done it all. One of the youngest brokers to purchase a franchise back in the day, he's now looking to reinvent his business and build a team.
Mark knows that the US economy is about to turn a corner for the better and people are going to start moving again. So he wants to focus heavily on his repeat-and-referral business.
Lucky for us, Mark chose Top Producer® CRM to help
A Top Producer® user for 6 years, Mark chose the program to help him schedule activities and simplify his follow-up:
"Top Producer® CRM is a great program and is there for all agents no matter where they go. If you decide to make a move, just change your logo and address in the program and you're done.

Being held captive by a proprietary product isn't in my best interest."
Couple that with the fact that Top Producer® CRM also supports his need to grow his team from 1 assistant to 2 buyer agents, we have high hopes for this partnership.
Mark's biggest challenge is staying in touch with his past real estate clients
Like so many agents, Mark provides exceptional service, but doesn't always stay in touch after the deal is done:
"I haven't talked to some past clients in 20 years, and I know some have made as many as 2 moves since. If I'd stayed in touch that might not have happened."
Considering that oftentimes Mark was monitoring up to 150 agents and servicing other clients, it's easy to understand why.
A 3-step follow-up plan to make sure other agents' signs don't show up on his clients' lawns
Step 1 – Clean up his client database
Mark currently has over 6000 contacts in his database and admittedly wants to get rid of a couple thousand. By using the Follow-up Coach in Top Producer® CRM to help, he'll get there in no time.
The Coach is not only amazing at follow-up, it also helps you organize your database by surfacing disorganized contacts. So check out each contact to see if they need to be categorized with a contact type, or if their pipeline status should change from 'new' to 'engage' since you've connected a couple of times. It only takes a minute.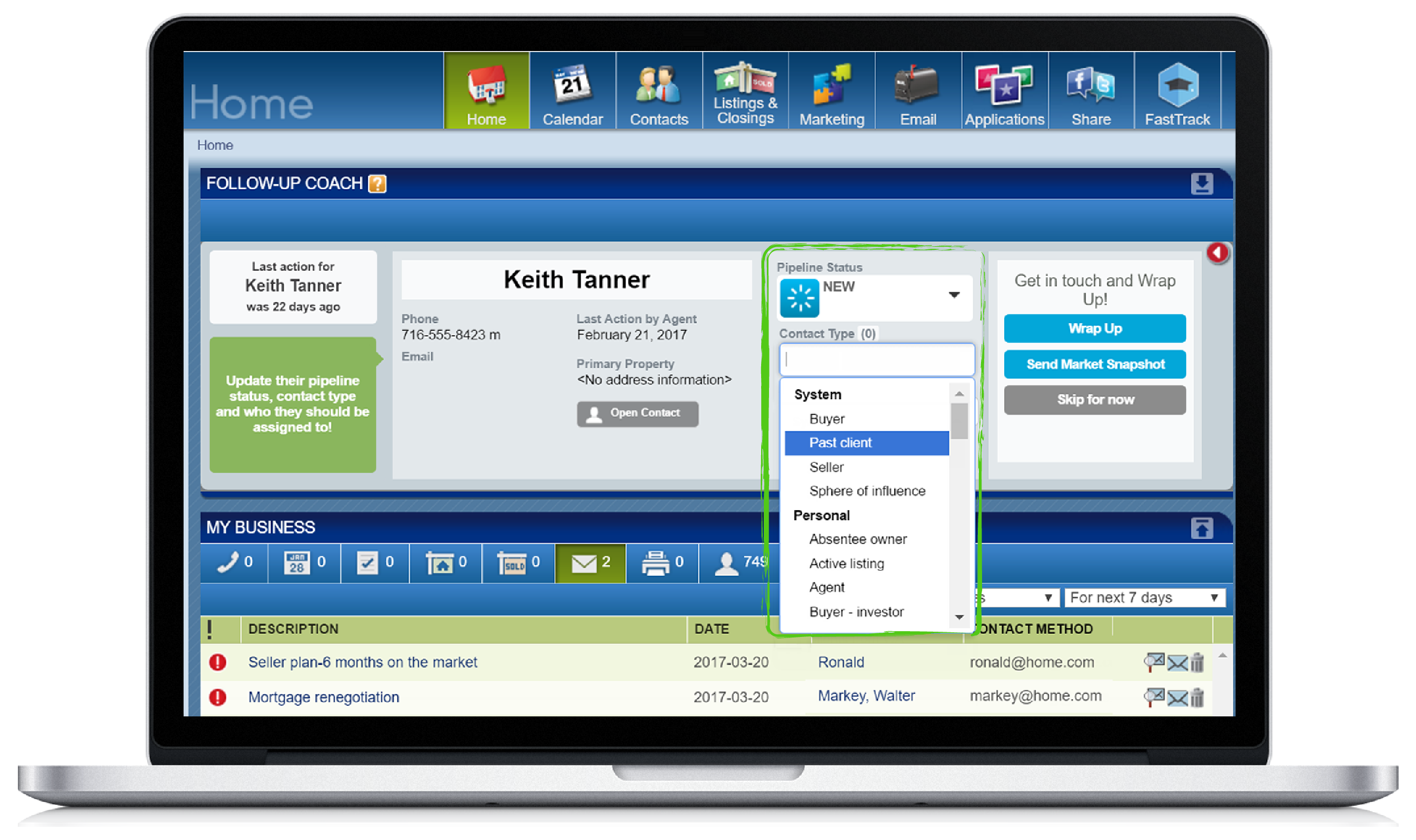 Step 2 – Sign everyone and their dog up to receive a Market Snapshot® report
Market Snapshot® reports are a great way to reconnect and stay in touch with past clients, and help you effortlessly provide your clients with hyperlocal, hard-to-find info on the real estate market, including new listing and sold data. So Mark plans to send the reports to all of his remaining contacts in his database.
And given that Market Snapshot® email open rates over the last 6 months are 36.5% on average, and the reports work well for every stage of the client lifecycle, we think this is a solid plan indeed.

Step 3 – Use the intel to follow up and start a conversation
Reaching out to an entire database of past clients can feel overwhelming. Where do you start? What do you say? Top Producer® takes out the guesswork for people like Mark – and you.
Start by reaching out to the 5 people surfaced in your Follow-up Coach. Simply pick up the phone, send a text, or send one of the pre-written templates we created for you: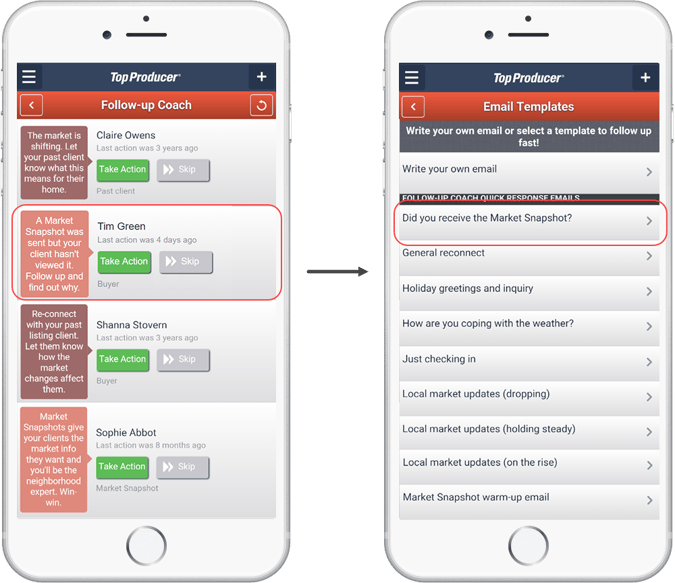 If someone opened one of your Market Snapshot® report emails, you know they're thinking real estate. Reach out and find out what caught their attention! To make it easy, we send you a weekly Market Snapshot® summary report that tells you who your biggest fans are.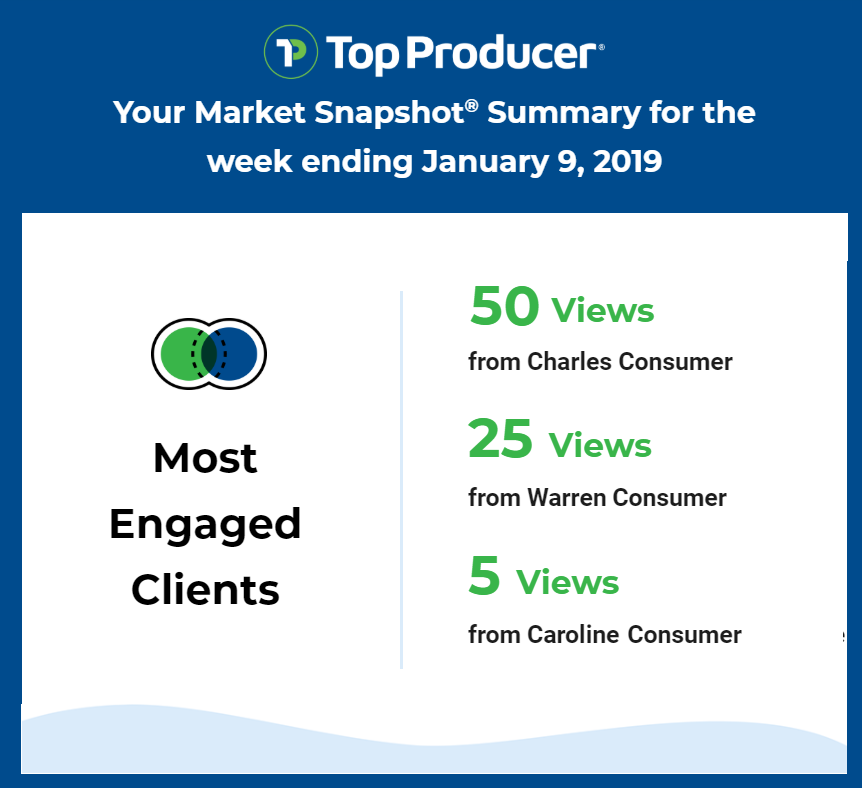 To close, we want to thank Mark for taking time out of his busy schedule to not only share his story, but for providing some pretty great tips too. We wish him continued success in his career and can't wait to see what lies ahead!
Want to know how Top Producer® solutions can help you achieve long-term success? Give us a call at 1-855-534-5534.
---
Screenshots represent site and mobile applications as of publication date. Site and mobile applications subject to change without notice.