A real estate CRM is often the first (and wisest) investment many agents make. When you break it down, a good real estate CRM should do 3 things for you:

Save you time

Organize your client database & business

Simplify client follow-up to build a healthy repeat and referral business
But with so many options it can be tough to choose the CRM that's right for you. The Top Producer® Team has been helping top agents across the country manage their business for 39 years, so we've learned a thing or two about what makes not just a CRM – but a real estate CRM.
Here are a few things to look for (and look out for) during your search.
3 questions to ask when searching for the best real estate CRM
Will you be charged extra for features and customer support?
Make sure you're aware of what's included in the price, or after the trial period. Look out for extra charges for customer support and features like:

Contact & Calendar Sync: The ability to seamlessly sync your contacts and calendar is a must-have for a real estate CRM, but some CRMs charge extra for this ability.

Texting: Are you charged for the number of text messages you send and the phone number you send from?
Knowing up-front about any hidden costs will avoid surprises down the road.
Just how real-estate specific is the CRM?
There are many real estate CRMs out there, but knowing more about some of the advanced capabilities available can help you make an informed decision.
Does the CRM integrate with your MLS?
Many real estate CRMs offer IDX feeds, but if your CRM can connect to your MLS, you'll get 15 times the listing data and some pretty cool capabilities. For example, Top Producer® connects directly with over 320 MLSs across the US and Canada, so you can import listing info with just a click and send market reports that include live SOLD data.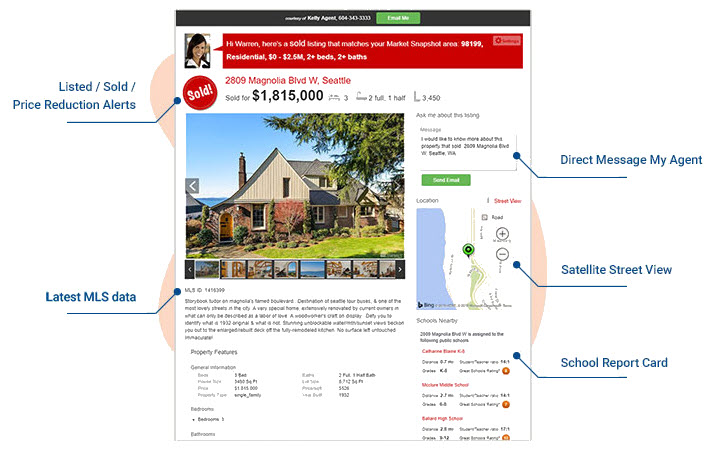 Another one of the benefits of an MLS connection is the ability to easily track client's properties of interest for listings shown, viewed, interested in, or inquired on.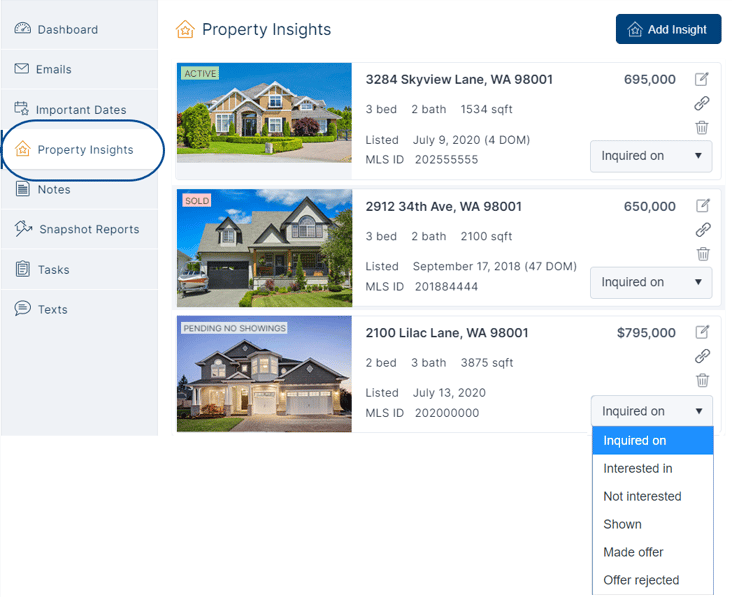 How in-depth is the Transaction Management?
Transactions are where you make your money, so it's not the time to switch tools or start going at it alone. The best real estate CRMs will help you simplify the entire transaction process. A few things to consider:

Can you import listing data from your MLS to eliminate a lot of manual data entry?

Is there in-depth commission tracking that includes commission amounts and projections so you can monitor the health of your business?

Are there task plans to help you stay organized that automatically adjust when key dates change?

Are key details like important dates easily accessible so you can see at a glance where things are at?
Are the integrations built with you in mind?
Not all integrations are created equal. There's definitely a need to integrate with today's best-of-breed solutions—after all no vendor can do everything—but sometimes taking the extra time to build your own solution seriously benefits those who use the product.
Look no further than the sync and email integration capabilities of a CRM to understand this point:
Contact & Calendar Sync: Many real estate CRMs rely on a third party to "sync" contact and calendar data, but in reality the sync is only one-way (which means it's just a one-way contact import). But if you add a contact on your phone / connected application, it should appear in your CRM; if you update that contact later in your CRM, it should update in the source. Which is why Top Producer® X CRM offers industry-leading two-way sync at no extra cost for both your contacts and calendar.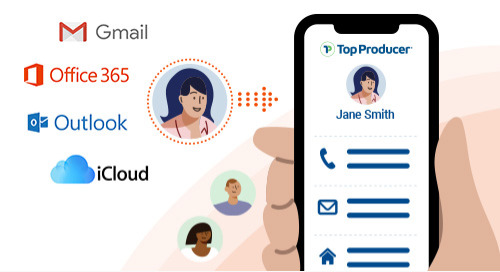 Email integration: Are you able to connect to any email provider—not just Google or Microsoft? Also pay attention to how your emails are sent. If they're sent through your own email provider, you'll enjoy improved deliverability. This might not be the case if they're sent through a third party.
There's a lot to consider, but when it all comes down to it, the best real estate CRM is the one you'll use. Different CRMs work better for different agents and teams. Shop around and make the decision that's right for you. We're here to help if you need it!
Want to learn how Top Producer® solutions can grow your business?
Request a demo or call 1-855-534-5534.