Every now and then something comes along that changes the game completely. And in the world of real estate leads and auto-response, this is one of those times.
The all-new Automated Lead Response plan in Top Producer X CRM was built based on tried-and-tested lead conversion strategies. Automatically apply the plan to your incoming leads and sit back while prospects receive carefully crafted messages at specific times. And unlike other lead response tools, you can set the exact moment your messages are sent to prospects, allowing you to customize the initial lead experience like never before.
The first 24 hours with a lead are key
You want to:

Respond within 5 minutes or less and consistently follow up at specific times.

Be persistent.

Provide value and start to establish trust.

Vary your methods of contact, with text and email messages, phone calls, etc.
Start to gather key info in hopes of scheduling a face-to-face meeting.
And our all-new Lead Response plan allows you to do all that and more.
When it comes to online leads, timing is everything
Sending emails at the right time can increase conversions by 53%1.
Until now, traditional Lead Response tools let you customize your communications by the day:

Example of traditional daily Lead Response
But now, the new Lead Response plan lets you schedule touchpoints up to the minute.
Set up multiple touchpoints on the first day at whatever time you choose: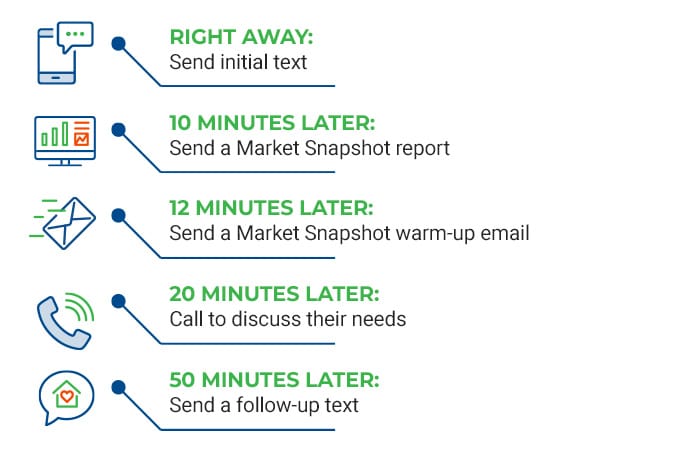 Example of new up-to-the minute Lead Response
And unlike other lead response solutions that only allow for 1 text message to be sent, you can set up an unlimited number of text and other activities.
The plan starts with 8 different touchpoints on day 1 using various contact methods—texts, emails, a market report and phone calls—and ends with a solid nurture plan to keep them engaged until they're ready to transact. And with the ability to automatically apply the plan to specific leads, lead management and conversion has never been easier.
So, let's see this in action, shall we?
You're sitting with Marci and Chris and they're finally telling you their top 5 must-haves when your phone beeps. A new lead—nice—but are you going to tell Marci to hang on when she's right in the middle of describing the ultimate backsplash and flooring in her dream kitchen? No. Instead, this is sent on your behalf: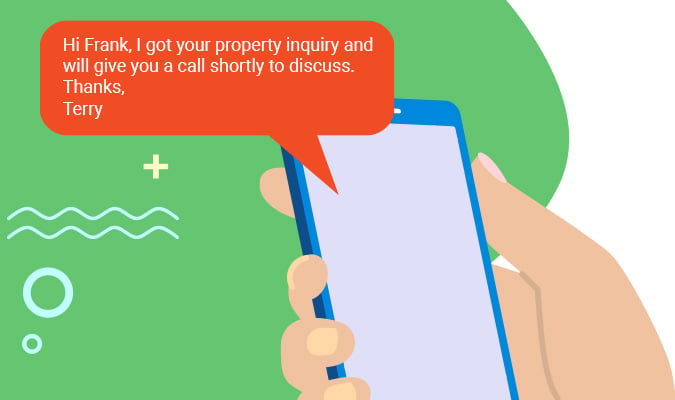 Initial text message that's sent to a lead within the first 5 minutes
Then 10 minutes later, you'll be prompted to send a quick Market Snapshot report on the area they inquired about:

Sample of a market report, based on a prospect's area of interest
And 2 minutes after the report, this warm-up email is automatically sent, telling them the wonders that await in their neighborhood report: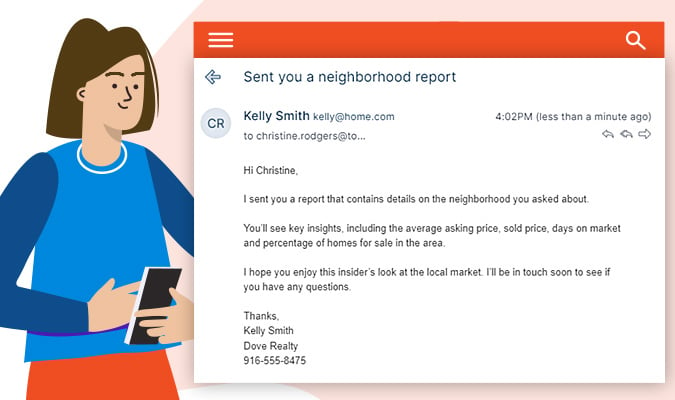 Market Snapshot warm-up email that tells the prospect about the report
And 20 minutes later, when you've wrapped up with Marci and Chris, and you're in your car heading to your next appointment, you get a reminder to give your new lead a call:

A follow-up reminder notifying you to connect with the new lead
Nice work! And that's just day 1 of the Lead Response plan.
Sounds great! How do I set this up?
We've done the heavy lifting for you, so setup is as easy as 1-2-3.
1. Ensure you've set up texting, added your email account and set up Market Snapshot (if applicable). For details, see this quick start guide.
2. Import the Lead Response plan in Top Producer X CRM. Click Settings > Task Plans Manager > Browse Templates. Click in the Search plans… field > select Lead Response Plan > then click Customize Plan to save a copy.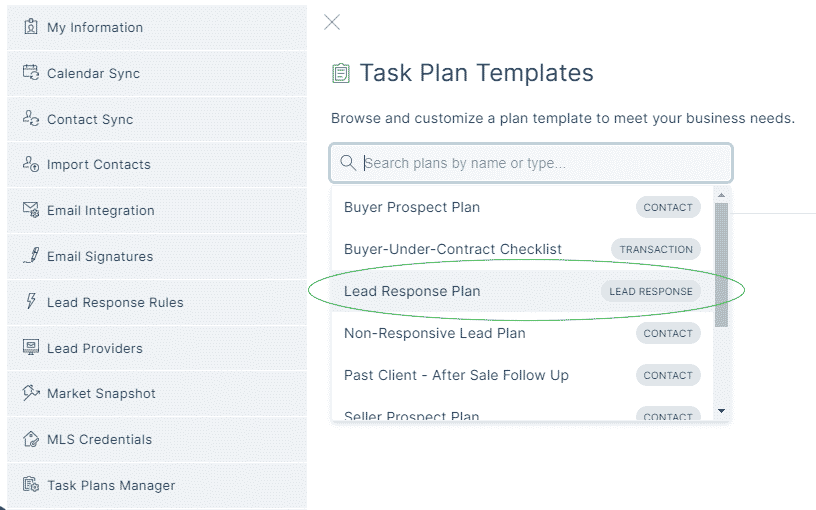 Enable lead auto response setting when customizing a plan
3. Set how you want the plan applied to your incoming leads in Top Producer X CRM. Click Settings > Lead Response Rules > Add Lead Response Rule > then specify the group and plan you want applied.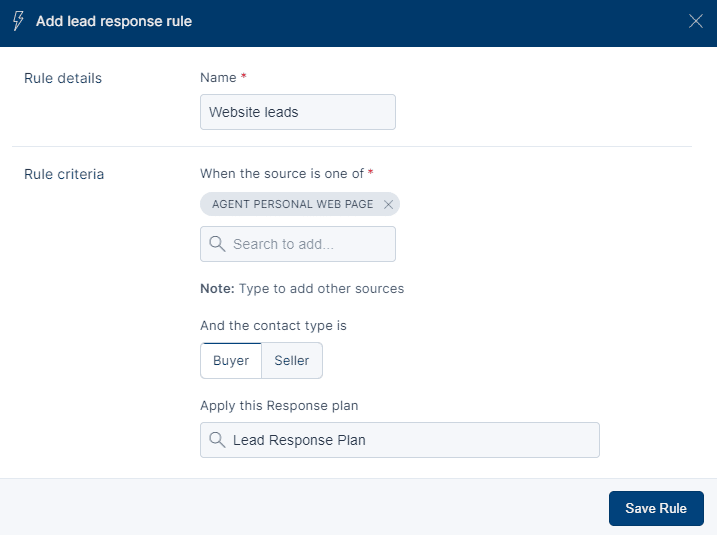 Auto-apply plan setup in Top Producer X CRM
And that's all there is to it! With this completely customizable and personal approach to lead response, we can't wait for you to take your lead conversion to the next level.
To learn more about this exciting new approach to lead response, visit our website.
1 – https://coschedule.com/blog/best-time-to-send-email