If you haven't checked out our new real estate CRM, Top Producer® X yet, now just may be the time to see what it has to offer. From MLS-driven property insights to email tracking & integration that avoids the spam folder, we think X is on the verge of something pretty special.
But don't just take our word for it. Craig C Rowe, Technology Columnist for Inman News, recently reviewed Top Producer® X CRM, and dare we say, we think he liked it:
"The wait [for Top Producer® X CRM] appears to have been well worth it."
What makes our new real estate CRM, Top Producer® X, so great?
Here are a few features you'll want to be sure to check out.
MLS-powered property insights & social media integration give you insights like never before
A 360° contact view, including a complete communication history and social media insights—bio, photo, links to their online profile—make meaningful connections just a click away.
Property insights help you track the buyer journey —the properties you've shown, the ones they didn't like, etc—so you stay organized. And you won't have to manually enter any info, since listing details are pulled from your MLS.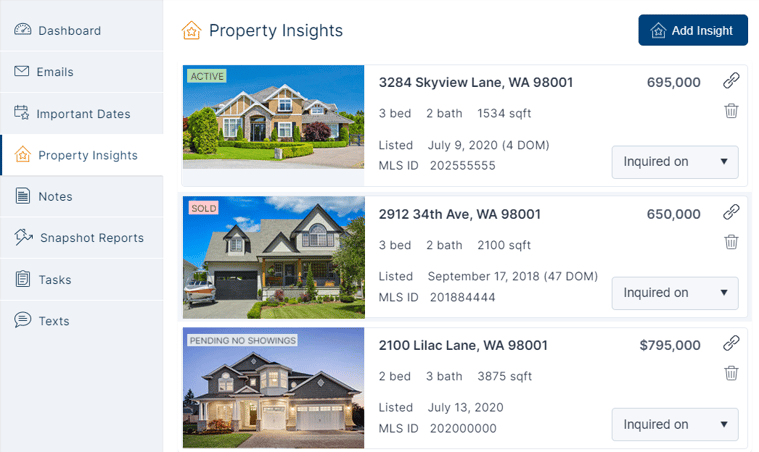 Email tracking & integration that avoids the spam folder
Just 1 click is all it takes to connect any email provider—not just Google or Microsoft. And when you do, Top Producer® X CRM offers improved email deliverability because emails are sent through your personal email provider, so you're not affected by other CRM users' spammy behavior. And email tracking allows you to see who's opened your emails, so you can follow up accordingly.

Unlimited texting and a free phone number
Texts you send from within Top Producer® X CRM are stored in the associated records, so your conversations are just a click away. And we don't charge extra for the number of messages you send or the phone number you send texts from, so you can send to your

's content.
Simplified follow-up like never before
You're in the driver's seat with the ability to easily bucket your contacts into groups and then set how often you want them to hear from you. And of course the Follow-up Coach provides the backup needed to make sure clients don't slip through the cracks by surfacing the five contacts you need to follow up with each day.
And that's just the start. Top Producer® X CRM is a work in progress. We've got lots of features currently in development, and we're always looking for feedback from our users, so you can expect to see more new stuff soon. We hope you're as excited as we are!
If you currently subscribe to Top Producer® CRM, just log in at https://crm.topproducer.com to check out Top Producer® X CRM!
Not a current Top Producer® CRM customer? Request a demo or call 1-855-534-5534.