Generate online
leads to grow
your client database

Respond Quick
to leads and contacts with
local market data

Simplify and
automate follow-up

Provide more MLS Market
Data than your competitors like neighborhood trends & sold prices
The #1 Top Producer Follow Up Tool
Personalized marketing that includes or-sale properties, new listings,
price changes, neighborhood trends, and sold data.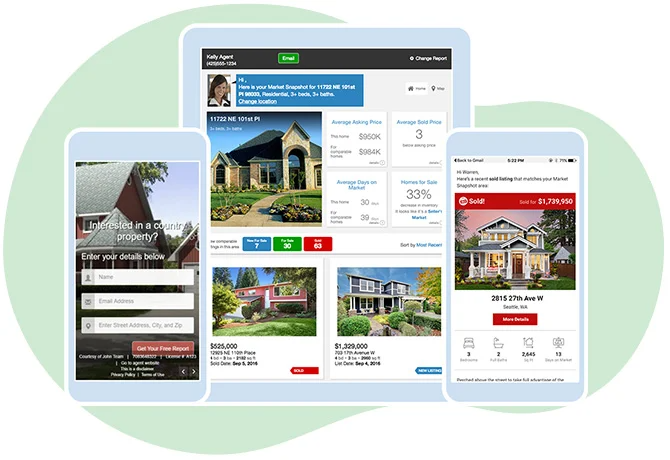 Capture leads
Impress new leads with an automated MLS home report
Attract potential home sellers with customizable landing pages to capture leads and share on social media
Share on your website or offer as an open house sign-in

Simple & effective follow-up
Send and modify reports right from your CRM
Hot market? Provide live updates while your work
Proven to improve open and click rates of emails
Tracked to see who is opening and clicking your report
Keep your past clients engaged long term with quarterly home reports

Better than an MLS report
Beautifully branded with your photos and contact details
Interactive features to "like" properties or leave you a message
Dozens of parameters to choose from like beds, baths, outdoor space and more
Sold prices and dates plus satellite images, walk scores and school ratings!
Market Snapshot® Report Pricing
Pricing depends on the size of your team, and the payment option you choose. SAVE with our popular packages, annual pricing, and discounts for teams and brokers. All subscriptions include MLS connection (where available), plus access to the Top Producer® Success Program. All subscriptions have an initial one-year term. Contact us for assistance in picking the right plan for you.
Add Top Producer® Website
for only $1750
*Based on a Starter subscription of $60 USD per user/month
Add Top Producer® Website
for only $1750
*Based on a Starter subscription of $60 USD per user/month
What Our Customers are Saying
Market Snapshot Reports help agents capture leads, stay organized, manage their client database, and follow-up effectively
"Stay in front of
potential clients effortlessly"
"TPX plus Market Snapshot allows me to stay in front of potential clients effortlessly. I can go back and engage when I have a "computer day"! I anticipate that it will increase productivity. It has already mase me aware of changes I need to make in my business "

"The reports help us
educate people
effortlessly"
"We use Market Snapshot® for educational purposes. The reports help us educate people effortlessly, and it doesn't take any time for us to do so. The easier something is to use, the more it'll be used. And because we can now completely manage Market Snapshot® from within Top Producer® X CRM, we are going to be sending a lot more snapshots."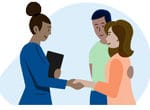 "I have been using Top producer® since 1995 and have over 10,000 contacts. It is comprehensive and indispensable. I love when I am able to pull up past information from years before to remind my contacts how long we have been acquainted"

Find Out How Top Producer® CRM
Can Work for You