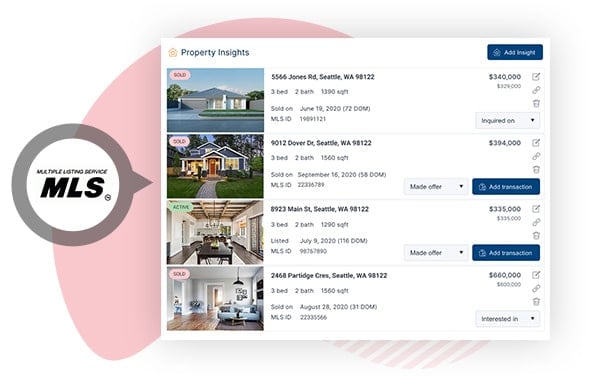 Why have an MLS integration?
Agents spend hours searching the Multiple Listing Service (MLS) for homes to show their clients, verifying details or researching requests. With live MLS listings housed in your CRM, you'll save big on time while offering data-backed follow up clients love.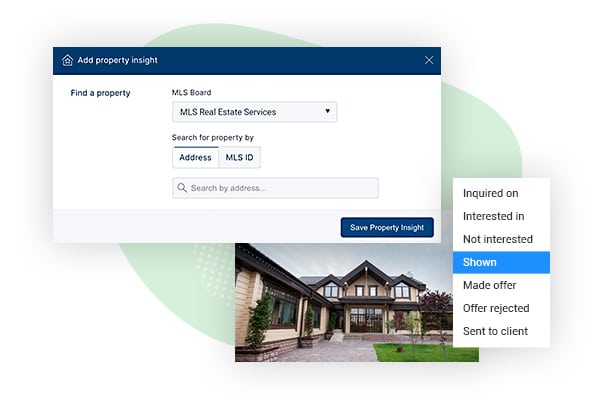 Creating A Property Insight
Step 1
Select Property Insights in a contact and enter either the MLS number or the first part of an address to select a property from a list.
Step 2
Save as a property of interest, viewed, inquired on, or offer sent.
Step 3
That's it! All the listing details are pulled from your MLS,* so you don't have to manually enter any info.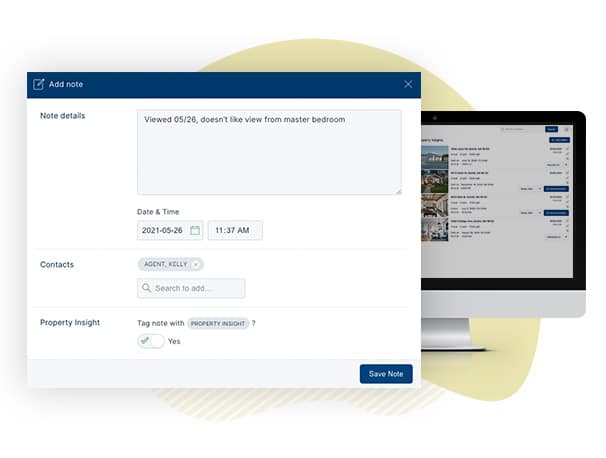 MLS Integration Supports Follow Up
You can search a contact's profile for homes they've asked about, the ones they didn't like, or viewing notes – so you keep organized. Property Insights then provides the latest property status and details, so you have new information with each follow up.
Does My MLS Board Integrate?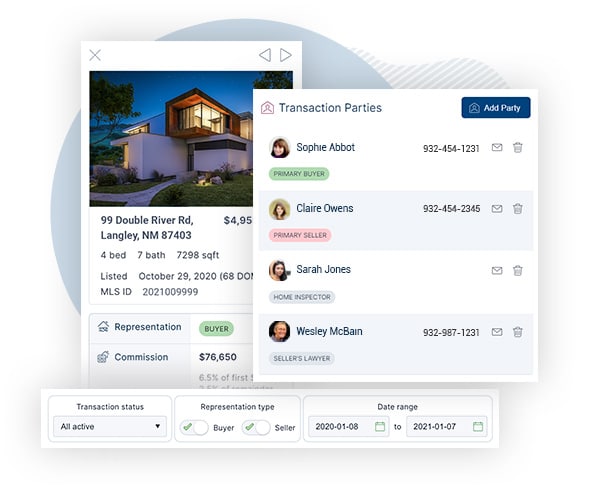 Property Insights Become Transactions!
Take the first step of transaction management by deploying tasks and workflows included in Top Producer® X CRM. Simply select a contact's Property Insight or import a transaction from your MLS. Important dates are tracked in a convenient timeline and automatically updated, so you always know where things are at.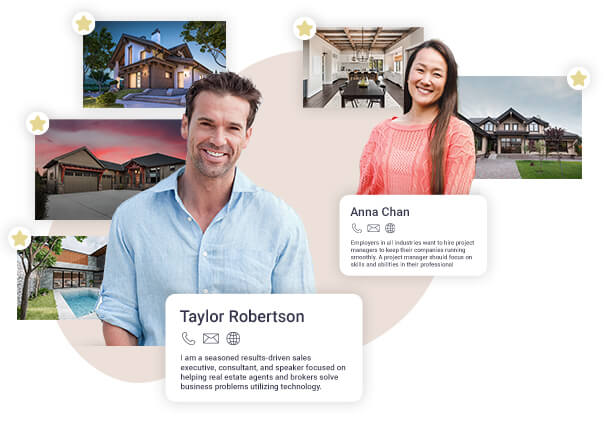 *Where MLS data is available, check availability with your MLS
Why A Visual CRM Matters
According to the National Association of Realtors, buyers typically searched for eight weeks and looked at a median of 9 homes in 2020.* As your database grows, visuals like Property Insights help you remember homes, while Social Insights helps you remember more faces.
Connect, Reconnect then Transact
with Property Insights!
* Where public profile information is available. Click here to see more details
Hear what our users have to say:


"Top Producer CRM Is the Best!"
"Top Producer® is truly the best CRM program out there! I have been using it for about 8 years and find it super easy and quick to use. They offer great training courses and are always happy to help me with any questions I have."
Renata S.
Real Estate Agent

"Best CRM for Real Estate Ever!"
"Top Producer® is a complete CRM with so many features that Realtors need! From contact management and lead conversion, to transaction management – this is the sole reason I have been successful as an individual agent."
Julianne L.
Real Estate Agent

"Top Producer is Great"
"I have been using Top producer® since 1995 and have over 10,000 contacts. It is comprehensive and indispensable. I love when I am able to pull up past information from years before to remind my contacts how long we have been acquainted, and/or doing business."
Christian D.
IT Operations