Meaningful Insights
360° contact view, with social media insights
MLS integration with buyer property insights
Email and Market Snapshot® performance

Effective follow up
Branded MLS Market Reports

Send new listing, price change & sold alerts

Built-in texting and integrated email, with history

Professional real estate email & text templates

Simplified workflows
Personalized contact groups, with custom follow-up rules
Synced with your everyday calendar, contacts and email
Integrated with 150+ real estate lead sources
Top Producer® CRM:
Proven real estate software since 1982
Top Producer® real estate CRM system is trusted by tens of thousands of real estate agents to help them capture leads, stay organized, manage their client database, and follow-up effectively. Whether you're a new agent, a seasoned veteran or a growing team, the NEW Top Producer® CRM can help simplify your day-to-day and build your long-term repeat-and-referral business.
"The wait
[for Top Producer® X]
appears to have been
well worth it"
Craig C Rowe
Technology Columnist, Inman News

"X is faster and easier
the status of the property
automatically updates
in my client records"
George Kimble,
Homes by Kimble

"The progress that's
being made with
Top Producer® X CRM
is amazing.
Alley Poll
Greenridge Realty, Inc.

What is Top Producer® CRM?
An easy, effective follow-up system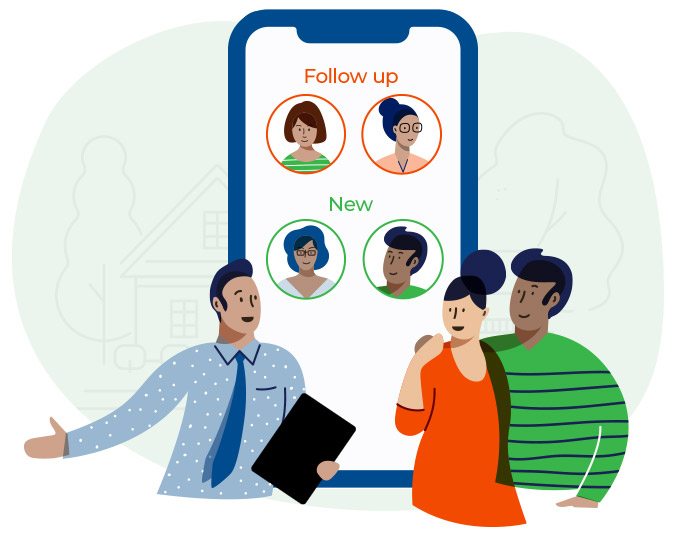 Top Producer® CRM is designed to help agents meet the needs of today's consumer and build better connections by making follow-up easy, relevant and personalized.
Grow your client database easily with popular integrations
Simplify follow-up with templates and your own Follow Up Coach
Stay top-of-mind with effective text and email marketing
Organize your business with embedded transaction management
Keep your team in the loop with shared access to contacts, communications, and a calendar of key dates and tasks
Work on-the-go with a mobile and tablet-friendly CRM
No limits on usage, no hidden costs, and FREE coaching and support
Build a real
estate

client database easily with Top Producer® CRM
Whether you're a new agent or a seasoned real estate veteran, building your client database is an important part of your ongoing success. Top Producer® CRM brings together all your contacts, leads, and listings with little effort.
Easily import and export contact lists while keeping important notes and tags.
Add new leads automatically by integrating FiveStreet real estate lead management response software, or connect directly with 150+ online lead sources
Capture your own online leads by connecting your Top Producer® real estate websites and Market Snapshot® landing pages
Sync Top Producer® CRM with your Google, iCloud, or Microsoft contacts including calendar for free
Connect with Zapier to automatically import leads from Facebook ads, Google forms and more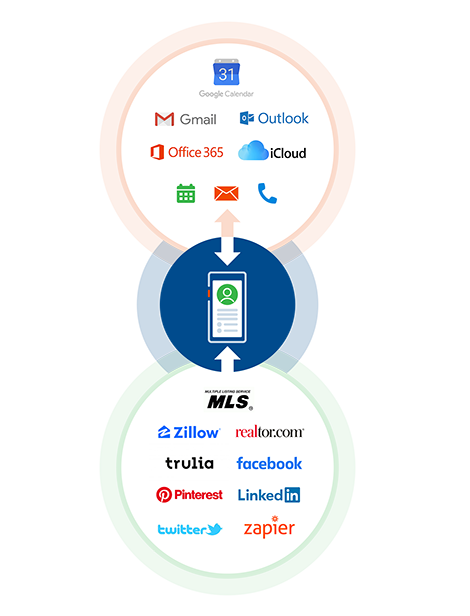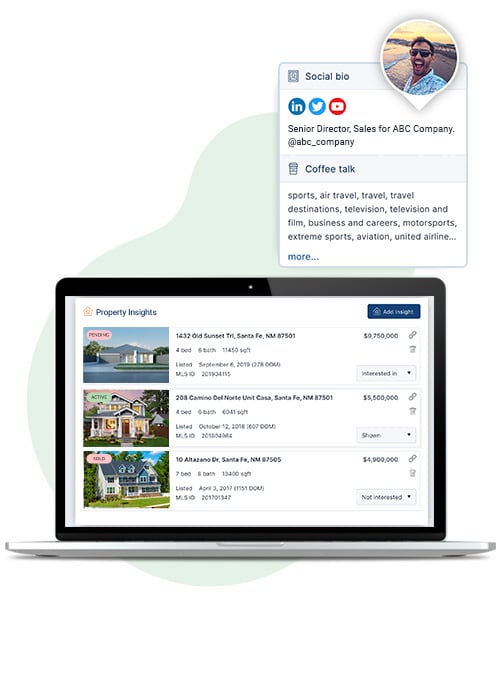 Make personal connections with X factor Insights
Top Producer ® CRM is full of new ideas for modern real estate follow up. Whether you're making a first call to a lead, or rediscovering an old opportunity, you'll have innovative tools at your fingertips that help you connect.
Add Social Insights, a continuous update for contacts with public profiles that includes photos, interests, locations and job title
Track Buyers with Property Insights,

a free MLS connection showing listings viewed, interested in, or inquired on!

Enjoy a 360° view of every contact, including a photo, social media links, notes, relationships, important dates, tags and status
View past interactions in a helpful timeline, including texts, emails, call notes, and Market Snapshot® reports received
Get prompts to follow up on important dates, like the anniversary of a home purchase or birthdays
Target communications based on stage in your pipeline or status
Simplify follow-up with Top Producer® CRM
Top Producer® CRM has powerful features and a simple interface, so you can engage with contacts in just minutes per day.
Send branded MLS market reports that work for all stages of the client lifecycle

Send real-time alerts for new listings, price changes and sold properties

Track transactions by pairing MLS data with your own unique workflow to help convert clients
Follow your personal Follow Up Coach to make 5 meaningful connections per day or 1000+ per year
Communicate by text or email without leaving your Top Producer® CRM
Add call wrap-ups and create tasks so you don't forget next steps
Use proven templates for texts and emails to save time, or customize for that personal touch
Get insights into who's opening, reading or unsubscribing from your emails so you can improve your follow-up