We've had the pleasure of telling some of your stories over the last year through our Success Story contest, and while you are all wonderfully unique, there's one thing all real estate agents seem to have in common—you never cease to amaze. You face ups and downs on a constant basis, and are pretty much expected to be on call 24/7, but despite all that—you almost make it look easy. But we know better.
And our latest #Reconnect Success Story winner is no exception.
Meet Michelle Wilson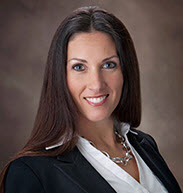 Michelle is a successful agent with Century 21 New Millennium in Virginia. A winner of countless awards, she's been in the real estate game for 18 years.
She and her assistant started using Top Producer® CRM in 2006, and now, as of late August, her team has grown to an additional 3 agents.
Being a mom of a young child, Michelle is a woman who wears many hats and does it well. When she's not wearing her mom hat, her career hat is on in full effect. Sometimes working from the minute she gets up to the wee hours of the morning, her hard work and perseverance is nothing short of inspiring.
She feels blessed to have the career she does, and with some reliance on her new emerging team and technology, we know there's nothing she can't handle.
A Top Producer® power user in her own right…
Michelle's been using Top Producer® CRM for 11 years. She currently has almost 1300 contacts in her database, and that doesn't include her sphere (yet). While Michelle loves many aspects of the system, she really likes how it keeps her organized. From tracking birthdays, anniversaries and other important events, to having her entire business—transactions, tasks, follow-ups and more—visible on 1 page in the home page view, she keeps on top of it all.
And since Michelle is also growing her team to an additional 3 agents, she's now getting acquainted with the team aspect of Top Producer® CRM. She loves that after she assigns a lead to an agent, all she has to do is go into the contact record to see what's been done and what the next steps are.
Unlike many, Michelle doesn't pay a dime for lead gen. She works solely on repeat business and referrals from her sphere and past clients. And while lead gen is a crucial component for some, read on to take in the sheer power of follow-up.
Think it's possible to land a listing with someone you've never met through diligent and consistent follow-up?
That's precisely what Michelle did.
"This was interesting because I'd never met them in person, but stayed in touch for 6 years using Top Producer® CRM. And now, in 2017, I have the listing."
Here's how she did it:
When I asked Michelle what she loved about the Follow-up Coach, she immediately said it makes follow-up so easy. The email templates are already written, so all she has to do is go in there and send an email.
The morning I spoke with Michelle, she went into the Follow-up Coach to look something up. She noticed a name she didn't recognize and that the last action was 10 years ago. She figured that this was a lead she'd never met in person, but do you think she'll send an email? You bet she will:
"Some people respond; some don't. All you can do is try."
To close, some sage advice for new agents
Given that Michelle is currently teaching her new team how to use Top Producer® CRM, she knows a thing or 2 about learning the ropes. Here are Michelle's top 3 tips for someone just starting to use the system:
We'd like to thank Michelle for taking time out of her busy schedule to not only share her story, but also some pretty great tips too. With Michelle's strong work ethic, we have no doubt she's got an amazing career ahead, and we're happy to be a part of that.
Screenshots represent site and mobile applications as of publication date. Site and mobile application subject to change without notice.